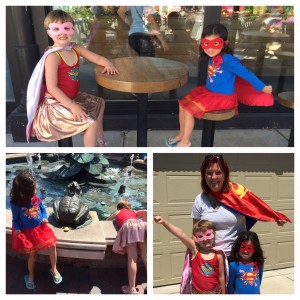 I have a new favorite family activity for the month of August to add to my family fun "best of" list at the end of the year: Superhero Day at Easton Town Center!
Easton puts on some seriously cute events for families, and this one definitely did not disappoint. It was a gorgeous sunny day when we donned our capes and superhero masks and headed to Easton to do some errands and have some fun. I got a little shopping done, picked up a few things we needed and then we headed for Fenlon Square to hear the Shazzbots play and dance in the streets.
The event itself is fairly simple: a few tables and tents with craft activities (make your own superhero mask or get your face painted), central Ohio's most rockin' kids band and some great costumed characters roaming around to shake hands, give hugs and take photos with. Plus tons of kids in every superhero get-up known to man. Adorable!
Easton has so much going for it in general that events don't need to be super complicated. We alternated a little "Mommy shopping" with a few fun stops for the kids (Lego store to make some "little people," visit to the fairytale fountain at the heart of Fenlon Square, and a stop at Fizziwigs to laboriously pore over the candy selection and choose five pieces each). I even got to leave the kids with my beloved husband for a little while and head to the Apple store to do a little birthday shopping for him. Now that's what I call a productive afternoon!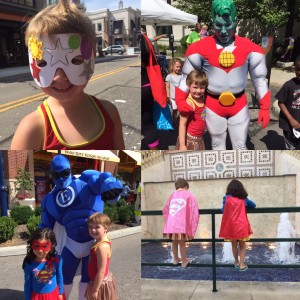 If you're like me, you don't need an excuse to head to Easton – but events like Superhero Day give it that little extra to make it a fun afternoon for the kids as well. They have some more fun events coming up like Chalk the Block (sidewalk chalk artists make Easton even more gorgeous than it already is) and their legendary Halloween pet parade and fall festival.
For any event at Easton, since they can be crowded, here's my advice to you: plan your visit, expect crowds, alternate your errands with fun stops for the kids, and bring hubby along as back-up in case little ones start getting impatient and need a quick visit to the fountains!
How about you – are you a fan of Easton Town Center, too? What's your favorite place to shop there? As always, I'd love to hear in the comments below or over on Facebook.