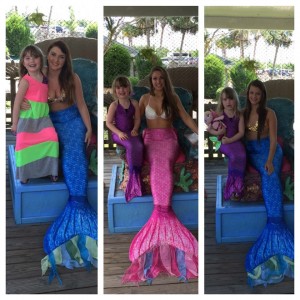 Am I the only one who remembers that old classic Guns N' Roses song that goes something like…
Take me down to the mermaid city

Where the water is clear and the girls are pretty

Take me down…
Okay, of course those are not the actual lyrics, but I think even GN'R and angry Axl himself would permit me to paraphrase in honor of the one and only city of live mermaids… aka Weeki Wachee Springs, FL!
We spent a day there in April and it rocked Zoe's and my worlds so hard. It was absolutely amazing! I'm going to try hard not to end every sentence in this blog post with multiple exclamation points but it's going to be hard, because REAL MERMAIDS!!
I've wanted to visit Weeki Wachee for years – since long before Miss Zoebelle graced our lives. The place was founded in 1947 and we got to see some classic photos and vintage film footage of the original Weeki Wachi mermaids – who wore tails some of the time but also appeared and performed in the sassy swimsuits of the era. Think Esther Williams.
On past visits to FL to see Zoe's grandparents, we've been seduced by the touristy glow of Orlando and visited our pals at Disney instead of heading west to Weeki Wachee (located on the Gulf side of FL a little ways north of Tampa). But not this trip! We finally set aside a day to make the road trip across the state and visit the one and only city of mermaids – Weeki Wachee Springs. And I am so glad we did.
This will definitely become an annual pilgrimage for our family – and I'm happy to report that my in-laws loved it too and will likely come back with us each time we go! I'm sure I'll miss Disney, but I love that my sweet Zoebelle would choose the (mostly) natural wonders of Weeki Wachee over the House of Mouse any day of the week. Weeki Wachee costs $13 per person and is free for 5 and under, whereas Disney is $100+ per person – so these savings are going to seriously add up!
Without further ado, here are our top five favorite things about Weeki Wachee Springs – and our reasons for you to add a day at this adorable, kitschy and historic destination to your next FL trip.
5. The peacocks. They're everywhere and they are so used to being fed by visitors that they let you get quite close to them. Beautiful creatures.
4. The gorgeous natural surroundings of the park (and quaintly outdated buildings and decor). I seriously loved everything about this place. Mermaid decor inside and out!
3. The animal show. The educator was feisty and funny, the animals were cute and Z got to pet a young alligator. There's also a free/included river boat cruise but it wasn't running the day we went.
2. The crystal clear spring water. Okay, this was AMAZING. Z and I brought suits and towels just on the off chance we might be able to swim in mermaid water and o. m. g. The spring is incredible – crystal clear, packed with awesome fish and turtles (and manatees at certain times of the year), and mermaids swim in it on the regular. We felt like mermaids ourselves. Some say the Weeki Wachee spring has restorative properties, and I believe it. Cold, clear and slightly sweet to the taste – we felt like a million bucks during and after our swim here. Just do it!
1. The MERMAIDS!!! Look, this is why we came and they did NOT disappoint. They were amazing – whether posing in the photo opp area for photos (no charge, take all you want with your own camera) or swimming and doing their act in the underwater theatre, these mermaids are top notch. They have an awesome "Tail Mail" literacy program for kids where you send a letter to one or more (or all) of the mermaids and they not only respond with a signed photo, but also make a YouTube video personalized for you and read both your letter and their response in the video. What could be better than that for a mermaid loving kid, or kid at heart?!
I give Weeki Wachee my most enthusiastic thumbs up, and so does Zoe – with one small exception. She had the life scared out of her by the sea witch character in their performance of the Little Mermaid. I've honestly never seen Zoe so terrified, angry and inconsolably upset. It was a bummer! But other than that, a perfect day – and now we know to avoid that show (there are warnings given that it may be scary for some viewers, but honestly I'd call it Rated R scary – really).
So what do you think – would you go spend a day with the mermaids at Weeki Wachee, or have you? As always, I'd love to hear your stories in the comments below or on Facebook.