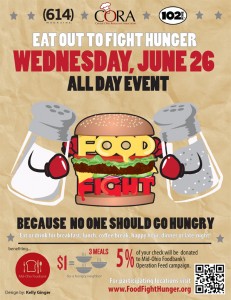 Having Zoe has definitely made me a better person in immeasurable ways. One example is charitable giving and involvement with causes in general. Before Zoe, my main cause was animals – I couldn't stand to think of an animal frightened or in pain. While that's obviously still a great cause, I love that becoming a mom has given me a heart for children, too. Now, any cause that benefits children is near and dear to me. It's like my heart exploded open when I had her, and suddenly children all over the world are my kids too in a way. Is that weird, or have you felt that way too?
Anyway, today is a great event for a great cause – helping kids and families in central Ohio to get enough to eat. If there's one thing the old me has in common with the new mommy me, it's that we both LOVE to dine out. Wednesday, June 26 is the Food Fight event to benefit Mid-Ohio Foodbank's Operation Feed campaign. This is your opportunity to go out with your family, have a great meal with no clean-up or dishes, and at the same time provide much-needed meals for children and families in our community.
If there's anything that breaks my heart, it's knowing there are hungry kids right here in Columbus who have empty, painful bellies and minds constantly worried about how and what they're going to eat next. This should not be!
So please, join Zoe and I in dining out today – for breakfast, lunch, dinner or a snack or treat – at one of the participating restaurants. The Food Bank thanks you, and so do I.
What's your favorite way to help others or give back? I'd love to hear in the comments below.