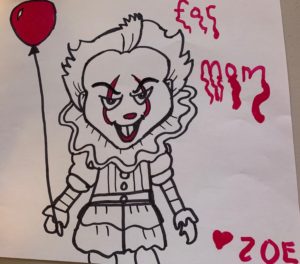 Our sweet, innocent little 9.5 year old keeps asking to watch the movie It. She heard about it from schoolmates and has become obsessed with Pennywise the clown – even drawing this terrifying character in alarming detail.
She dedicated her drawing to me, of course, because I have a life-long irrational fear and intense dislike of clowns. Um, thanks kiddo!?
It is fascinating to me that she's got a morbid curiosity with all things scary and horrible, because as a kid I did, too. I absolutely loved reading horror books – that was my favorite genre. I don't know exactly how old I was when I started reading Stephen King (and John Saul and Dean Koontz)! I'd guess that from later elementary school all through middle and high school, I voraciously read through literally every horror book that I could get my hands on.
I think it's probably time that I let Z read some actual horror books – not just the kid-friendly scary stories she's been loving. In my view, anything to keep her hooked on reading is a GOOD thing – although I'm quite sure there may be some nightmares involved, as I had some from reading scary books as a kid. I also need to make sure the scary books she reads are otherwise appropriate for a kiddo. I certainly read my share of inappropriate books as a child, and I would prefer to keep her innocent for a time longer.
That said, as lenient as I may be with allowing horror books, I will NOT allow her to watch horror movies for many more years if I can help it. I had a few bad experiences with horror movies as a kid at friends' homes or parties. They TERRIFIED me and I wish I'd never seen them when I did. They gave me boatloads of horrid nightmares.
Even as an adult, I still don't like most horror movies – although I do still love scary books. In general, I won't watch scary movies unless there's a really good reason, like it's an adaptation of a book I loved OR it has vampires (which I strangely adore) OR it has zombies (a genre I also enjoy for some bizarre reason) OR it's the "made for TV" version so I know it won't be too gory or horrible. In general, though, I prefer not to watch horrific or terrifying movies.
I do wonder why kids love scary stuff so much! Z and her friends are currently obsessed with the video game/app Eyes: the horror game, which involves being hunted through a haunted house/hospital by a terrifying, disembodied head. I allow it because it's atmospheric horror only, not gory, and it does involve some strategy in the game play – plus, Z and her bestie have developed a very fun real-world, no-screens spinoff of the Eyes game. They play it all the time, running and hiding all through our house, and it results in shrieks of terror and collapsing into giggles.
But did you know there's a trend away from letting kids tell scary stories around the campfire? This is such a childhood rite of passage. We used to scare each other silly on the bus ride home from events, at sleepover parties and anytime groups of kids got together after dark. Can it really be true that kids are no longer doing this?!
I have a few theories about why kids are so into scary things. Maybe it's a nice distraction from the scariness of having to grow up, take on more work and responsibility at school and in activities, and in general creep ever closer to the daunting, intimidating world of grown-ups?
Why do you think kids like scary things so much? Did you as a child, and do you still as an adult? I'd love to hear your s-c-a-r-y stories in the comments below or over on Facebook!