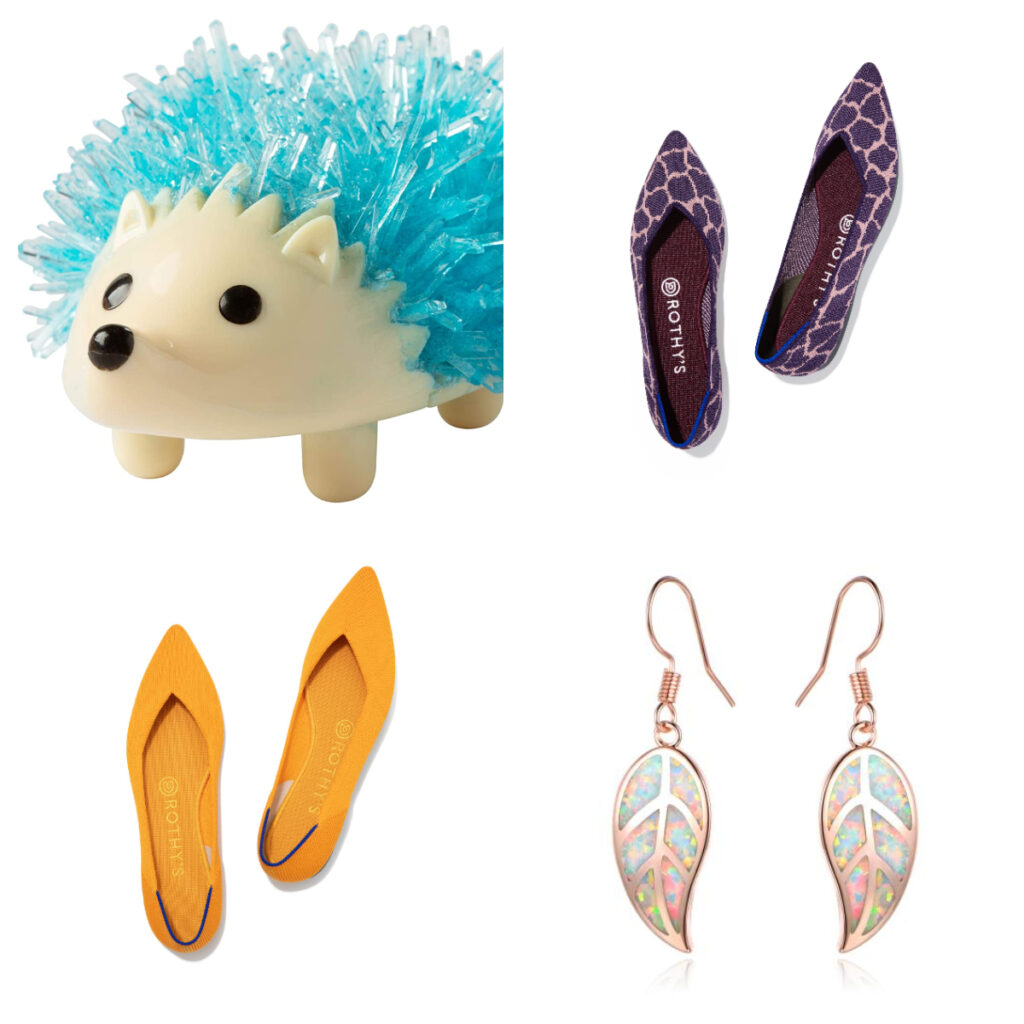 Have you started your holiday shopping yet?
I've been chipping away at mine for a while, and now I'm starting to really get into it and have fun. I love finding the perfect gifts, buying coordinating gift wrap, decorating and really getting into the spirit of the season. I ordered my holiday cards right after Halloween. I'm a total Christmas nerd!
If you're just getting started with your shopping, I have some fun gift suggestions for you. These range from $15 to $125 so there should be something for most women on your list. I'll have to come up with a different list for guys; in case you haven't noticed, they're much harder to buy for!
Here are some gift ideas for your 2020 shopping enjoyment:
Rose gold & opal leaf earrings. Sometimes Facebook serves you ads and they are the most annoying, useless thing in your feed. Other times, FB serves up these little beauties and you go "Oooooo I need those!" At just $16, these are gorgeous and look like they cost far more. I always get compliments when I wear them. Perfect gift for any jewelry lover in your life!
Rothy's "the Point" shoes are the priciest item on this list, but also the most awesome. Find out your bestie or sweetie's shoe size, add a half size to it and then go ahead and splurge on these shoes. They are the most comfortable, stylish and practical shoes I've ever worn. I first blogged about them back in 2017. Yes, they're pricey, but think of it this way: you could spend $42 each for three pairs of shoes that will sit in your closet unworn because they hurt, pinch, give you blisters or slide off annoyingly while you walk – OR you can spend $125 on these beauties and literally never take them off again because they feel like heaven. Your call.
Amazon short-sleeve maxi dress. I wear a version of this dress almost every day for work and it's so comfortable, cute and stylish with the right accessories. Amazon has it in virtually every solid color and print imaginable so you can find one your friend or family member is sure to love. At under $25, you can't lose. If you're short, just tie it up on one side and you'll look adorably on-trend.
Gift certificate to YayMaker for Plant Nite or Paint Nite. For just $27 per person with code YAY4U, you can get yourself and a friend (or date) a super fun evening learning to paint or create a succulent terrarium. Their classes have gone virtual now for obvious reasons, but I'm sure they are still fun. I've done Plant Nite three times now and absolutely loved it – I think it'd be especially fun in the winter when we could all use a little gardening fix.
Crystal hedgehog. I'd buy this $15 cutie for any grade schooler, tween, teen or even college student in my life. It's both adorable and science-cool; that adds up to a win in my book! I even know some adults who would love having this on their desk (cough, it's me. Get it for ME! I would love one.) You can even pick from several different colors. So cute.
If those aren't enough great ideas for you, check out this gifts under $10 list for some more creative inspiration.
Where do you do most of your holiday shopping – and where do you find the best gift ideas? I'd love to talk holiday gifting in the comments below or over on Facebook.