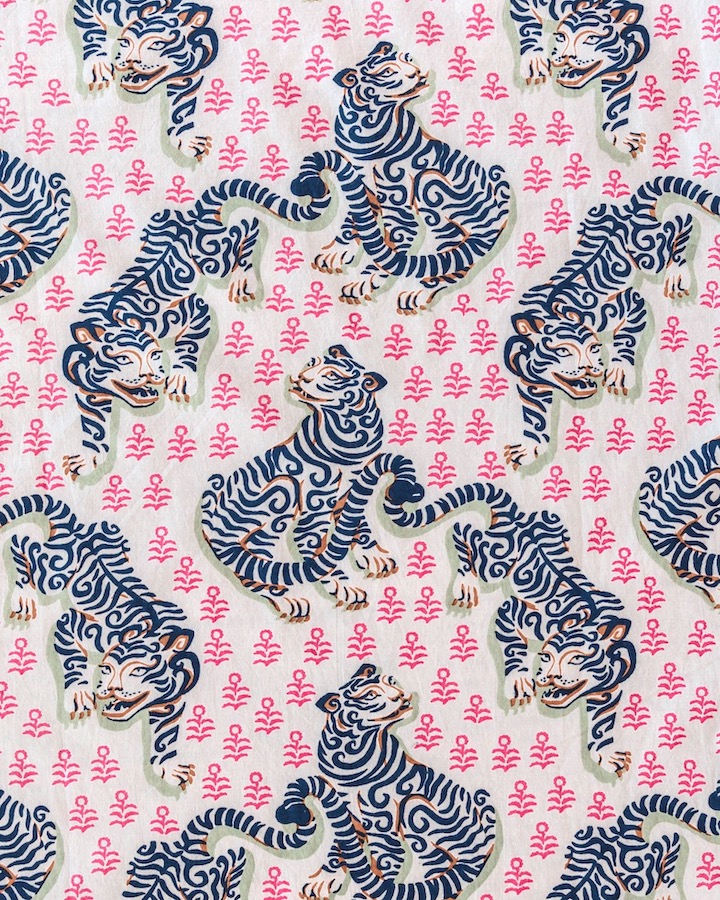 I love to shop online.
If I'm being honest, it's probably my favorite hobby. I just love everything about it!
There's the fun of browsing and clicking "add to cart." The thrill of actually paying and completing the order. Then the exciting anticipation of waiting for your delivery.
And oh, the sweet payoff of getting "presents" in your mailbox or on your porch!
As I've written about before, my latest online shopping obsession is fancy jammies, specifically Printfresh PJs. They are soft, classy, elegant, comfortable and look gorgeous in a drawer, while folding laundry and every time I wear them.
When you combine my love of online shopping and my addiction to Printfresh jammies, you can start to understand how I've somehow found myself in possession of three pairs of gorgeous Printfresh pajama bottoms in the Tiger Queen print… none of which fit me.
You see, as much as I love luxury Printfresh sleepwear, I love getting their pricey jammies at a discount even more. I watch the site like a hawk, scanning for sales.
When I saw the Tiger Queen print PJ set go on sale, I jumped on it. No, it wasn't exactly my size – I've been wearing a 1X in Printfresh to be sure they are nice and loose for sleeping in – but I figured I could probably make the XL work. I wear an XL in a lot of brands.
As it turned out, the XL Printfresh pajama top fit me like a dream – in fact, maybe even better than the 1X. But alas, the XL bottoms are not comfortable and won't work for me. Still, I didn't return them because I loved the top and thought maybe I could find a home for the bottoms.
Fast forward to another evening shopping online, and wouldn't you know I found the Tiger Queen pajama bottoms on eBay in my size for just $20. I was beyond thrilled! I quickly placed the order and couldn't wait for them to arrive.
But when the package arrived, to my dismay I found a hand-written note with not one, but two pairs of PJ bottoms. "Sorry, this pair ended up being a size XL, not a 1X. To make up for your trouble, we've included an extra pair!" Sure, I could have returned them, but I wasn't up for the hassle and again, figured I could find them a good home.
So here I am… with three identical pairs of gorgeous Printfresh pajama bottoms in the timeless white and pink Tiger Queen print in a size XL. They don't fit me so I want to give them away. I'll ship them to you for FREE!
I would say these pajama bottoms are on the smaller size of XL. They would likely fit someone who usually wears a women's size large. They were originally sold by Anthropologie, whose sizes notoriously run small.
If you'd like a pair of these exquisite jammie bottoms – which are way too cute to wear only for sleeping and would look amazing styled with a white t-shirt, hot pink cami or black tank top – please leave me a note in the comments below and let me know!
Three lucky readers will each receive a brand new pair of gorgeous, unworn (only tried on once) Printfresh pajama bottoms valued at $78 each. Don't be shy – share this post with any of your friends who wear size L or XL!