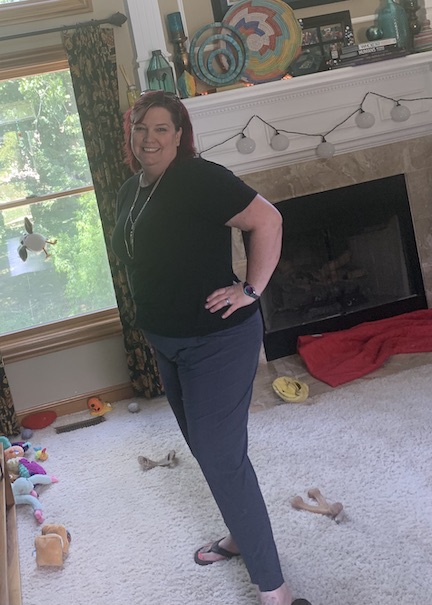 We all love Target, right?
Whether you call it the fancy and fun "Tar-jay" or not, there's always something we want and need at this amazing store.
During the winter months when it's too cold to walk outside, my bestie and I will literally meet at Target and just walk the aisles to get some steps in. Although let's face it, that is a dangerous activity because we nearly always end up buying something!
Recently, our beloved tween has caught the Target bug. "Mom, can we go to Target?" is something I hear almost as much as "Mom, can we go to the mall?"
And I don't mind one bit! A good Target trip together is fun for bonding, idea-gathering and inspiration, whether you are looking at home decor, makeup or clothes.
This season, I have to say, Target is absolutely killing it in the style department. It's so rare to find a shop where both my tween and I love shopping for clothes – but Target nails it for both demographics.
I've gotten lucky there recently with Joy Lab lounge and workout wear, Ava + Viv plus size clothes and A New Day dresses. The prices are great and you can even find some items on clearance, which is a cause for much celebration.
My latest favorite finds at Target include a soft, relaxed button-down shirt that I literally wear with everything and some stretchy, tapered pants by All in Motion that give Athleta's legendary Brooklyn ankle pants a run for their money.
I actually dedicated an entire post to those high-priced pants once, because they are that life-changing. However, Target's version are $32 vs Athleta's $89, so now I'm thinking the Target All in Motion pants are my new gold standard.
And in case you're wondering how a pair of pants can be life-changing, please go to Target and try their version on. You'll find them in the women's active-wear section.
They are billed as athletic pants but throw on a cute top and jacket, and these are also perfect for the office or going out. Pair them with a passport and zippered hoodie and they are amazing travel pants. Stylish, flattering and comfortable – plus they don't wrinkle when packed. Is there nothing these pants can't do?
Oh, and while you're at it, check out this amazing $25 Ava + Viv dress I fell in love with. You better believe it came home with me. Adorable, great fit and made me feel and look like a million bucks! No, I didn't need another dress. Yes, I had to have this one.
Hopefully, I've convinced you that you need to check out the clothes section next time you're in Target. If you do, I doubt you'll go home empty-handed!