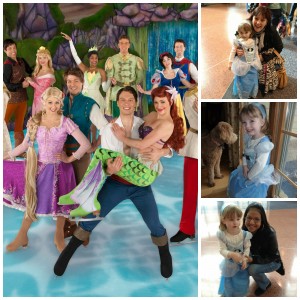 Are you like me – already sick of winter? For me, the novelty and beauty of snow and ice wears off right around December 26. Then, I have to find fun things to look forward to and get excited about in order to make it through the next three months of cold, gray weather.
One of our most anticipated winter activities is taking Zoe to see Disney on Ice. We went last February for the first time and she absolutely LOVED it. Of course, we did the full-on dressing like a princess thing – as do about half of the little ones in the house. It makes for an even more magical experience. I'm already planning our outfits!
This year, Disney on Ice is coming to Columbus with a new show: Princesses & Heroes. I hope you won't mind me squeeing like the Disney fangrrl I am when I say that it sounds AMAZING. It stars Ariel and Prince Eric defeating Ursula, Aurora and Prince Philip vanquishing Maleficent (as a fire-breathing dragon, no less) and many other favorites including Jasmine and Aladdin, Tiana and Naveen, Cinderella, Rapunzel and Snow White. What fun!
Now's when I get to tell you the best part: you can see Disney on Ice for FREE. Not only do I have a family pack of four tickets to give away to one lucky reader of this this blog (keep reading to find out how), you can also earn free tickets by donating to a great cause.
The YWCA Family Center is in critical need of diapers and for the seventh year in a row, Feld Entertainment, producer of Disney On Ice, will help meet that need by teaming with COSI to host a diaper drive on Saturday, Jan. 18, 2013, from 10 a.m. to noon at COSI.  
The first 250 families who bring two unopened packages of disposable diapers (the YWCA Family Center especially needs pull-up diapers in sizes 4, 5 and 6) to COSI during this time will receive two free ticket vouchers per family from Feld Entertainment. (Or you can bring one unopened package of diapers and get just one free ticket voucher.) Tickets will be good for either the Wednesday, Feb. 5 or Thursday, Feb. 6 performance of Disney On Ice: Princesses & Heroes at Nationwide Arena. COSI will also issue a choice of $5.00 off general admission coupon or a free Extreme Screen movie ticket for each package of diapers donated (limit four COSI coupons per family).
What a great way to help those in need and also get free tickets to a super fun family event that will warm and brighten any cold winter's day!
If you prefer to get your Disney on Ice tickets the old fashioned way, prices range from $22 to 52. Tickets for Princesses & Heroes are available at the Nationwide Arena box office, at all Ticketmaster locations, online at Ticketmaster or by calling 1.800.745.3000. All tickets (except the free ones) are subject to service charges and facility fees.
Show times are as follows:
Wednesday, Feb. 5 at 7 p.m.
Thursday, Feb. 6 at 7 p.m.
Friday, Feb. 7 at 7 p.m.
Saturday, Feb. 8 at 11 a.m., 3 p.m. and 7 p.m. and
Sunday, 9 at 11 a.m. and 3 p.m.
To be entered to win a family four-pack of tickets to Disney on Ice: Princesses & Heroes, just like Lara-Mom on Facebook, like Disney on Ice on Facebook, and then leave me a comment below with your favorite Disney character or movie. Zoe will pick a random winner for the tickets on January 12!
I can' t wait to hear who your Disney favorites are. Since seeing Frozen, mine are Princess Anna, Queen Elsa and Olaf the snowman! Hopefully they'll make it into the next big Disney on Ice production.
Are you excited to see this year's Disney on Ice performance, too?  I'd love to hear in the comments below!