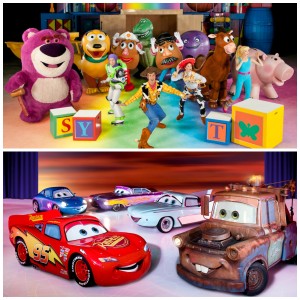 Full disclosure: our family will receive free tickets to Disney on Ice and we were also provided the tickets to give away here. This is made more awesome by the fact that we would have bought our own tickets and gone to see the show anyway! Read on for how you can win. 
As I've shared before, Disney on Ice is one of our favorite things to do in February. But this year, with Zoe about to turn five, is the first time she's actually asked about Disney on Ice before I had the chance to mention it to her.
"Mommy, will we do that special Disney thing again this year?" she asked.

"You know, where the princesses fly around on skates?"
Needless to say, I was thrilled to be able to tell her that YES Disney on Ice is coming, and YES we'll be going again to see the princesses fly around on skates! But this year's show has much, much more than just princesses. From everything I'm hearing about the Worlds of Fantasy show, it should have something for absolutely everyone. Here's a summary…
"Thrill to high-speed stunts as Lightning McQueen, Mater and the crew of Disney•Pixar's Cars race across the ice. Dive into The Little Mermaid's enchanting undersea kingdom and enter the mystical world of Pixie Hollow with Tinker Bell and the Disney Fairies as they reveal the magic that lies within. The toys are back in town with heroic action when Buzz Lightyear, Woody, Jessie, and the Toy Story gang escape from the rambunctious tots of Sunnyside Daycare and race for home, in their most daring adventure ever!"
Doesn't that sound fun? And the images and videos I've seen are truly spectacular. This one-of-a-kind production visits Columbus from Feb. 18-22 for nine day and evening performances at Nationwide Arena, presented by Stonyfield YoKids Organic Yogurt. Tickets may be purchased at the Nationwide Arena box office or through Ticketmaster and range from $15-$70.
Or… if you'd rather go for FREE… here's how! To be entered to win a family four-pack of tickets to Disney on Ice: Worlds of Fantasy, just like Lara-Mom on Facebook, like Disney on Ice on Facebook, and then leave me a comment below with your favorite Disney character or movie. Zoe will pick a random winner for the tickets on February 5! (And I should add that many other wonderful local blogs are also doing ticket giveaways, so if I were you I would increase my chances by going for them ALL!)
I can't wait to hear who your Disney favorites are. Mine is Ariel, so I'm thrilled she'll be in this year's Disney on Ice: Worlds of Fantasy show.
Are you excited to see this year's Disney on Ice performance, too?  I'd love to hear in the comments below or over on Facebook!