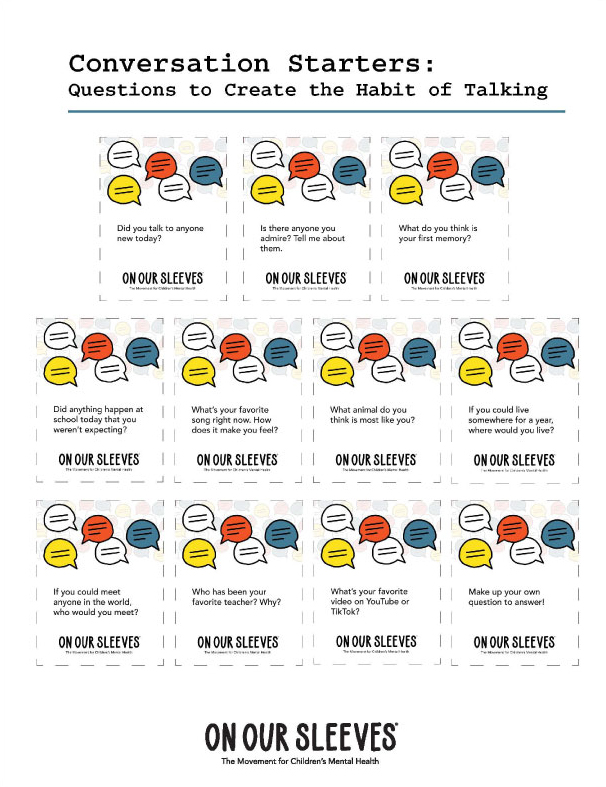 These are tough times for all of us – but possibly hardest of all on children and adolescents.
The US Surgeon General recently issued a Youth Mental Health Advisory acknowledging the serious mental health hardships kids and young people are facing today.
Youth mental health is one of the top priorities of the Surgeon General's office because of how dire the current situation is for kids and young people.
In recent years, we've seen significant increases in certain mental health disorders in youth, including depression, anxiety, and suicidal ideation.
Thankfully, it's not all bad news. There are many organizations working to support kids' and young people's mental health. We're fortunate to partner with one such group: On Our Sleeves, the national organization committed to breaking stigmas and raising awareness of children's mental health struggles.
This month, for Mental Health Awareness Month, On Our Sleeves is promoting a new public awareness campaign called Operation Conversation. That's because the two most important words you can say to a child or young person to support their mental health are "Let's talk!"
When families create an ongoing habit of talking together, they can open up lines of communication, model sharing about feelings and acknowledge hard and sad times instead of pretending they don't exist. That's when real magic can happen. Open, honest and authentic communication is one of the very best ways to support kids and young people and their mental health.
I'm a huge believer in conversation cards as an ice breaker and a way to get words flowing between and among family members. My family likes to make fun of me for this, but I own several different conversation starter decks including the Our Moments family cards, Big Life Journal's growth mindset conversation cards and InnerActive cards.
Now, On Our Sleeves has developed a set of conversation starters of their own – and you can download them for free.
Sure, kids may not always want to talk – especially tweens and teens. However, if you prioritize family sharing and take time each day to come together and talk as a family, it can help pave the way for important conversations about mental health, our experiences and feelings, and the struggles we all face.
My family may groan a little when I pull my conversation cards out, but they do end up participating with me. I try to have a deck in my purse when we dine out or go on car rides together.
It's my goal to make sure we get at least 15 minutes of family time in the evenings to talk about our day and how we're feeling. I can't say it happens every day, because life does get busy and crazy at times, but that's what I aim for.
Remember that kids may not want to share tough stuff with the whole family present. Keep the family conversation times lighter and more fun, but also make sure you're available and checking in often with kiddos one-on-one.
For our family, I know that Z is far more likely to talk about serious or sensitive issues at night after the lights are out. I've heard other parents have good luck starting these conversations in the car where there's less eye contact and things might feel more comfortable for kids.
It doesn't matter where or when you have these conversations – just that you're willing to check in with kids and listen on a regular basis. Ask open-ended questions. Use conversation cards as a tool or prop if you think that might help – I know I love mine!
For more tips about having mental health conversations with kids, visit the On Our Sleeves site. I've also written before about how to get your family talking and how to be there for loved ones during mental health struggles. In addition, here's a post about how to prevent suicide in young people by – you guessed it – talking.
And now, for my friends who have made it this far, I have a fun surprise! On Our Sleeves has given me an extra set of their adorable conversation cards deck to give away to one lucky reader. Simply comment below to let me know you're following On Our Sleeves on Instagram at @OnOurSleevesOfficial. That's all you have to do to enter!
Z will help me pick a winner this month and I'll send your conversation cards out soon after. In the meantime, here's to many fun and meaningful conversations with our families!