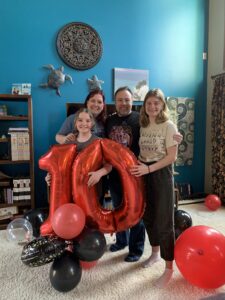 These are unprecedented, crazy times. The entire world is united in doing our collective best to manage and respond to the 2020 global health pandemic caused by coronavirus.
There are those who are doing an excellent job – like Ohio's governor, who is leading the nation on proactive response to this crisis. There are other states and countries who should be following this scientifically-recommended approach, but aren't.
And then there are the U.S. and German heads of state who are forcing a cohort of CBYX exchange students – kids ages 15 to 17 – to travel home from their respective host countries this week at a time when no one should be traveling – and worst of all, against the wishes of the students, their host families and most important their natural families.
We are the host family for one of these students – Verena, a lovely girl from Germany who joined us midway through her exchange year. We're a terrific fit and are so happy to have her as part of our family. We're excited to learn more about Germany and help her continue her immersion in American culture and language. We don't want it to end prematurely – and most of all, we don't want Verena put at risk through unnecessary international travel.
Please sign the petition on Change.org, which is going viral with 3,000 signatures at the time of this writing, to help keep these kids where they are – in safe, loving and caring host homes.
Here in Ohio, we know that Verena is safe and healthy with us. Together, we are following the governor's directives to practice hand washing, social distancing and self quarantine.  There are few COVID-19 cases in Ohio and with any luck, it will remain so.
On the contrary, Europe is considered a "hot zone" for the virus and traveling on long flights from Ohio to Munich is not recommended for anyone at this time – and certainly not for high school students who desperately want to remain here in Ohio. Yet the authorities are insisting these students return home immediately.
Please, won't you sign the petition and help us keep Verena and her fellow CBYX students in place, where they are safe, for as long as their natural parents wish. This decision should be made by the natural parents, students and host families – not by heads of state for political or administrative reasons.
If Verena is allowed to stay, although she cannot go to school, we will be home schooling and learning during this time – plus she will be working on her English language immersion which was her number one goal for coming to America in the first place. But most important, she will be safe and not exposed unnecessarily to the virus through risky international travel.
Be safe, stay healthy, wash those hands, don't touch your face and stay home or at least six feet from anyone outside of your immediate family. We can get through this difficult time together – and apart.