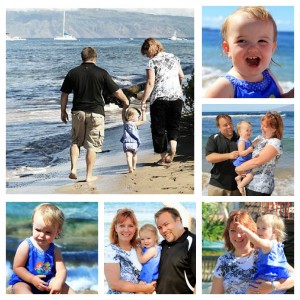 This time last year, we were in beautiful Maui with our 18 month old baby girl.
Now, we're buying a new home and fancy vacations are a thing of the past… and we have a 2.5 year old big girl!
Zoe may not remember much about that amazing trip to Hawaii, but we sure do.
We have these gorgeous photos to remind us forever, thanks to my splurge on professional family portraits while we were there. (I highly recommend doing that – it's money you'll never regret spending.)
We have super fun memories of Zoe exploring the pools, beaches and hotel grounds with us and my parents. She also fell in love with juice on that trip – specifically POG (pineapple-orange-guava), aka nectar of the gods.
I had sworn to E while planning the trip that we would "do Maui on a budget" (hard to do, but not impossible) so instead of dining out at the tourist hot spots we'd frequented on our last trip to paradise, we used Yelp to find little, out of the way local eateries for meals at a fraction of the cost.
And you know what? I've never eaten better food in Maui than on that trip. Seriously – we had some absolutely delicious meals at hidden, off-the-beaten-path diners like Sam Sato's in Wailuku, which we never would have found without Yelp's help.
I only wish I could be there again today, eating those amazing dry noodles and pancakes. Yum!
As you know, I love sweets – so of course we also Yelp'd some incredible, authentic local bakeries serving up Maui fusion baked goodies like mochi, manju and malasadas – experiencing in each sweet, yummy bite the island's awesome blended culture with diverse influences ranging from Japanese to Portuguese.
Ahh, I can't lie… I do miss Maui, all the time, down deep in my soul. But I love that Columbus has become such a foodie mecca in its own right with incredible food trucks and local Yelp-tested eateries.
I love that you can get amazing Asian pastries right here in central Ohio – like the red bean buns at Golden Delight (either Gahanna or Bethel Rd. location).
The only thing we're really missing here is that ocean view. There's no getting over that.
What's your favorite ethnic eatery or exotic sweets supplier here in Ohio? Are you like me – do you like to eat weird, yummy stuff to make you feel like you're on vacation even when you're not? I'd love to hear in the comments below!