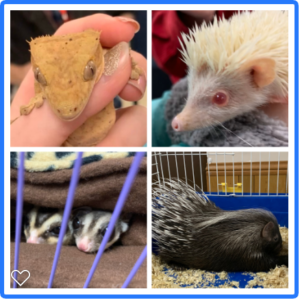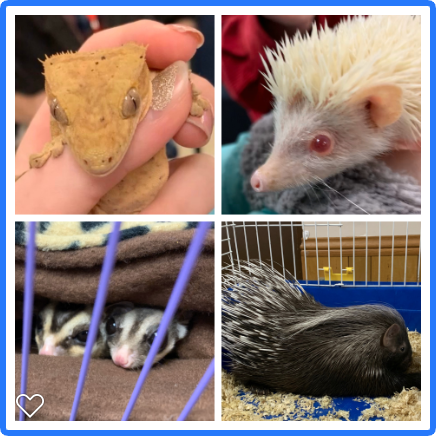 Our animal encounter posts are historically some of the most popular content we generate on this blog – and some of our own favorites, too, since we love critters.
I'm thrilled to share we have a new favorite place for animal adventures where admission is affordable, you can pet and hold a huge variety of furry, scaled and feathered creatures – and the people are friendly, too. And it's right here in Columbus!
Recently, we visited the second-ever Buckeye Exotic Animal Expo. Located at the American Legion hall on S. High Street off Frank Road, this exotic pet show happens on the last Sunday of each month and  is  chock  full  of  vendors  displaying  and  selling  reptiles,  mammals,  birds  and  so  much  more.
We were in heaven, getting to hold multiple varieties of lizards, snakes, a tiny baby albino hedgehog and many more critters. We weren't able to hold the sugar gliders (too quick), ground hogs or baby African Crested Porcupine, but we still enjoyed seeing them up close and learning about  them. Same for the various types of Degus, which are like over-sized gerbils and very cute.
There were many critters there I do not consider cute – namely insects like African cockroaches and giant millipedes, and spiders like tarantulas – so I simply avoided those vendors. They're just not my thing. Thankfully, Z respected my wishes and didn't ask to handle any of the creepy-crawlies!
We found the vendors to be friendly, knowledgeable and very focused on both the well-being of the animals and the comfort of the visitors. Prices were reasonable – typically cheaper than pet stores – and the critters all looked healthy and well cared for. There was a lot of hand sanitizer in use, as each vendor required you to use some prior to holding their animals – and it was recommended afterward, as well.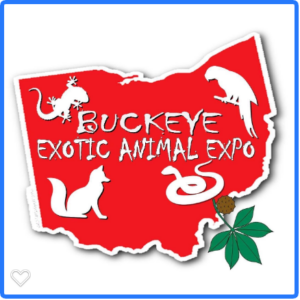 As snake owners, we are constantly seeking out feeder rodents and we were pleased to find several breeders with very reasonable prices for mice and rats. However, don't make the mistake I did by asking about feeder rodents at a table staffed by a pet mouse breeder!
Yes, there's a difference between pet mice/rats and those intended for feeding… and no pet breeder wants to think of their adorable, sweet-tempered babies being fed to hungry reptiles! Oops. My bad.
Although I will say… even the feeder mice and rats are adorable, lovely little creatures deserving of kindness, nice meals and a great life. E and Z let me choose a young rat for Daffodil at the animal expo and while I didn't pick the cutest one, I still managed to somewhat fall in love with the one I selected. He was such a cutie! (Side note: apparently, Daffodil thought so, too.)
There were tons of families and kids at the Buckeye Exotic Animal Expo, and it is set up as a place to learn as well as buy. Exotic pets are not for everyone, so this is a terrific way to learn before you make the big step of bringing a critter home.
Mark your calendar for the last Sunday of every month, and head south of downtown Columbus for the Buckeye Exotic Animal Expo. Admission is $5 for adults, $1 for kids over 5 and free for the littlest family members. Maybe we'll see you there!
Have you ever been to an exotic pet show, and if so what did you think? I'd love to hear your stories in the comments below or over on Facebook.