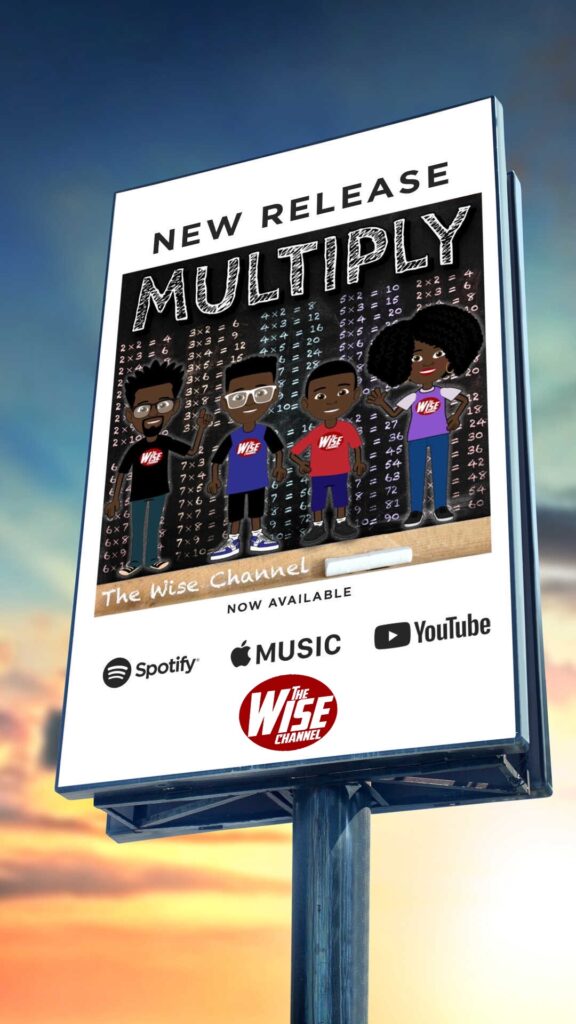 Do you have a budding mathematician at your house?
We do not. I have found it can be hard to get these modern kids to focus on math sometimes.
Ours says "Mom, why do I need to learn math when I can just ask Alexa?"
But now, a new musical offering from our friends the talented Wise family is here to save the day.
Gradeschoolers, teachers and parents will love "Multiply," the latest album from The Wise Channel.
The Wise family have always had a knack for making difficult subjects easier through music and song. Their song "For All" – released after the national unrest following the May 2020 murder of George Floyd in Minneapolis – provides a family- and classroom-friendly take on the question of whether everyone equally shares in America's values.
For All appears on the album "All One Tribe" which was nominated for a 2022 Grammy for best children's album of the year.
Now, with Multiply, the Wises are taking listeners on a fun, musically diverse, multi-genre, mathematical journey. Each song explains how to multiply or count by a different number from 1-10. There are even a couple of songs to help with counting in Spanish.
Multiply introduces listeners to a rich and musical world of mathematical exploration – and there are fun videos to accompany the songs on The Wise Channel on YouTube. The first thing I thought of when I listened to the album is that this would make an amazing soundtrack for a family road trip!
Listening to Multiply had me in my feelings, I'm not going to lie. The Wises are a local family with two working parents and busy lives just like ours – yet in their free time, they've managed to create an entire album of amazing educational music that is fun to listen to and will truly help kids learn math. The talent is real! All four of the Wises have fabulous voices and musicianship – I especially love hearing the boys sing.
I've always loved children's music. I miss the days of sitting with Zoe and listening to our beloved Raffi – or taking her to see local family music rockstars the Shazzbots perform live. Those are such fond memories!
Even now, with a tweenager, if I break into a beloved, familiar kiddie song, chances are pretty good Z will still chime in and sing along with me. Listening to and making music together is a tremendous bonding activity for families and in fact is one of my top five baby and toddler hacks. You can't start too early.
The Wises truly take family musical bonding to the next level. I expect to see them blow up and hit the big time very soon – they are that good. Please give Multiply a listen and see what you think, then visit The Wise Channel on YouTube to hear more of their music and see the accompanying videos.
I'm so proud to know Ashley and Ceylon and I can't wait to see what amazing things happen for them next! And now I'm really inspired to brainstorm with my own family about how we can bring our talents together to make something great.
Who knew that math and music go together like chocolate and peanut butter? I sure didn't. Thanks, Wise family!