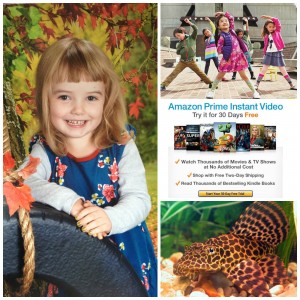 I used to have a fun little blog series called Friday Favorites. I forgot to add any new posts for a long time. Then, this month I started a weekly "5 thankful things" series for November. Now, the two are becoming one – so here are five favorite things for which I am thankful!
1. Our fish. When E got his awesome new job working from home, he got a crazy big aquarium for his home office. This little work perk for E's man cave has turned into a wonderful addition to our whole family. We love our fish! At night when we talk about who and what we're thankful for, Zoe always mentions her fishies. Just recently, we added a few new kids to the tank, including a tiny African dwarf frog whom Zoe named Prince Naveen and a pair of Dalmation Mollies who immediately and enthusiastically began mating (!!). Now we're expecting a live birth right around Christmas and an already awesome fishtank has become even better. Zoe loves to feed them, we all love to watch them,and she has even learned about sickness and death in the relatively safe space of a fish tank. Our other fish include three gorgeous Pearl Gouramis, five dazzling Danios, three terrific Tetras, a Rainbow Shark and a perfectly wonderful High-Fin Plecostomus named Oscar the Grouch.
2. Tea Collection. When Zoe outgrew Carter's, I knew I had to find a new favorite go-to brand for her clothes. I like Hanna Andersson, but for something that pricey I really need to LOVE it. Then I found Tea, fell madly in love, and the rest is history. Thankfully Zoe loves their gorgeous, soft, high quality clothes as much as I do. The current season's look is Asian-inspired and each print is more lovely than the one before. The colors are bright, the designs are exquisite and my only complaint is that I wish their dresses and leggings came in my size! (Tea does make clothes for women too, but they're not quite as cute). And yes, their stuff is pricey, but you can find ways around that (check Ebay, watch for sales online, and find local shops who carry Tea and watch for their sales, too). I love Zoe's Tea dresses so much, she wore one for her school pictures and another for our annual family portraits which will end up going on our holiday card. 
3. Zoe's thankful list. This week, Zoe's teacher asked her whole class what they were thankful for. Zoe listed her family, her arts (when asked, she said she meant all of her art projects she does at school and at home), and her corn. Her "corn" refers to a dried little kernel that fell out of her shoe this week at school – a remnant of her fun times in the corn box at either Leeds Farm or Pigeon Roost Farm this fall. I guess that little corn kernel has become her preciousss. Her teacher made a move to throw it out and Zoe pleaded "No! It's my treasure!" And so the kernel lives on in the safety of Zoe's school backpack. I love Zoe's fondness for treasures, especially those from nature. I'm so glad she's a happy little girl with so much to be thankful for!
4. Amazon Prime. When we had a little one in diapers, I was a fanatic for Amazon Mom. Ever since Zoe left diapers behind, I've switched my passion to Amazon Prime. Free two-day shipping (as if regular Amazon doesn't ship super-fast already!), tons of great, free streaming TV shows and movies, and tons of free books for my Kindle. I'm hooked – that $79 per year more than pays for itself several times over. I highly recommend the Prime! And I'm very thankful for it.
5. Date days with hubby. I've blogged before about my amazing invention, the date day. This is when two working parents each take a vacation day, yet the little one still goes off to daycare for the day. It's far superior to a date night (too short) and surpassed only by stringing several date days together into a week, which we've only tried once and unfortunately it was derailed by the entire family getting deathly ill. But I digress! Today was a long-awaited date day and it's been amazing. We've taken several date days together this year and for that I am truly thankful. Anytime we can go cruising together, blasting non kid-appropriate music and holding hands and smooching like teenagers without interruption, it's a great day. I'm already looking forward to our next one!
That's it for me today – how about you? What are you thankful for this week, or this month? I'd love to hear in the comments below.