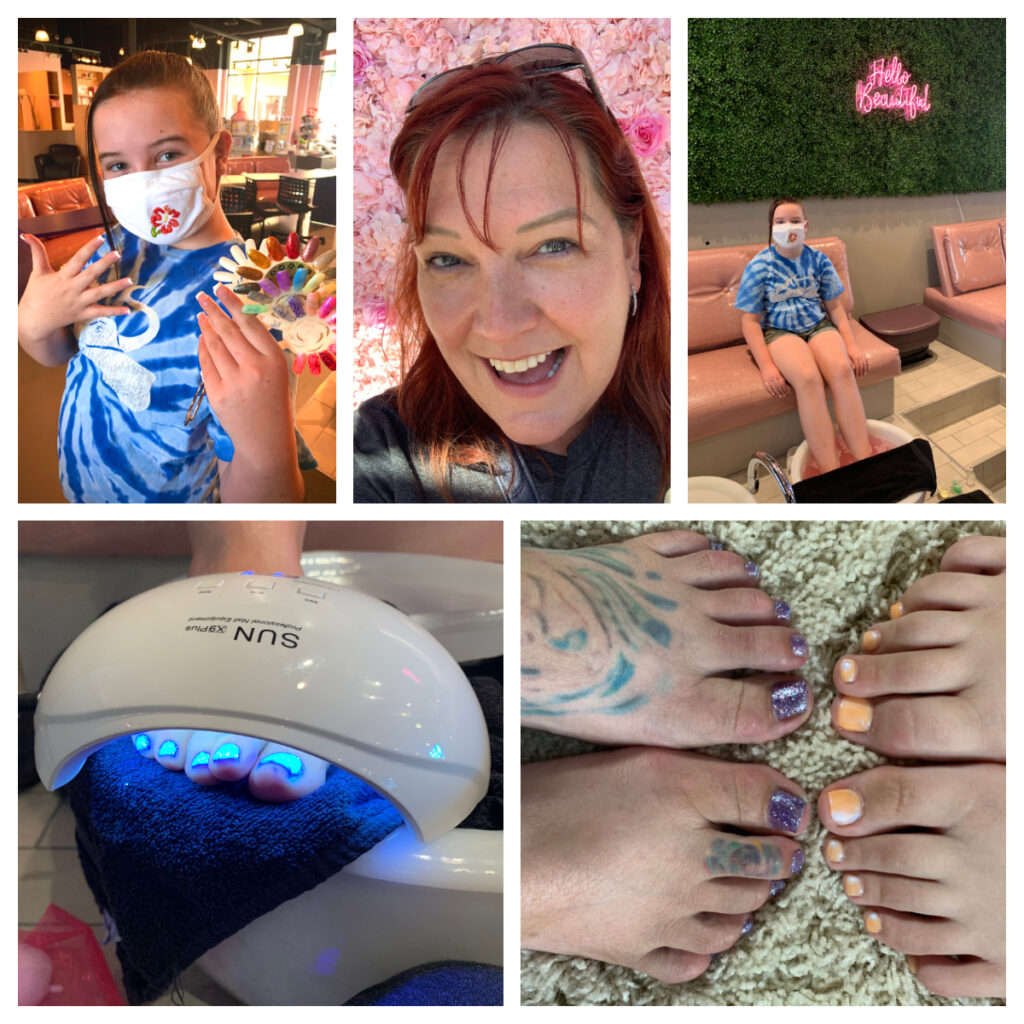 Z and I just had the most incredible back-to-school pampering session courtesy of our friends at the new Bloom Beauty salon at Polaris Fashion Mall.
If you've been to the old Sweet n Sassy, Bloom is a brand new salon in the same location but with a very different vibe. Where the old shop was aimed exclusively at little kids, Bloom Beauty will appeal to girls of all ages – from kids and tweens to teens, college students and even us moms, too.
Z loved going to a kiddie salon when she was younger, but now she wouldn't set foot in one. If your little one has "aged out" of the kids salon you used to use, then Bloom Beauty is the perfect next step. Z loved it and felt so pampered and pretty.
Bloom Beauty offers hair cuts, blowouts and styling, plus both regular and gel manicures and pedicures to appeal to any pampered princess. They have a separate adult salon section in the works with additional color services planned.
Bloom salon is photo-ready itself, with a gorgeous flower wall when you first walk in from the parking lot. We couldn't resist a few selfies here – that rose wall is pretty, pink and perfect!
Z and I both had our first-ever gel pedicures at Bloom Beauty, and we literally can't stop staring at, photographing and talking about our beautiful toes. Erin and the other ladies at Bloom were fabulous and took amazing care of us. The best part about a gel pedicure is that there was no drying time, plus our toes will look salon-perfect for weeks with no chipping.
Also, get this – after our awesome pedis, we were offered scented hair spray and glitter. Who says no to that? We left Bloom sparkling and scented like cupcakes (me) and cotton candy (Z). Talk about an epic pampering sesh that is just perfect for this stressful back to school week.
Our friends at Bloom told us that next time we should try their jelly pedicure, which is basically done with crushed Orbeez in the bowl instead of water. How fun does that sound!? I will be sure to take lots of photos and video when we get those done!
I'm delighted to have found a salon that is picture-perfect, suitable for Z and welcoming to mom and daughter duos. We love having our nails done together, so I know we'll be back!
Plus, what could be more fun than a mom and daughter blowout before our next family photo session? I think that'll be a must now that we have Bloom Beauty so close to home.
Have you been to Bloom, and did you have a fab experience, too? I'd love to hear your beauty tales in the comments below or over on Facebook. And if you do visit Bloom with your mini-me, be sure to tell them that Lewis Center Mom sent you!