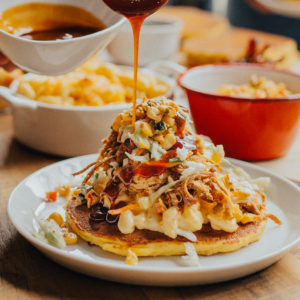 One of my favorite little eateries in Grandview just opened a location on Polaris, and I am ecstatic. When I worked in the Grandview area, I ate at Sweet Carrot on the regular. Boy was I thrilled when they reached out and asked me if I'd like to try their new Polaris location just south of Lewis Center!*
Sweet Carrot's loaded corn cakes are delicious, unique and utterly crave-able – try it once and you'll be back again and again.
I like taking people here for the first time because the menu is best explained in person. You start with your "base" of a salad, sweet corn cake (my favorite!), mac n cheese or a sandwich. Then they add your preferred protein – the BBQ (beef, pork or turkey) is amazing, or go with my fave the chicken meatballs in a sesame ginger sauce. Yum! (They also have fried artichokes for the veggie crowd.)
Then, trust them when they say they'd like to top it off with their slaw, corn salsa and homemade sauce. YES, you want it all. My mouth is literally starting to water as I write this, it is soooooo delicious!! They describe their menu as "made from scratch comfort foods" but I think it's more gourmet than that. I've never taken anyone there and not have them LOVE everything they tried.
Also, Sweet Carrot is totally kid-friendly, especially on Tuesdays when kids eat FREE! Food Network star chef Guy Fieri loved Sweet Carrot so much, he featured them on his show Diners, Drive-Ins and Dives.
There really is so much to love about Sweet Carrot. The food is incredible, it's kid and allergy friendly, the bunny theme and decor are adorable AND it's locally- and woman-owned and run. Does it get any better? Just the kind of business I like to support!
Have you tried Sweet Carrot on Polaris yet, and what did you think? I'd love to hear in the comments below or over on Facebook.
*Also, a disclaimer: even though Sweet Carrot bought me lunch, all opinions are my own and their amazing food tastes JUST as good when I pay with my own money!