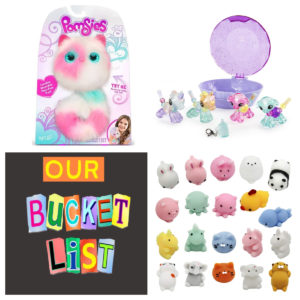 We all know the holidays are about far more than giving and receiving gifts… but at the same time, there's something magical about seeing a child's eyes when they wake up on Christmas morning and get their first peep at beautifully wrapped presents under a sparkling tree. That morning of monumental unwrapping only happens once a year for us (birthdays are fun at our house but not quite as over-the-top as Christmas), so we like to make it special.
One of my favorite seasonal hobbies is to get out in front of the holiday season and predict what will be THE hot toy that year, then scoring one for Z and the other little VIPs in my life. I've done really well at this for the past two years, and I'm hoping this year will continue my streak.
Want to know what I'm predicting as this holiday's hot gifts for kiddos? I'm dying to share!
Pomsies – The moment I saw these little critters, I knew we had to have one. I fell in love with them myself so I know Zoe will! They are an interactive pom pom/kitty cat hybrid and kiddos can wear them, attach them to their backpacks, etc. They have touch sensors, light-up eyes and make dozens of adorable sounds. I'm a sucker for interactive soft fuzzy toys like this, ever since my Bleeple days (anyone else remember those!?)
Twisty petz – I'm not sure if age 8 is too old for these, but I'll find out when Z opens her stocking Christmas morning because she's getting a set. They are so cute! Like an uber-girly version of Transformers, they start out as bejeweled pastel colored animals but then twist apart into bracelets! I figure if nothing else, it's another good fidget toy for those times when they have to sit quietly and read at school.
Mochi squishies – If your kiddo went through the ubiquitous "squishies" phase, they will likely love these smaller, even squishier mochis. Although I was largely annoyed by the meaninglessness of squishy collecting, even I have to admit that these little guys feel nice and are fun to play with. I'd be careful with mochis if you have littles under 4, as they look deceivingly edible, but other than that they are sure to delight.
Slime-making kit – I sprung for this early, so I already know how great it is. If your kids like making slime, this will be a sure hit! It's full of glitter, beads and other mix-ins to help them customize the perfect slime. Z is getting another of these kits for Christmas because she makes so much slime that she's almost through the first kit I got her. Although I find the slime trend tiresome, I do appreciate how creative she can be with her recipes and she seems to have perfected the minimal mess method (fingers crossed that continues!)
Bucket List journal – This might be better for older kids. Oh, who am I kidding – it's probably more for me! I love planning trips, adventures and activities for each month and season – and this book is a great way to keep them all in one place. Grab one and you can start a wish list of family activities, trips and getaways too! I can't wait to get started with ours.
Extra bonus round: please tell me you and your families are looking at holiday lights through these magic glasses, right? If you're not using these things when you ogle and peep the season's twinkling lights, are you even living your best life?! We LOVE these in our family. And while they're not new, it does seem that each year they come out with new, crazier varieties than the original "rainbow" magic glasses. Our favorites are the rainbow ones and some of the newer shapes like the Christmas tree and reindeer head glasses. Honestly, check them out – they're so much fun and would make a great stocking stuffer or pre-holiday gift.
So, there you have it – a fairly good mix of fun gifts or stocking stuffers for the mid-gradeshool set. What are you looking forward to gifting this year? I'd love to hear in the comments below or over on Facebook!
And if you liked this post, you may want to check out the others in my Friday Favorites series.