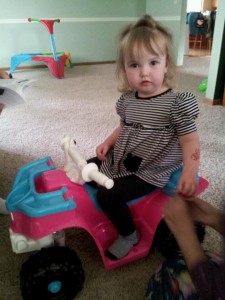 Blast from the past: this post was originally published in May 2012.
I had no idea what to expect with regard to potty training.
You have to understand that for much of my adult life, I avoided people with kids and sought out friends who didn't have babies.
On top of that, our nieces and nephews live pretty far away from us so I just haven't had a whole lot of exposure to little kids, especially toddlers.
So, realizing I'm clueless about this as with most parenting topics, I researched a lot and read a bunch of books and blog posts.
For the most part, the experts mostly recommend sitting back and letting the child guide the process. That makes sense – that's how we handled our birth (natural is best, minimal interventions unless medically necessary) and that's how we're handling breastfeeding (child-led weaning, we'll go as long as Z wants). Baby knows best, seriously. But one thing I wasn't anticipating, and that I hadn't read in any of the literature, is how much FUN potty training would be.
Potty training with Z as our guide is an absolute trip.
Ever since starting in her new classroom at daycare, just before she turned two, Z has been completely, fanatically obsessed with the potty. It's the coolest thing ever to her – she loves the ritual of it, she loves all the steps involved (pants down, diaper off, climb up, sit down, wipe or pretend to wipe, flush, wash hands). She loves books about using the potty, she loves the coolness of it (flushing the toilet? It's amazing), she loves being a big girl. She loves PRETENDING to use the potty. She loves telling us (and other people) that she went peepee in the potty. She loves repeating some or all of the steps involved in going to the potty, over and over and over again like a stuck record.
Most of all, she loves actually going peepee in the potty – and although this has only happened an elusive number of times, I am confident soon enough it will happen every time.
We're just starting out on our potty training journey, but I've learned a few things so far. Here are my beginner's tips for other newbies.
Put a plastic mat down underneath your potty seat. So far we've had two incidents of peeing ON the potty (meaning on the outside of the lid, vs. the correct, preferred method of peeing IN the potty). Basically, many potty seats double as step stools and sometimes she'll fluctuate between wanting to sit on the potty and wanting to stand on the potty to brush her teeth. Well, turning on the faucet to brush her teeth sometimes encourages Z's faucet to turn on. I think a nice plastic tarp under her potty seat would be a great addition to our bathroom and would make cleaning up a little easier.

Have fun with it.

Too much parental pressure can delay things, so we're really going with the flow (often quite literally). Accidents happen – they are part of the learning and therefore a good thing, not a bad thing. When presented with her very first set of big girl underpants, Z wanted to immediately put them on and then spent at least 30 minutes pulling them down, pulling them up. Pulling them down, pulling them up. She was practicing. She knows she'll have to do that at crunch time, when she actually has to pee, and she wants to get good at it before that happens! You need to have patience and praise for each step along the way, no matter how long it takes. I love watching Z learn and grow, and this is no different. Plus she looks so darn cute in her new big girl pants, sans bulky diaper!

Think total immersion.

There are potty DVDs, potty storybooks, all kinds of resources to help you educate your child and bring the learning full circle. So far I haven't gotten Z to sit still for a potty training DVD (she'd much rather watch The Lion King, Madagascar or Ponyo) but she really likes the three potty books we got her. I keep one in each of our bathrooms so we always have something to read when she's practicing her potty sitting. Her favorite is the big Elmo "Seek and Find" potty book.

Invest in good temporary tattoos.

Z gets a very cool temporary tattoo every time she successfully uses the potty. So far she has gotten three at home and one at school. We're on a roll, people! The cruel irony is that she's going to have a tattoo sleeve long before I ever will. We've gotten many compliments on Z's ink. They are from Tattly and in addition to being great looking, they also seem to be of much higher quality than the ones she gets at school. I also have my eye on these sparkly glimmer tattoos. They are super cool and may become our reward of choice for going #2 in the potty, once that time comes!

Running water is your friend.

You know how hearing rushing water will drive you crazy if you have to pee and there's no restroom around? Well, apparently, it has the same effect on toddlers. Turning on the faucet is a great way to entice her to go. They even allude to this in one of the potty books we got her. May I suggest having some potty practice time while running a bath? It sure works for us.

Figure out your "diaper free zone."

It seems that potty training is easier and quicker when the child actually feels that she's wet or soiled herself – which, with today's modern super-dry diapers, isn't always immediately apparent. So, setting aside some time (and an appropriate space in your home) for your little one to go diaper-free is part of the joy of potty training. The first time Z peed without a diaper on, she definitely knew right away and called attention to it. We try to do this now on every weekend day and day off together, for at least a little while. It's a lot easier when you can be outside in the yard and not have to worry about your couch or carpets.
That's all I've got for now, but there will be many more lessons learned on both sides of the potty, I'm sure. For now, we're staying relaxed, following Z's lead, and doing lots of laundry.
Got any great potty training tips for a first-timer? I'd love to hear them in the comments below.