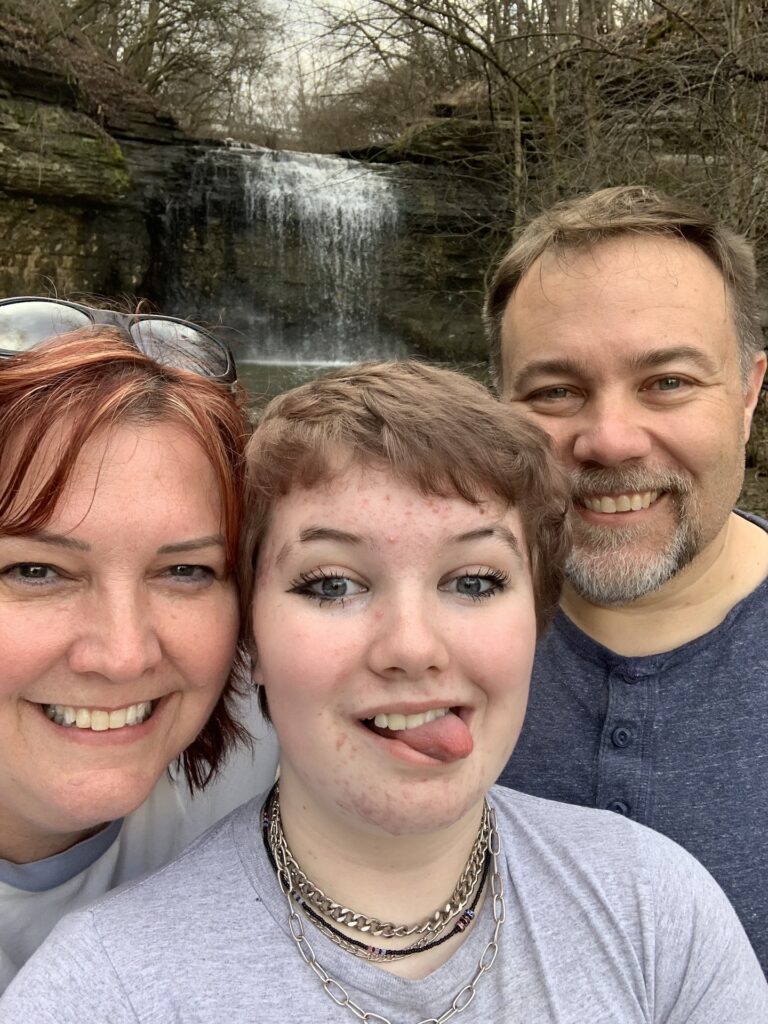 Lewis Center and the broader Central Ohio area have some truly fantastic parks and nature areas to explore.
Whether you are a fan of remote wildlife preserves, fishing lakes or urban greenspaces, there's something for everyone.
Now, Columbus has a brand new metro park on the site of an abandoned quarry – and it even has a waterfall!
Quarry Trails Metro Park has been getting a lot of buzz, so when we had a couple of unseasonably warm days recently, our little fam hopped in the car to check it out. We were not disappointed.
Quarry Trails is a large recreation area featuring 180 acres of trails, boardwalks, observations areas, a single-track mountain bike trail, lakes and the picturesque, 25-foot waterfall of my dreams. It's definitely worth the drive from Lewis Center!
We parked at the Millikin Falls lot and followed the path down toward the sound of running water. There are multiple viewing points for the waterfall, beginning with the upper level which gives you a nice bird's eye view of the falls.
Then, you walk down a path and some narrow stone steps to get to the main level. Intrepid adventurers can climb further down giant rock slabs to get to the actual stream itself – and then you can walk right into the waterfall if you are so inclined.
Quarry Trails' Millikin Falls is a beautiful spot and I expect it will be very popular in spring and summer.
After exploring the falls area, we climbed back up the rock ledges and continued on the main trail toward the lake. The park is really nicely laid out with multiple bridges, water features and rocks everywhere.
Once we got to the biggest lake, I was delighted to see that, in addition to the usual Canada geese and Mallard ducks, there is a pair of resident swans at Quarry Trails. I can watch swans all day – I just love them!
E and Journey skipped rocks, climbed and enjoyed each other's company while I took photos and admired the swans. There were others using the trails and exploring the park, but it never felt crowded. There are new apartments or condos going up in a half-circle around the park; I imagine the trails will get a lot more use once those are inhabited.
We didn't make it over to the side of the park with the mountain bike trails and boardwalks, but we enjoyed our afternoon at Quarry Trails very much. It's the kind of place I could imagine taking a picnic lunch or going very early to catch the sunrise over the water.
I look forward to seeing that waterfall in all seasons – I've seen photos of it frozen over in winter and that must be glorious to behold in person.
Miles of dog-friendly trails, waterfront views, a waterfall and rocks galore make Quarry Trails the perfect recreation spot for our family. I'm so glad we ventured down to the Hilliard area to check it out!
Have you been to Quarry Trails yet, and if not, what's your favorite metro park? I'd love to hear in the comments below or over on Instagram or Facebook.