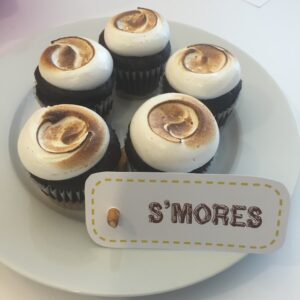 This is actually part two in my cupcake tour series.
My first cupcake tour post appeared on the Discovering Ohio blog last year.
I actually have a rant about cupcakes, which I'll share shortly, but it's not because I don't like cupcakes.
Oh no, it's the opposite. I LOVE cupcakes. And I'm happy to report that despite many snooty, jaded food writers and bloggers repeatedly announcing that cupcakes are dead, the cupcake craze continues to rave on.
Why? Because cupcakes are delicious. And tiny – well, some of them are. Some cupcakes are about as big as cakes, but those aren't the kind I covet. I mean, what's the point? Just call it a small cake.
I prefer my cupcakes tiny and delicious. And I'm quite serious about them.
I have every intention of expanding my cupcake tour beyond central Ohio at some point, but for now there are so many cupcakeries in Columbus that I keep finding new places to review.
It's a tough job, but someone needs to do the hard work of cruising around, choosing and sampling delicious cupcakes, and then reviewing them – or else how will you know which are the best? Some of my cupcake reviews are on Yelp, but I've collected a few below for your reading and eating pleasure.
Cupcake Yum Yum. These are the epitome of tiny and delicious cupcakes. Billed as "two bite" cupcakes, they are miniature gourmet confections baked with fresh, natural ingredients in flavors like Beer & Pretzels, Coconut Raspberry and Spiced Maple Bacon. These are, in a word, amazing. They're available by custom order only and Scarlett will deliver them to your home or business within Columbus. They're not cheap, but they look and taste like sheer perfection. Definitely high on my short list of favorites, if not at the very top. I'd even go so far as to say that Yum Yums are the Jeni's of cupcakes.
Mrs. Goodman's Baking Co. People don't usually suggest Mrs. Goodman's when you ask who makes the best cupcakes – this small, established Worthington bakery is better known for amazing cakes and cookies. However, I recently sampled their cupcakes and for the most part they were pretty spectacular. Mrs. Goodman's buttercream frosting is beyond divine and comes in flavors like orange and strawberry – really sweet but natural and fresh tasting. Add that buttercream to tasty yet simple cupcakes, and you have bliss.
Bakery Gingham. A downtown favorite with locations in the Short North and German Village, I was pleased by flavors such as Short and Stout and Ultra-violet White. They have a nice display of cupcakes available and some great looking cakes, too. This is another great place for an overall "Cupcake Experience."  It's fun to make a morning or afternoon of it by walking around either cute downtown neighborhood, then stopping in for a cupcake or two to share.
PattyCake Bakery.  I'd be remiss if I didn't include a vegan option on this list, and PattyCake's cupcakes are worthy of high praise. I don't know how they make them so moist and flavorful without butter or eggs, but I'll happily eat these any day of the week – especially their Lovely Lemon and PB&J flavors. Yum!
KissiCakes. Located inside the food court in The Mall at Tuttle Crossing, this Dublin bakery turns out some great cupcakes in flavors like Raspberry Lemonade, Green Tea and Spicy Tomato Soup. They were even featured on an episode of the Food Network's Cupcake Wars. (On an unrelated note, did you know the Food Network has a Cupcakes app with 100 cupcake recipes and tips? Oh yes, there's an app for that). I love the location and unique flavors here – so nice to see a mall food court get on the cupcake train!
I've sampled and reviewed a few others on Yelp, including Let Us Eat Cupcakes and Blue Frost – the latter review also includes my patented (not really), recommended method for eating cupcakes without making a mess.
But alas, now it's time for my rant: I hate it when I buy a bunch of different flavors of cupcakes only to find one or two in the mix that are drying out and past their prime. I wish cupcake bakeries would tell me which ones are baked fresh that day, and which ones are on their way out.
If I baked cupcakes for a living – and don't think I haven't thought about it – I would post the dates and times each batch was baked, and then price all of my cupcakes accordingly. Super fresh cupcakes would be $3, full price. Day-old cupcakes would be $2, and two-day-old cupcakes would be $1. Anything older than that would be given away for free.
This way, people could come in for cupcakes knowing what to expect! You could choose to buy a super-fresh, full-price cupcake to taste them at peak deliciousness, or you could choose to pay a little less and have a slightly less fresh cupcake to meet your budget.
I hate paying full price and expecting cupcake perfection, only to find things a little dry and stale. ALL of the bakeries above have disappointed me on occasion in this regard, with the sole exception of Cupcake YumYum since theirs are only baked to order.
I wouldn't mind buying a slightly less-than-fresh cupcake at a reduced rate if I knew that's what I was getting, but I HATE paying full price only to take a bite and feel jilted.
There you go – rant over. What do you think – does this bug you, too? And where's your favorite place to get a cupcake? Be sure to read the rest of our cupcake tour posts.