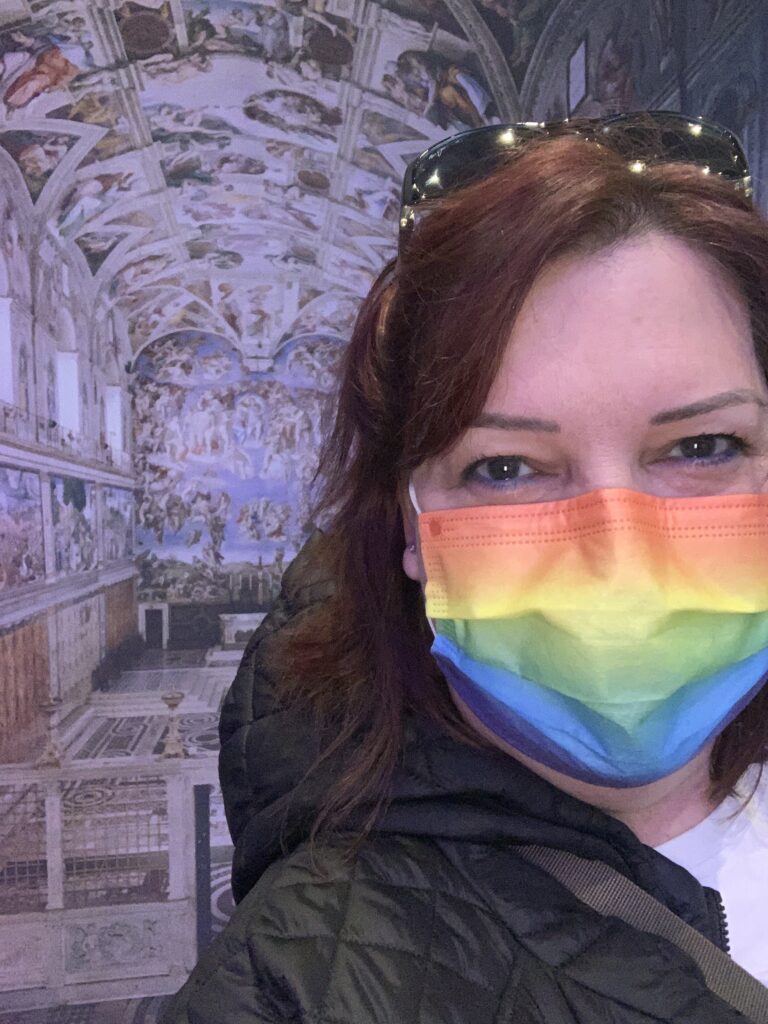 I told you all I was going to class it up in 2022, and boy have I.

First I went to see the immersive Van Gogh exhibit. I also visited the iconic Getty Center museum in Los Angeles.
Now I've spent a morning right here in the Greater Columbus Convention Center with none other than Michaelangelo!
The Michaelangelo: A Different View exhibition was here in Columbus for just a few weeks in January. As a fan of Renaissance paintings, and someone who has never visited the legendary Sistine Chapel in the Vatican, I was excited to see this presentation of Michaelangelo's artwork.
Michelangelo di Lodovico Buonarroti Simoni (March 6, 1475 – February 18, 1564), known simply as Michaelangelo, was a painter, sculptor and architect. He is perhaps best known for spending four years of his life on scaffolding under the vaulted ceiling of the Sistine Chapel, laboriously painting his interpretation of the creation story.
These incredible Sistine Chapel frescoes are 72 feet up, meaning that few people get to truly appreciate the details of Michaelangelo's artwork – until now.
This unique international exhibition brings the artwork down from the ceiling via the most complete and authentic reproductions of Michaelangelo's magnificent frescoes ever shown outside of the Vatican.
Was this just a room full of photos of paintings? Yes. But are those paintings some of the most incredibly detailed and intricate artwork I've ever seen? Also yes.
The traveling exhibit gives us a once-in-a-lifetime opportunity to see the Sistine Chapel artwork up close. Even friends and family who have visited the Vatican and seen the ceiling frescoes in person haven't seen the art like this.
There is an audio tour which you can access for free if you bring headphones (alas, I forgot mine). There's also signage to help you to understand what you're looking at.
I went early on a weekday and there were no crowds at all, but I've heard it can be a little busier on weekends and evenings. There are many nude figures in the paintings, plus there's really nothing for kids to do here, so I'm guessing it was not a popular event with young ones.
I absolutely loved this exhibit. It's just one room of images, but there is so much incredible detail in each photo of a fresco. I learned that Michaelangelo didn't even consider himself a painter – he preferred sculpture. Well, I hate to break it to him, but he was certainly a world-class painter as well!
The details are incredible. No way would you be able to truly appreciate this art by craning your head back and looking up at the Sistine Chapel ceiling. This traveling international exhibit is magnificent and really brings the artwork to life!
My only two constructive criticisms: first, the event organizers recommended we park at the Ohio Center garage but it puts you at the back loading dock of the convention center. Not a classy look for Columbus.
And second, I would have loved to have a docent or someone there answering questions. For example, I wanted to know if the images were life-size replicas or if they were enlarged? (I eventually figured out that they are enlarged versions.)
If you love art, watch for events and exhibits like this one to come to your city. I think Michaelangelo moves to Dayton next if you're interested.
Bravo to Columbus for hosting this very cool art event – and thank you to Yelp for letting me know about it!