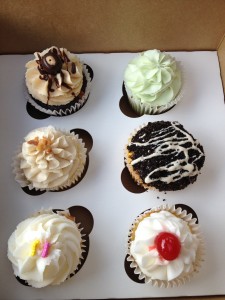 This post is part three in my Cupcake Tour series. Be sure to read the other sweet installments!
I know Dayton quite well.
You see, I lived there for eight years prior to moving to Columbus in 2005.
Alas, there were no cupcakeries in Dayton while I lived there – the trend had not yet hit. But all that has changed, and Dayton is now a veritable cupcake mecca.
There are enough cupcakeries in Dayton for several installations in my blog series, so here's my first shot at reviewing some of D-town's finest cupcakes – as well as a wish list of a few places I have yet to try.
June Bug's Cupcakes. I can't lie, I'm starting with my favorite. Conveniently located right on Miamisville-Centerville Road just moments from the Dayton Mall, June Bug's is everything you wish for in a cupcake shop. Cute signage, adorable shop and seriously fantastic, gorgeous cupcakes. They promise "single servings of happiness" and let me assure you, June Bug's delivers (no really – they actually deliver cupcakes, too). I fell hard for flavors like Girls Night Out (yellow cake with pineapples baked in, coconut frosting, shaved coconut and a cherry), It's 5 O'clock Somewhere (lime/margarita cake topped with a light lime/margarita buttercream) and Dirty Mess (yellow cake filled with peanut buttercream, frosted with chocolate icing, covered in oreos and drizzled with peanut butter topping).
I love it when cupcakes present the total package: creative flavors, clever names, gorgeous looks and delicious, balanced taste. June Bug's hit it all out of the ball park and I can't wait to go back and try some more flavors. Gold star to June Bug's for being my favorite on the Dayton leg of the cupcake tour!
Cake, Hope and Love. My next foray into Dayton cupcake nirvana was a long-awaited visit to the awesomely-named Beavercreek shop. They get massive points for the name, plus they call 'em "cuppies" which makes me giggle, but unfortunately they are hidden away in a slightly awkward location. Once inside, the place is certainly sweet, with pretty decor and room to sit and devour cupcakes and stay a while. And the cupcakes… oh, the cupcakes. I hit them on an odd week – it was Christmas in July – so these flavors may sound a bit unusual. I tried the Apple Pie, Eggnog, Gingerbread and Peppermint Stick. Each was perfection but I'll be honest, they just weren't my first pick of flavors for cupcakes, despite being unbelievably moist and flavorful and delicious with a flawless cake to frosting ratio.
In other words, here's another cupcakery I'll need to visit again. I have a sneaking suspicion this may have been my #1 favorite Dayton cupcakery if I had not been restricted to the holiday flavors. I'm dying to go back and try their Elvis (rich banana cake with a shot of chocolate ganache topped with rich and creamy peanutbutter buttercream and chocolate morsels), Raspberry Limeade (sweet vanilla cake filled with tart raspberry preserves and topped with refreshing lime buttercream and sparkling sugar) and At the Movies (sweet buttery cake filled with a milk chocolate center and topped with a Madagascar vanilla buttercream, coarse salt and buttered popcorn). Sounds so good, right?!
Gigi's. Heading still further north into the Beavercreek/Fairborn area (right near Wright State U.), I ventured into the first national cupcake chain outpost (that I know of) in Ohio. Since Gigi's is not local, I went in with a wee  bit of skepticism and a bias toward the little local shops – but they were so highly recommended I just had to pay them a visit. Right off the bat, they wooed me with a very attractive storefront, fancy brochures with photos and descriptions of all their flavors, and a pretty case full of large, voluptuously frosted cupcakes in a nice variety of flavors. So far, so good.
But you know what? Sometimes, even with cupcakes, there can be too much of a good thing. Gigi's cupcakes broke my #1 rule of cupcake enjoyment: their top-heavy beauties just have too much frosting. The bakers at Gigi's reversed the usual cake to frosting ratio, leaving me with way too much buttercream left over after finishing the last bite of cake. I'm sure some folks love a good frosting-heavy cupcake, so they'd be in heaven here at Gigi's. For me though, these just weren't quite right, despite wonderful flavors like Banana Cream Pie, Cinnamon Roll and Lemon Dream Supreme.
Mystery Cupcake. There's one more cupcake that I tried in Dayton, but unfortunately it was served to me at a client meeting and I have yet to determine from whence it came. I'm pretty sure it was either from the Cake Diva or the Cake Lady/Ladies – but mark my words, I will find out because that was one of the yummiest, softest, best and most perfect cupcakes to ever pass my lips. It tasted like banana bread pudding and it was like a little gift from the cupcake gods. More on this in a future post once I find out where to find more of these little treasures!
Oh, and I'd be remiss if I neglected to mention that Dayton also has its very own adorable cupcake truck, Go Cupcake. I  haven't tried these cuties yet but I follow the truck on Twitter and one day, they shall be mine. Oh yes, they shall be mine.
What have I missed – got a favorite Dayton cupcakerie I should try in my next cupcake tour post? I'd love to hear about it in the comments below!