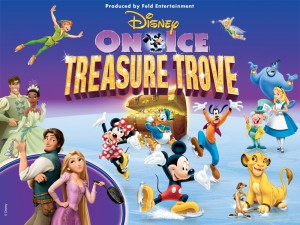 I am a huge fan of all things Disney and so far Zoe is too, so when I heard Disney on Ice was coming to Columbus, I knew it would be a perfect mommy and daughter date. Their latest show, Treasure Trove, is a medley of all our favorite Disney friends (Mickey, Minnie and the gang) plus favorite princesses from over 50 years as well as other beloved movie characters.
Now, I'm happy to share you too can go see Disney on Ice's Treasure Trove show – completely for free – in one of two awesome ways.
First, Disney on Ice is supporting the Columbus YWCA Family Center's annual diaper drive on Saturday, January 19. If you donate an unopened package of disposable diapers (the YWCA Family Center is especially in need of pull-up diapers in size 4, 5 and 6) to COSI during this time, you will receive a free ticket voucher good for either the Wednesday, Feb. 20 or Thursday, Feb. 21 performance of Disney On Ice presents Treasure Trove performance at Nationwide Arena. There will be a limit of 500 ticket vouchers available – and a limit of two ticket vouchers per donating family. COSI, another great supporter of YWCA's diaper drive, will also issue a choice of $5.00 off general admission coupon or a free Extreme Screen movie ticket for each package of diapers donated (limit four coupons per donating family). Is this a great cause or what?
Donate much-needed diapers to a wonderful community organization and get free fun for your family. It's a total win-win.
The second way you can go see Disney on Ice's latest show for free is also very easy – through a giveaway on this blog! Simply leave a comment below with your favorite Disney movie and/or character of all time – and please be sure you like both Lara-Mom Blog and Disney on Ice on Facebook, too. Zoe will pick a winner at random before the end of January – just in time for you and your favorite little person to go see the show on opening night, Wednesday, February 20 at 7:00 pm at Nationwide Arena in Columbus.
Have you seen a Disney on Ice show before? I haven't and I am so excited! What could be more magical than the combination of Disney characters, fabulous costumes, dazzling musical numbers and the gorgeous grace of ice skating? I'm going to be like a little kid the day we go. Please let me know in the comments if you'd like to enter the giveaway, and good luck! Can't wait to hear your favorite Disney movies and characters, too. For the record, mine are Ariel, Sleeping Beauty, Cinderella, Princess & the Frog, the Aristocats and Tangled! There's no way I could ever pick just one.
Full disclosure: Zoe and I will receive two free tickets to Disney on Ice and were also provided the tickets to give away here. This is made more awesome by the fact that we would have bought our own tickets and gone to see the show anyway! Hey, who knows. Maybe we still will so we can see it twice.