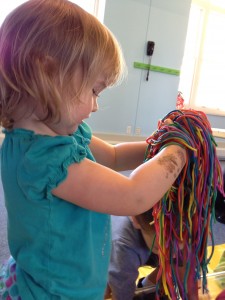 Did you know Columbus is home to the #1 children's science center in the country according to Parents magazine? On Saturday, Zoe and I were lucky to be invited to a wonderful event for parent bloggers and kids at COSI. Zoe got to spend time exploring littlekidspace, and then we attended a Workshop Sampler that was like a "best of COSI" smorgasborg of fun.
Soon after Zoe was born I learned about the toddler haven that is littlekidspace: an entire area dedicated to the four and under set. Zoe has taken several of COSI's infant and toddler workshops, starting when she was just nine months old, so she has grown up loving the place.
Together, we have enjoyed a wide variety of workshop themes, activities and fun ways to make a mess. The best one by far was this Saturday's sampler because always in the past I've avoided classes with bugs or dirt in the title. Turns out Zoe LOVES those things. Silly mommy!
At Saturday's workshop, Zoe got to hold a Madagascar hissing cockroach (she loved it – I got the hand sanitizer out), pet a bright yellow giant banana slug (she loved it – I cringed) and dig in dirt for worms (she loved it – I hid behind my camera and the other moms and dads). Then, after washing our hands several hundred times, we moved on to playing with Mommy-friendly items like rainbow spaghetti (super fun and squishy), Oobleck (a fascinating cornstarch and water mixture that feels incredible and has wacky properties) and plastic rocks and bricks to build with.
Zoe had an absolute ball and I was reminded that I need to sign her up for a couple of workshops soon to get us through the hottest part of summer. The best part about the workshops is that even if you're not a COSI member, afterward you can explore all of littlekidspace and the rest of COSI as part of the workshop fee. It's a great deal. They also have preschool age workshops for 3 to 5 year olds and family workshops for 6-12 year olds, so there really is something for everyone at COSI.
Perhaps the best part of littlekidspace is the water table room, which has to be seen to be believed. Be sure to bring an extra set of clothes, a towel and a camera! The water table room is definitely Zoe's favorite thing at COSI, although the bugs and turtles are a close second now.
So, what do you think – would you like to win free tickets to COSI, free IMAX movie tickets for use at COSI, or even a free early childhood workshop at COSI for you and your little one?  The awesome folks at COSI have hooked me up with some primo goodies for my readers. To win, please comment below and tell me me which prize you'd like to win – and while you're at it, tell me a story about your first ever trip to COSI. If you've never been, take a look at the website and tell me what you and your family would like most about COSI.
I'll pick a winner at random (although I may randomly pick the best story, so tell me a good one!)
Can't wait to read your comments. Ready, set, go!
Huge thanks to COSI for inviting me to visit and experience a Workshop Sampler for free, for a nice lunch and great blogger swag bag including our new favorite book (Pete the Cat: I Love My White Shoes), and for fabulous prizes to give away to my lucky readers. Being a mom blogger rocks.