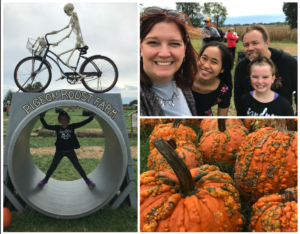 Our family's favorite fall activities include outings to the various wonderful pumpkin patches and fun farms in our area, including Pigeon Roost Farm in Hebron, Lehner's Pumpkin Farm in Radnor and Leeds Farm in Ostrander.
We've loved these places for years and, as an official card-carrying member of the Mamarazzi, I always love the annual fall family photos I capture there!
But after this past weekend, I'm afraid we can cross one of those off the list: our 8 year old has deemed that Pigeon Roost is better suited for the younger set. Although she had a blast there last fall with a friend, this year she felt it was beneath her. A harsh critic, she dubbed it "lame" and "for little kids" – the mark of death for any third grader. Our family still had a good time on Sunday, but as you can tell from the photo below… she was over it.
Now, this might have been different if we had brought a friend her age, because I do still see her jumping around, giggling and acting her age when she's with a friend. I think if we had brought a little buddy along, we might have bought ourselves one more year of fun at Pigeon Roost. However, since she was with her 16 year old exchange sister, she didn't want to do any of the "little kid" activities and instead chose to mope and complain about how boring it was. Even the hayride, something we've always enjoyed, was a bit of a bummer with Debbie Downer along.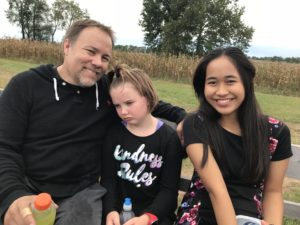 I'm still learning how to parent a grade-schooler and a high schooler – it can be hard to find activities they both love. I'm not quite sure what we could have done differently on our fall farm day, aside from bring a friend along for Z. And I will definitely be sad if she really does decide she's too old for the family fun farms! I'm hoping we can make another outing to one of the others we like, and hopefully win her back over. Leeds has the big zipline and Lehner's has mini zips and pedal tractors, so I'm pretty sure she'll be up for visits to both of those.
And I can honestly say she DID have some fun moments at Pigeon Roost, in spite of her too-cool-for-school attitude – especially on the giant "hamster wheels" where she ran herself silly making a skeleton ride a bicycle!
What age did your kids "outgrow" these activities, and how did you handle it? I'd love to hear in the comments below or over on Facebook.