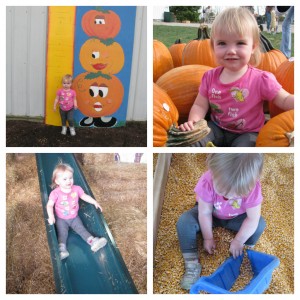 I love the fall season, especially with a little one. What could be more fun than playing in leaves, visiting apple orchards and picking pumpkins? And here in Ohio, we have so many options. Here are a few of our favorites.
Leeds Farm. This fall fun spot has a special place in my heart because last year was Zoe's first time experiencing fall fun on her own two feet, and we took her here not once but twice. It rocked her world! She had sooo much fun playing in the corn boxes, climbing hay bales in the barn and sliding down, and riding the barrel train. Leeds is in Ostrander, Ohio between Marysville and Delaware. It's free for age two and under, $10 for kids 3-18, $8 for adults 19-54, and free for 55+.
Lynds Fruit Farm. Located in Pataskala, Lynds is the gold standard for apple picking and has a great pumpkin patch, too. With loads of other fun activities for kids, such as a corn maze and wagon rides pulled by vintage John Deere tractors, this is another good weekend option during fall. Admission to the corn maze is $5 for kids 5-12, $8 for 13 and up, and free for little ones under two. There are some additional costs for other activities like the kids' barrel train ride and rock play area.
Lehner's Pumpkin Farm. I haven't been to Lehner's yet, but I read this blog post about them last year and it made me want to visit. They have a load of family fun activities like a petting zoo, hay rides, little kid barrel train rides, and more. They're in Radnor, Ohio (north of Delaware) and an all-day activity stamp is $6.
The Maize at Darby Creek. Located in Milford Center, Ohio, this one is known for epic annual corn mazes as well as the other usual fall family fun activities. Cost is $8 for 3-59, $4 for 60+ and free for two and under, with a few activities costing extra. They also have u-pick raspberries during the summer berry season – this is one I definitely want to try next year.
Young's Jersey Dairy. Young's is a bit farther afield, just outside of Yellow Springs, but it's worth the drive. They have a great family-friendly restaurant, a corn maze, a farm animals petting area, and much more. The three-tab Young's Family Fun Wristband is $11.50, or a five-tab wristband at $16.50. Each tab represents one fun activity or food item (like fresh Young's ice cream, yum).
Pigeon Roost Farm. I just heard about this one from Rachel at Hounds in the Kitchen. I trust her judgment so we will definitely be checking this place out. Also, it's worth noting that most of the above fall family fun farms (say that five times fast) are open only on weekends, while this little Hebron, Ohio gem is open every day. I see a Wednesday play date at Pigeon Roost in our immediate future!
Even more fall family fun
If all that's not enough, here's a list of favorite pumpkin patches around town, along with another recent round-up of fall family fun in Columbus. Also, last year I blogged about why late fall, especially November, is one of my favorite times to hit the zoo in Ohio.
Have I missed any of your family's fall favorites – what's on your list of the best things to do and places to go in the fall? I'd love to hear in the comments below.