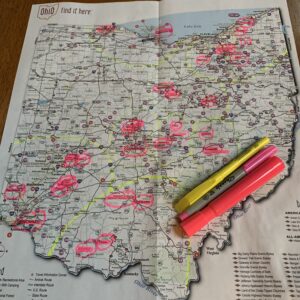 We all know that I love to daydream about past and future fantasy vacations around the world. But did you know I also put together an Ohio travel wish list every year?
There are so many amazing adventures to be had right here in the great state of Ohio. Just think of all the one-day roadtrips, weekend getaways and even new fun to be had right in your very own state. It simply takes a little research and planning to find the true gems!
Since my long-ago public relations work on behalf of Ohio Tourism, I've made it a habit to order the free Ohio Travel Guide every year as a starting point for our local trip planning. Then I go through the guide, either solo or with the fam, and circle anything that looks like we'd enjoy it.
After that, I pull out the handy state map included in the guide and highlight everything I circled in the book. This helps me to figure out which destinations are close to each other, so that we can plan road trips that hit multiple nearby destinations. Last but not least, I then get online and research each destination so I can prioritize and start planning trips. It's that easy!
To give you a running start on your own Ohio trips this year, I've decided to share my preliminary Ohio travel wish list.
There's way too much stuff here for one family to do in one year – so maybe your family should explore some of these adventures, too! I've included links wherever I could find them so you can dig in and find out more. I'll be using this blog post for reference throughout 2020 as I look for fun things for our family to do. I hope you will, too.
2020 Ohio travel wishlist
Northwest Ohio
Northeast Ohio
Central Ohio
Southwest Ohio
Southeast Ohio
Who's inspired to take some staycations and Ohio road trips? I know I am! Let me know if you have other ideas we should add to this list for 2020 – or if you've been to any of these places and have stories. I'd love to hear from you in the comments below or over on Facebook!