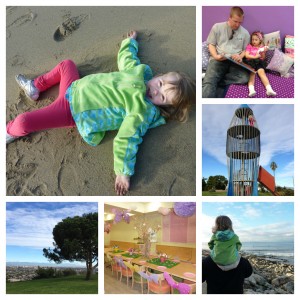 We spent a week with family in Los Angeles over Christmas. Each day, we all set out to explore a fun new spot so that Zoe (age almost three) and her cousins, ages two and four, could enjoy getting to know each other again. It had been a long time since their last visit – too long.
My folks moved to LA in 1994 and I've enjoyed visiting them each year since. Our trips to LA used to look a lot different before Zoe. We would rent a car and cruise Pacific Coast Highway, dip through the 'hood listening to gangsta rap and trying to visit every street ever mentioned by Snoop, Dr. Dre and Ice Cube, walk through Beverly Hillls looking for celebs, or spend our evenings in West Hollywood visiting all the naughty shops. Not so any longer.
Since our nieces and Zoe came along, we love our visits with our Cali fam just as much, but it's a different kind of fun. We do take out instead of going out. We play at parks instead of shopping Melrose. And most of all, when the weather's unseasonably cool or rainy as it was in LA this Christmas, we seek out indoor play places to ease the cabin fever.
What follows is my review of a week's worth of South Bay/LA area family-friendly play place, ranging from free public spaces to upscale kids' cafes.
LA is bursting with fun for kids… ready, set, let's go!
Kids Concepts USA in Torrance is a huge indoor play place that becomes a chaotic madhouse once crowded. We got there just as it opened and enjoyed a solid hour to 90 minutes of high-energy fun before it became too busy. Although it has a separate, spacious toddler room with padded mats and a high-flying bucket seat swing, our girls wanted to play in the main area – and who could blame them. Climbing structures, a ball pit with "cannon," slides, a bouncy area, tunnels and caves, a separate dress-up area, a building area with giant lego-like blocks and even a video game area make Kids Concepts a play space with something for everyone.
Pros: they won't soon get bored here. Cons: it can get very crowded; the size of the space and variety of activities will keep you running the entire time; and the food area serves up a whole lot of fried stuff and the smell permeates the entire space at lunchtime. Cost: $10 per kid 3 and up, $7 for age 1 to 3, free for under 1 with another paid child admission, and one adult free per child ($4 for additional adults).
Silly Goose Playground in Lomita is a sleek, clean, lovely indoor play space with instant parent appeal. Our two and almost-three year old loved it, but our four year old got a bit bored after a while. The climbing space is limited but there are also cozy, pretty little nooks for reading and imaginative play, along with wooden toys and dress-up clothes. Overall this feels like a kinder, gentler experience than Kids Concepts – but if your kids is boisterous or rowdy, it may not be a good fit. I really liked Silly Goose and if we lived in LA, I would definitely have a birthday party there as it's an adorable space.
Pros: Great use of space and fantastic design; bring your own food. Cons: limited interest for older preschoolers; plus some Yelpers complained of "dangerous" equipment although we didn't have any issues. Cost: $8 per kid, 9 months or younger free, free for adults.
South Coast Botanic Garden on the Palos Verdes Peninsula is a very pretty place to take a walk on a sunny LA morning. It's a huge place so we only saw a small portion, but we enjoyed the fountains, lake with ducks, and in general a quiet place to visit with nature. That said, admission is pretty steep for just a nature walk, especially since there's not much to keep kids occupied for long. Next time, I'd skip this and do the beach twice instead.
Pros: Lovely grounds, open 364 days (just not Christmas), 87 acres of nature. Cons: Not much to keep toddlers/preschoolers' interest up, plus it's uphill all the way back to the car so you may end up carrying a little one (I sure did). Cost: $8 per adult, $5 for age 5 – 12, free for age 4 and under.
Malaga Cove Beach in Palos Verdes Estates is a little slice of SoCal heaven. There are many places to access the beach in LA – you can opt for free parking and hoof it a bit, or pay for parking and step right out onto the sand. At Malaga Cove, you park in the free municipal lot next to the school, then hike down quite a steep slope to access the beach. But oh, what a beach – surfers, maybe dolphins or whale spouts in the distance if you're lucky, and the magnificent Pacific Ocean coming at you in waves. If there's a better sight, I haven't seen it.
Pros: Perfect spot for walking, shell and rock collecting, sea life spotting, sea bird chasing and surf/surfer watching. Cons: Are there any?! Maybe the steep walk down and back up again – but I never mind. Cost: free, glorious free.
Rocketship Park/Los Arboles in Torrance is one of the coolest kids' playgrounds I've ever seen. The location is idyllic, perched atop a hill with views of Los Angeles and the Pacific Ocean stretching out below you (including a view of the Hollywood sign just visible across the way). The equipment is original, including a giant, tall metal rocketship structure for climbing – and all of the equipment is several decades old and a bit rusty, so user beware. Our girls had a blast here. This place is amazing and worth a visit for the view even if you don't have kids. I'd love to see it at night!
Pros: Truly awesome, old school playground with killer scenic views of LA. Cons: Make sure kids keep shoes on to avoid contact with rusty metal, and just know that one of the little ones will likely get "stuck" up in the giant rocketship and some lucky parent will have to climb up after her (yep, that was me – but great views from the top!). Cost: free, free, free.
Twinkle Twinkle Kids Cafe in Lomita bills itself as a "luxurious, kids-friendly family restaurant with indoor playground" and that's an important nuance. Many people on Yelp seemed annoyed that Twinkle requires food purchases for each adult, but if the business model is as a restaurant first and playspace second, then that's fine. Just don't go thinking it's an indoor playspace only, because you will be eating there. But that's okay – the food is good! They have a really nice diverse, gourmet Asian and American menu; we were all pleasantly surprised. In fact, this was our favorite of all the indoor playspaces we visited in LA. It's large, clean, well-staffed and extremely attractive with lots to climb and do and play with including several big slides. We especially loved the unique offerings – a merry-go-round like, kid-powered swing they call the Palm Tree Swings (not recommended for parents, but I couldn't resist and did have a quick swing myself during a quiet moment!) and the Kid Steam Cars (the little train cars weren't working the day we went, but looked super cute). They also have a private birthday room that is so gorgeously decorated I would love to have an adult birthday party there for myself! I also forgot socks this time (doh!) and had to buy a pair for $2, but they are super cute and one of my favorite pairs of socks now. So, bonus for me.
Pros: Lovely and unique space, lots to do for the under 6 set, surprisingly great food. Cons: got a bit crowded at peak lunch hours, maybe a bit overpriced. Cost: $10 for kids over 1 (free under 1). Free for parents with purchase of a meal.
So, there you have it. Seeing so many great-looking kids play spaces on the west coast made E and I start thinking that maybe we should create and open one ourself in Columbus. But then we got back to central Ohio and started hearing about all kinds of cool new playspaces opening here in 2013! In fact, watch for a Lara-mom post soon about some of the new playspaces open already, and several in the works and opening soon. It's a good time to be a kid in Columbus!
What are your favorite places to play – in Columbus, LA or any other city you've traveled to? I loved this coast-to-coast list from Daily Candy, and I'd love to hear yours too in the comments below.