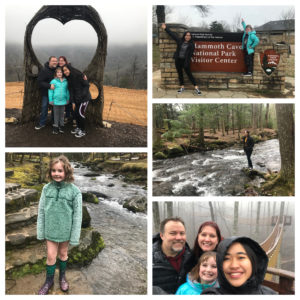 Our family recently road tripped down to Gatlinburg, TN for a wonderful long weekend of exploring nature and adventure-seeking in the Great Smoky Mountains.
Gatlinburg is perfect for either a romantic getaway or family trip – it's such a diverse mix of beautiful mountain views, adorable cabins with hot tubs, charming European-inspired Alpine chalet influences and crazy American-style tourist attractions.
There's a lot to unpack here – on our four day trip, we visited two national parks and did a lot of fun touristy stuff in the Gatlinburg and Pigeon Forge area – so I am dividing our trip into two posts. You'll find the link to part two below.
Driving day + Mammoth Cave
We left home Friday morning ready for a long drive down to our cabin in Gatlinburg, TN. Waze said it would be about a 7 hour drive, but we knew we'd add a couple hours to that for lunch, bathroom breaks and maybe even a snack or scenic overlook stop. We weren't in a hurry – all four of us were in great spirits and ready for some fun adventures!
Our first stop, about three hours in, was for lunch at Gustavo's Mexican Grill in LaGrange, KY – a surprisingly delicious meal. Somehow the topic of national parks and my latest blog post came up – and that's when I mentioned that in about two hours, we'd be passing by the Mammoth Cave National Park in south central KY. Since everyone was dying to stretch our legs by then, we decided to just go for it and head for the caves!
I called the park office and found out there were one- and two-hour, ranger-led tours starting soon. We opted for the two-hour Domes and Dripstones tour, which involved tons of climbing and stairs, and definitely helped us shake off the first half of our drive. In hindsight, though, I think the one-hour Frozen Niagara tour would have been plenty. That was the second half of our tour, and our favorite part – the first part was pretty dark and gloomy.
Real talk time: I think it took seeing this massive cave – the world's longest cave system, in fact – to reinforce in my mind that I'm simply not a huge fan of underground exploring.
I'd much rather explore a forest, desert or the ocean. Caves are okay but honestly, once you've seen one you've sort of seen them all. They're damp, dark and just not that exciting! But I'm still glad we visited Mammoth Cave and it's certainly worth doing once.
We were really hoping to see some bats while underground, but alas the poor critters have been decimated by something called White-Nose Syndrome so we didn't see a single one. We did, however, meet several cute deer in the parking lot on the way back to our car. They begged beseechingly for Doritos but we somehow managed to resist their sweet faces and blepping tongues.
Once back in the car, it was still several hours to Gatlinburg. The girls settled down for a nice nap and, apart from a quick run through McDonalds, there were no more stops until we arrived. We picked up our cabin keys and directions downtown, then headed straight "home" to Parkside Cabin Rentals' Brookside property. We unloaded the car, checked out our cabin and reveled in the sounds of the rushing river immediately beneath our windows. The girls couldn't resist a dip in the hot tub before bedtime – a trend that continued throughout our trip. #VacationRules
Gatlinburg day 1: Anakeesta adventures
First thing Saturday morning, the girls once again headed straight into the hot tub. It was a cool, misty, cloudy morning but certainly warmer than it had been in Columbus – and the forest and river were unbelievably beautiful! We decided to eat breakfast in the cabin (I always stock lots of snacks and breakfast-type foods when we travel), decided on our first activity of the day from three or four choices I posed to the group, and then headed downtown to begin our Great Smoky Mountains adventures.
Anakeesta, with its mountain views, unlimited ski lift rides and ziplining thrills, was a great first-day activity for our family. You catch the Anakeesta ski lift (they call it the "Chondola") right in downtown Gatlinburg, across from the Aquarium, and that takes you straight up to the top of the mountain where all the other Anakeesta activities are. Opened in late fall of 2017, Anakeesta and its mountain-top Firefly Village still feel fresh and new, which is partially why we chose this experience over the older, more seasoned Ober attraction. For our family, it was definitely the right decision – we loved our day at Anakeesta!
Due to the rain and mist, we waited a little longer in line to ride the closed cabin ski lift rather than the open chair lift. Later in the day, we opted for the open chair lifts, which have more of a "thrill" factor which hubby and our girls loved (but I for one sure felt safer in the enclosed cabins!). In other reviews, I've seen some complaints about the wait time for enclosed cabins. Anakeesta has 8 of the red cabins total, and they come along every 26 open chair lifts – so if you like, you can pass your time in line by counting lifts and figuring out when your red cabin will be coming along. On the misty/rainy day we visited, our wait was never longer than about ten minutes and free rain ponchos were provided.
Once at the top, Anakeesta's Firefly Village is a beautifully developed cluster of shops, eateries and scenic photo opps such as the Memorial Forest Walk, Vista Gardens and my personal favorite, the Treetop Canopy Walk. There is also a charming little Treehouse Village Playground for kids of all ages – I think Napa, E and I enjoyed it as much as Z did! By far, my family's favorite activity was the Dueling Zipline adventure. It looked like a lot of fun and I was impressed with all of the safety and security measures, but I was also quite happy to sit that one out. #FearofHeights
The food at Anakeesta smelled great (especially the barbecue food truck!) but it's worth noting that everything there is either fully or mostly outdoors. It's definitely a "good weather" destination. On a damp day like we had, there was nowhere to get out of the elements and just relax. For that reason, we didn't eat at Anakeesta beyond a few snacks (but we can report that the ice cream, pie and hot drinks at Pearl's Pie in the Sky are delicious!)
Instead, we opted to take the chair lift back down the mountain and have a nice, indoors sit-down lunch in town after walking around a bit. I liked that Anakeesta allows you to ride up and down as much as you want, which allows for variety in your day. In our case, the mountains were really cloudy and foggy in the morning, so it was nice to come down on the lift, enjoy a relaxed lunch and then go back up to see some beautiful scenic sights once the weather had cleared up by afternoon.
For lunch that day we visited Best Italian Cafe & Pizzeria on the main strip in downtown Gatlinburg, and were pleasantly surprised. Z chose the place and it more than delivered on its name. After our Anakeesta adventures, we went to a casual barbecue place on the way back to our cabin. Hungry Bear BBQ, just outside of downtown Gatlinburg, was delicious and quick – the beef brisket in particular was some of the best I've ever had.
That caps off our first day in Gatlinburg. Bet you can't guess what we did when we got back to our cabin after all that walking around in chilly, damp weather? That's right: the hot tub it was! And boy, did that feel great.
If you liked this post, be sure to read part two of our Gatlinburg getaway – and let me know if you have any good Gatlinburg stories in the comments below or over on Facebook!