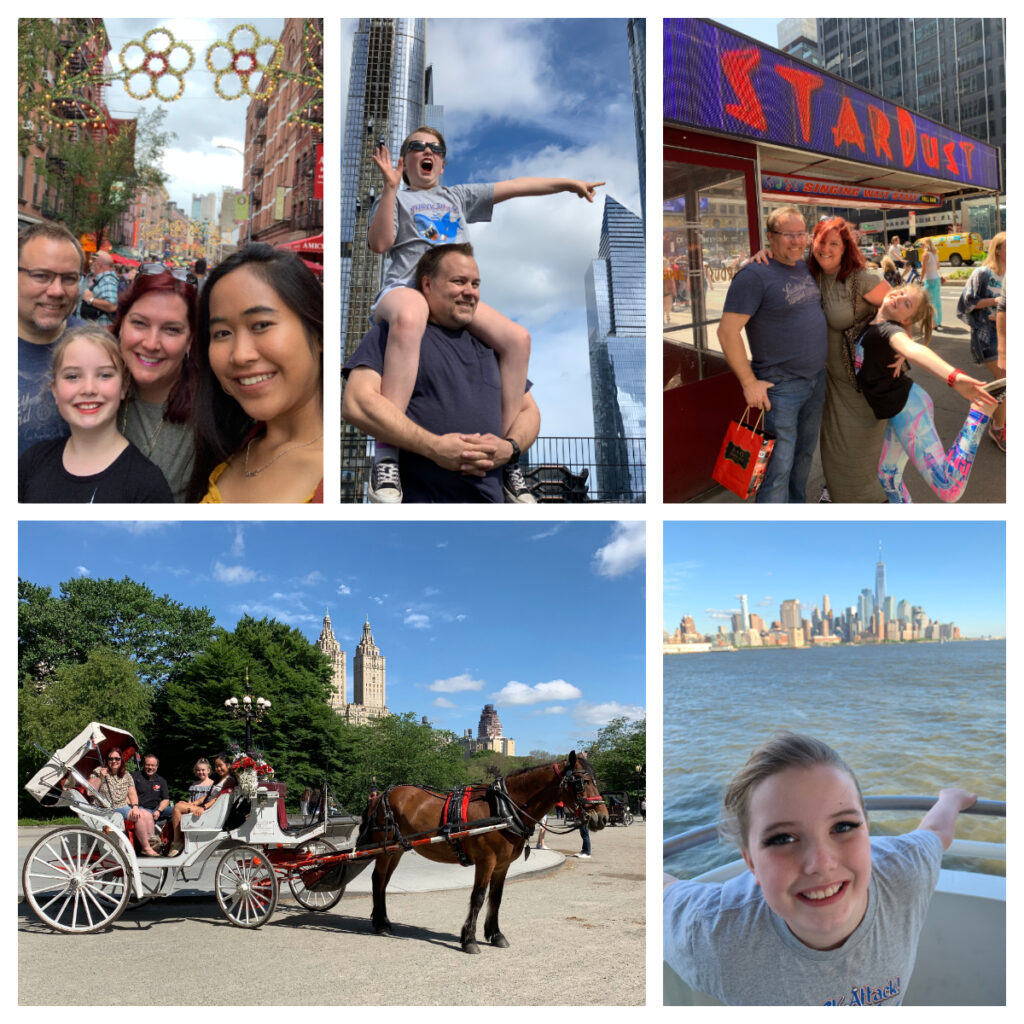 Since I'm originally from NY and worked in Manhattan for six years – plus have a serious Broadway show addiction – our little fam has visited NYC quite a few times.

Lucky little Z has been to NYC five times in 10 years, with memorable family trips there when she was ages one, three, six, eight and nine. You'd think she would've had enough, but no. She's already begging to go back!
Manhattan really is, in the words of Hamilton's Schuyler Sisters, "the greatest city in the world."
If you're planning a visit, you'll definitely want to read through my whole NYC with kids series because each post covers different attractions and things to do.
So, what are our all-time favorite things to do in NYC with grade-school age kidlets? Let's dig in.
Where to stay in NYC with kids
Our favorite hotel for kids is the Marriott Marquis in the heart of Times Square and the theatre district. Last time we stayed there, we had an incredible neon-lit view. The kids set up a little bed in the window using couch cushions and bed pillows. They spent much of their downtime hanging out in that window, gazing down at all the sights, day and night.
Marriott Marquis also has striking glass elevators that are extremely cool for both big and little kids. Then there's the swanky, spinning restaurant/ lounge at the top with 360-degree city views. The Marquis is obviously not cheap, but it's a fun splurge in a great central location. Staying here may pay dividends in convenience if you're planning to hit a Broadway show and spend time in midtown.
We've also had wonderful, affordable stays at AirBnBs in Manhattan. This gives you the opportunity to see what it's like to have your own apartment in the Big Apple. AirBnBs are often located in less touristy areas of the city which you might not see otherwise, making them a nice option for repeat visitors.
What to do in NYC with kids
We have a few tried and true Manhattan favorites that remain the same year after year, such as the American Museum of Natural History, Central Park, Times Square, Rockefeller Center, the Empire State Building, Circle Line cruises (or the Staten Island Ferry – same views for a fraction of the price!) and Little Italy.
I also keep an eye out for newer additions to the family-friendly scene in NYC. In recent years, we've loved the High Line, an incredible elevated rail-to-trail project that turned old, elevated subway tracks into a miles-long wonderland of gardens, sculptures and scenic views.
Last year, I got tickets well in advance to climb the Vessel at Hudson Yards, a unique structure near the Highline that is a must-do at least once. Our whole family loved the experience and our photos from inside and around the Vessel are simply gorgeous.
In addition, we're fans of the One World Observatory experience and nearby Oculus mall and transportation hub. Both make for some very exciting and Instagrammable adventures with kids of all ages.
Pro tips and tricks
The real trick to a good visit to NYC is balance. Try to balance fancy, expensive meals with delicious street food; balance long walks down city blocks with opportunities to rest (like a matinee Broadway show or a ride on a hop-on, hop-off sightseeing bus).
NYC can be exhausting and there's no way to see all of it, so plan your trip well in advance. I typically plan an uptown day and a downtown day to maximize time, because traveling up and down the island of Manhattan takes time and resources. And if you don't take at least one yellow cab ride and one subway ride, did you even visit the Big Apple?!
Know that NYC really is safe, despite what you may have heard. You can visit almost anywhere in NY by day without fear – and even at night, places like Times Square and other tourist attractions are full of visitors and sightseers.
One way that I've found to get kids really excited about a trip to NY is to spend the weeks leading up to your trip watching movies that are set there. We especially love Enchanted, Elf, Night at the Museum and Annie. Z has always loved spotting places in real life that she recognizes from movies!
An additional tip – I don't recommend taking kids under 15 to Ground Zero and the 9/11 Memorial and Museum. Touring through is a somber, sad experience that is hard to shake; it may leave sensitive visitors feeling down for the rest of the day.
So, there you have it – some of our favorite things to do and see in NYC with the 12 and under crowd. There are loads more ideas packed into the other posts in our NYC with kids series, so be sure to check those out.
As always, if you have NYC tales to share or just want to ask a question, feel free to leave it in the comments below or visit us over on Facebook. Happy travels!