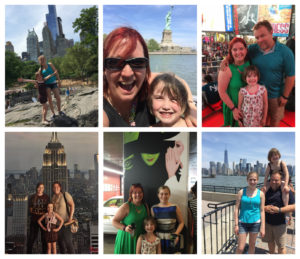 We've taken multiple trips to NYC now with our lucky little girl, each time to celebrate one of her cool older cousins turning 16. In 2016, it was Z's cousin Rachel's turn, and since she has always been one of Zoe's favorites – AND Zoe was old enough now to do a lot more fun things – we knew it would be a terrific trip.
Our 2016 NYC trip's highlights included:
Staying at the Marriott Marquis. On past trips, we've opted for smaller, less pricey hotels but I've always wanted to take the family to the stand-out Marriott. Z was finally old enough to appreciate the spectacle of the place, so on this trip we splurged. What a great move – we all loved being right in the heart of Times Square and the theatre district in a hotel that is itself an iconic NYC sight to take in! We spent many fun hours simply exploring the hotel itself – something we didn't have on past visits.
Visiting the Empire State Building. No trip to NYC is complete without an elevator ride to the top of one of the Big Apple's iconic skyscrapers. We had great views the day we went to the top of the famous Empire State, and it was a fun way to spend a few hours one afternoon. Alas, we did not see King Kong – except in the gift shop!
Eating – and singing our hearts out – at Ellen's Stardust Diner. We've visited Ellen's Stardust on multiple trips and it's never the same experience but it is always a blast. Combine diner food with true Broadway-quality singing talent and you have one very entertaining evening! There are typically lines around the block for this place, but in our experience, it's well worth the wait. I loved watching the girls sing their hearts out to show tunes and popular radio favorites. Two thumbs up for Ellen's!
Exploring the American Museum of Natural History. Any fan of the Night at the Museum movies knows this is the place where things come to life after hours. While we didn't see any dinosaurs or other exhibits move during our visit, we were sure to get out of there before closing time. It's such a grand building and kid-friendly space with terrific exhibits that we always enjoy visiting AMNH just about anytime we're in town. This visit, we especially loved the interactive Unseen Oceans exhibition.
Seeing Wicked on Broadway. This was my second time seeing Wicked – and this time Zoe got to come, too. Her first Broadway show was a huge hit! Wicked is such a great first show because everyone knows the story of the Wizard of Oz – and this is supposedly the untold true story prequel to it. Wicked gives you such an appreciation for Elphaba, the so-called wicked witch of the West – and Glinda, the good witch, is just hilarious. Both our girls absolutely LOVED the show and it was such a joy seeing it again through their eyes – and introducing Z to the magic that is Broadway.
People-watching in Times Square. Several times during our trip, both during the daytime and at night, we walked through Times Square and visited the famous Red Steps to sit, rest our feet and people-watch. While Times Square used to have a bad reputation – and one still has to be alert for pickpockets – it's really a safe, family-friendly place now. There are several fun shops for kids in Times Square, too, including the M&M and Hershey's candy stores, LINE friends store featuring a gigantic brown bear to pose with, and the Disney store.
Watching Street Artists do their thing. One of the unique highlights of this trip was meeting a street artist, stationed on Broadway just north of Times Square, who employed graffiti and other techniques to create incredible custom works of art – both cityscapes of NYC and galaxy scapes. Z commissioned him to create a work in her favorite colors to match her room, and we had so much fun watching him create it for her right before our eyes. We all ended up taking home a piece of his unique NYC street art as souvenirs we'll treasure.
Taking in a unique Manhattanhenge sunset. Only a few times each year, the planet aligns (literally) and the Instagram-friendly  Manhattan Solstice takes place – an event during which the setting or rising sun is aligned with the east–west streets of the Big Apple. We've caught this twice now on our visits, and it is absolutely stunning! 
Adventuring in Central Park. There's so much to do in Central Park but on this trip, we mainly hung out in the Heckscher playground area climbing giant rocks, taking pictures and playing on the slides and swings. 
Ferrying to the Statue of Liberty. A trip down to Battery Park, ferry ride over to Liberty island and visit to this iconic national monument is bound to be a crowded affair, so it's best to only undertake this if you're okay with long lines and willing to spend a whole day there. We had a great time on this trip, though, as it was a beautiful day to walk around the island, take pictures of the statue from every angle, and enjoy the bay breezes. It's worth noting that we opted not to actually go up inside the statue because we had already queued for hours just to get to the island.
For some reason, it felt like we did more with Rachel than on our earlier New York trips – and I think that might be because at six, Z was down to go-go-go and up for almost anything. Our family certainly had tons of fun together on this trip! 
Have you been to NYC with kiddos, and what was your favorite thing about it? We'd love to hear in the comments below or over on Facebook.
And if you liked this post, be sure to check out the rest of our NYC with kids series.