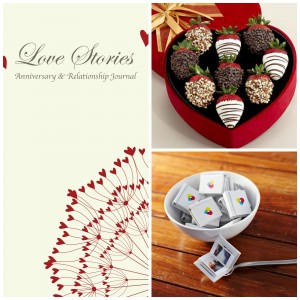 I can't be the only one who struggles with what to get for my sweetheart when Christmas, Valentine's Day, our anniversary, his birthday and other gift-giving times roll around. I find that guys are just a lot harder to buy for than us women. I have so many interests, so many little obsessions – heck I even have an Amazon wish list and a Pinterest "I want" board. I couldn't be easier to buy for.
But my beloved? Not so much. So I have to really rack my brain and get creative. Since Valentine's Day is just around the corner, and since 2015 seems to be a big anniversary year for a lot of people (my parents and in-laws are both celebrating their Golden 50th wedding anniversaries – amazing!), here are some romantic ideas for the next time you want to treat your sweetie.
The Love Stories Journal. Disclaimer – I was provided a free copy of this romance journal to review. That said, it is magnificent and every word you're about to read is true and from the heart! I'm a lifelong writer, journaler and historian – always have been (I still have every diary I ever wrote from about age six on). I love to keep records, track data – like weight gain and loss, ahem – and immortalize memories and stories through scrapbooking, photo journaling and even social media postings. So naturally, I fell hard for the Love Stories Journal – a gorgeous, hard-bound anniversary and relationship journal that will become a treasured keepsake for us and hopefully for Zoe after we're gone. It's the perfect place to capture all the stories, moments, memories and magic that make the two of you the unique couple that you are.
I love the idea of taking time each week, month or year to jot down feelings and secrets and heartfelt words, then share the journal with your love and have him or her do the same. What a great practice to get into. We all need "relationship tune-ups" now and then – and this journal can be a great tool to help you stay on track as a couple. It's actually my 12 year dating anniversary with my sweetheart tonight, and I'll be taking our beautiful new romance journal along on our date night adventure so we can crack it open and get started filling these beautiful pages with our love story! Bottom line, whether you are your relationship's historian or your partner is, I think this is a thoughtful and special gift that shows you're committed to the romance for years to come.
A Romantic Video. Here's one that won't break the bank, but does take some time to pull together. First, gather up ALL your favorite photos of you two from the beginning of your relationship until now. This can take hours or days, depending upon how long you've been together and how many pictures you take. Fortunately, I tend to keep my photos pretty organized from month to month and year to year, so it's not too hard for me to get this together – although when I first did a video like this for my honey, I had to scan in a bunch of pre-digital era pics from when we first got together. Yes, I still used a camera with actual film up until like spring of 2006! Crazy to look back on that now, right!?
Okay, so once you have all your images together in a folder on your computer, pick your very favorites – the best of the best. I'm talking maybe 100 pics? Then go to Animoto and follow the very simple instructions to create a video. You can use one of many cute backgrounds/templates, add your own music or use some of theirs, and upload then order your photos. You can also add text slides anywhere in the video you like, and you can "highlight" (pause for a little longer on) certain favorite shots. Then, Animoto does the rest – creates a gorgeous music video of your lovely images. This is my favorite video tool and creating/sharing a personal video for your honey will absolutely rock his world.
Publish Your Early Works. This is one I haven't done yet, but it's definitely on my must-do list. Do you have tons of romantic, lovey-dovey (or even sexy!) emails, cards and notes from when you first got together? I sure do – and that's how I came up with this idea. One day soon, I'm going to scan or take pictures of the best cards (front and inside where the writing is), notes and emails. Then I'm going to create a romantic photo book of our best early works and present it to him as a cherished keepsake! It can be a really good practice to go back to your early correspondence and remind yourself how and why you fell in love, what first captivated and captured your mutual interest, and little things you did or said for each other that may have fallen by the wayside as time has gone by. In addition to making a sweet gift, making this a regular practice can help rekindle the spark between two lovers-turned-parents.
Speak His Love Language. Maybe gifts aren't his thing at all – maybe he has absolutely no interest in gifts. Have you ever taken, or had your partner take, the 5 Love Languages quiz? This is a remarkable relationship aid and so is the book behind it, The 5 Love Languages. It's honestly the best relationship/love/communication book I've ever read. The general gist is that everyone instinctively, from birth or early childhood, has "love languages" that best communicate love to us. And those are the ones we then naturally communicate in, too – whether it's giving gifts, physical touch, acts of service, words of affirmation or quality time. By taking the quiz and/or reading the book together (or even apart), you can figure out if you both speak the same love languages. If you don't, it's not a deal-breaker, you just have to become disciplined at speaking the other's love language to ensure they can feel your love. Otherwise, you can speak your own love language to them all day and all night, but they still won't feel loved. E and I constantly have to remind ourselves to speak the other's love language, because ours are dramatically different! This is a great tool and I think the "gift" here is to surprise your guy by suddenly speaking his language and showing him love in the ways that will mean the most to him. Trust me, he'll notice – and he'll appreciate it.
Okay, so I have other ideas – there's always good ol' Shari's Berries, or other cool ideas involving photos, like these tiny little adorable photo books from Prinstagram that are like miniature magnetic photo albums. So cute! But that's probably enough to get you started. And hey, you'd better move fast if you're looking for something for this Valentine's day!
What do you think – are guys harder to buy for? What's the best gift you've ever gotten your sweetheart? My all-time best was probably Bose soundproof headphones – I pretty much hit that one out of the ballpark. As always, I'd love to hear your ideas in the comments below or over on Facebook!