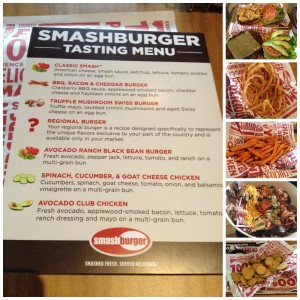 Do y'all know the expression "smashing"? Growing up in the US with fresh-off-the-boat English parents meant that often times as a kid, I'd find myself saying things and having my friends just give me blank stares in return. Fortunately, now as an adult – thanks in large part to our Anglophile culture and the glorification of all things Brit – most people have heard these terms before or at least can figure out what I'm talking about.
Anyway, needless to say I had to find SOME way to describe how deliciously wonderful I found the new Smashburger in Lewis Center – and "smashing" definitely fits the bill.
In fact, this blog post is way overdue simply because every time I sat down to write it, I ended up daydreaming about Smashburger and getting all hungry and having to go off in search of a snack. This place rocks HARD, people.
To sum up: I was invited to a VIP blogger event* for the grand opening of the new Smashburger. I scoped out the location beforehand and I'll admit, I was a bit skeptical. "Why would they open up a new burger joint right across from the last hot new burger joint and right down the road from several other known quantity burger joints?" I wondered to myself. But I'm never one to turn down free food or the opportunity to learn more about such things, so I happily went to check it out.
And oh boy, now I get it. There is NO competition for Smashburger anywhere along that stretch of 23 in Lewis Center. This is NOT some "burger joint" – despite the fact that yes, of course, this fast-growing, Denver-based chain does in fact serve burgers. Delicious burgers. Juicy, delicious, "smashed" and sizzled-in-butter burgers loaded with healthy, fresh toppings like goat cheese, spinach, sauteed crimini mushrooms and truffle mayo. Not to mention killer shoestring fries, sweet potato fries and some of the lightest, thinnest-cut "haystack" onion rings I've ever tasted. I can't even name a favorite burger (and I got to sample four different ones, plus the veggie burger!) because they were all completely amazing.
Is your mouth watering yet? Mine is.
Anyway, it should come as no surprise to hear that Smashburger is my new favorite place to go for burgers and the accompanying fare. Including their absolutely delicious Haagen-Daaz milkshakes (I got to try the salted caramel one. It was so good, it nearly made me weep for joy.)
If you haven't checked out the latest restaurant in Lewis Center, you need to. Smashburger is located on 23 right out in front of Home Depot and across from the Wal-Mart shopping center. If you go, let me know what you thought! As always, I'd love to hear from you in the comments below.
*Also, a disclaimer: even though Smashburger bought me lunch, all opinions are my own and their burgers, fries, onion rings and shakes taste JUST as good when I buy them with my own money!