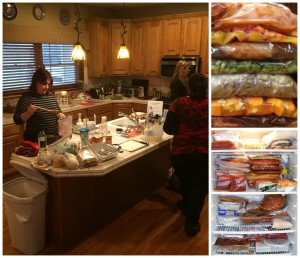 Research tells us that family dinner time is one of the most important things we can do for our kids and ourselves. Yet consistently getting dinner on the table for my family nightly ranks up there as one of the top five toughest things I've ever had to do in my life! I am not exaggerating, and I know many other career and SAHM moms who feel the same way.
I am happy to share, however, that I've discovered several services and tools that make this nightly (hellish) occurrence much easier and happier for everyone involved. And because sharing is caring, I'm passing along to you the good news: help is here.
First, have you discovered freezer meal workshops? They are amazing, a godsend, a gift from heaven – I cannot stress enough how much they have changed my life. Gone is the nightly struggle of figuring out what to make and how to get fresh veggies and healthy, wholesome, homemade food into my family when we all get home around 6 pm and everyone's too tired and hungry to think about cooking up something from scratch. Although I'm not going to lie, we still do breakfast for dinner about weekly – it's just too easy (and yummy!) not to.
I've done freezer meal workshops with both Tastefully Simple and Pampered Chef. I've also tried fresh, frozen meals from Food by Lish, a new local woman-owned start-up that creates high quality, family-style meals and delivers them frozen to your door. Disclaimer: I was provided one free meal from Lish prior to writing this post, but I was not asked to blog and I've bought meals from her several times since.
So, without further ado, here's my take on each.
Tastefully Simple freezer meal workshops. You gather your friends, clean your kitchen and buy ALL of the meats – then you get together on a given day and time to drink wine and prepare food according to clear, simple directions. These are a lifesaver and the meals taste great. I have found I prefer doing them at someone else's house rather than hosting, even you do get some freebies and other benefits when you host. Bottom line: good value, lots of prep work, fun time with friends at workshop, meals can be a little bland tasting so you do need to add some salt and pepper (or just use extra seasonings). I feel a little guilty that this isn't "real cooking" – it's so easy even I can do it without any instruction – but it's still better for you and cheaper than take-out. I'm doing another Tastefully Simple workshop soon and I can't wait to have my freezer full of ziplock-bagged meals again!
Pampered Chef freezer meal workshops. This workshop was similar in terms of basic pre-event prep, but the actual workshop itself was some seriously hard work – as this hilarious blog post can attest. There's more actual cooking/food prep here than with the Tastefully Simple version, so it's a bit more challenging for those of us like me who lack the kitchen gene. Bottom line: great tasting meals and an intense bootcamp-style workshop where you actually learn some cool tips and tricks. A little pricer but more education than the workshops above. Sadly, my dear friend and Pampered Chef consultant just up and moved to the East coast on me, so I am currently without this option in my life. I would do one again though – so local PC ladies, hit me up!
Food by Lish freezer meal delivery. This is not a DIY solution, but rather a professional local chef who creates fantastic meals from fresh ingredients, then freezes them and brings them to your door. This is the most expensive option but you simply cannot beat the convenience or the taste. My favorite by far! I still feel like I am "cooking dinner" and I know my family's going to love it. It's a total win. I'm trying not to do this more than every other month due to cost, but she's always coming out with tempting new recipes. Once you try it, you'll be hooked too! Definitely go for her chicken baked potato casserole – it's our absolute #1 favorite meal.
So, there you have it. Three great options for keeping your freezer stocked with amazing meals that you can thaw out and cook for your family even on the busiest of nights.
What are your favorite solutions for hectic mealtimes? As always, I'd love to hear from you in the comments below or over on Facebook.