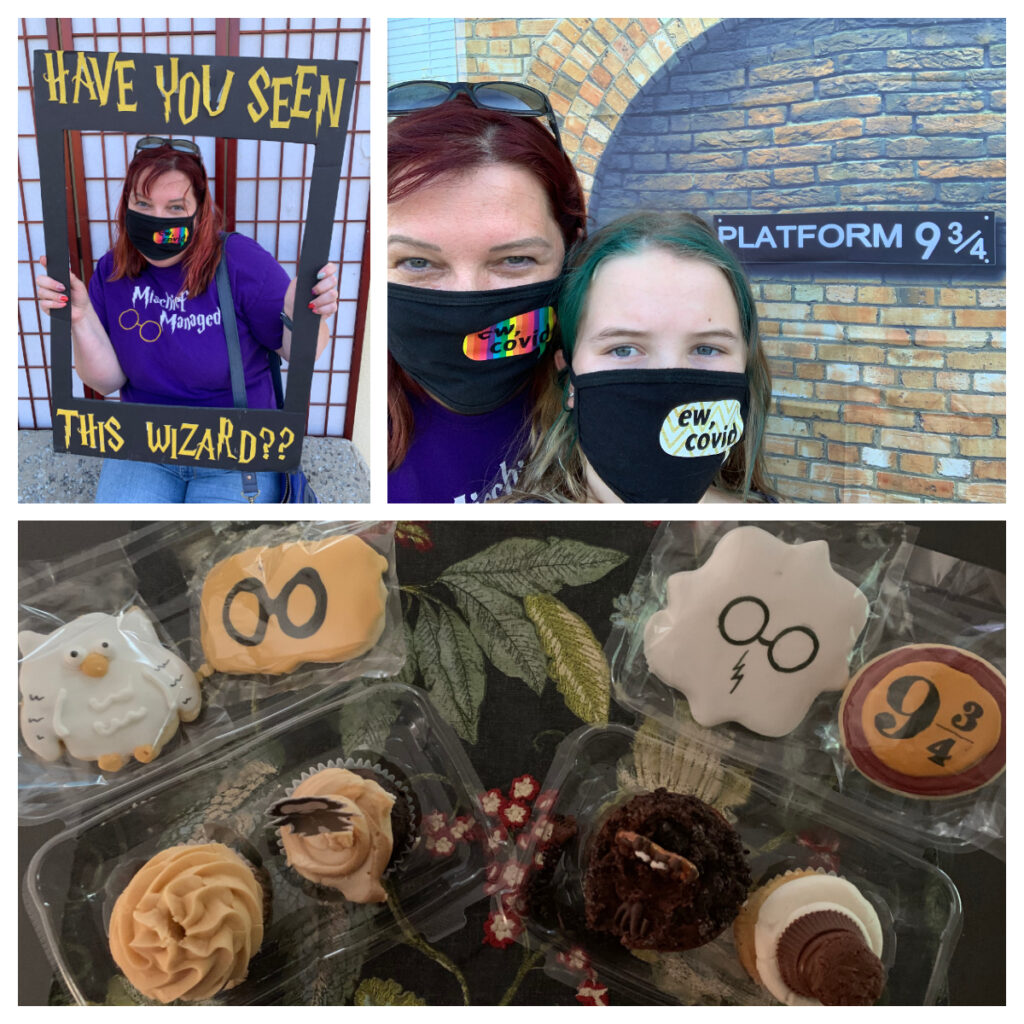 As any true blue Harry Potter fan will tell you, the last day of July is a very special one: it's Harry's birthday.
And even though JK Rowling has proven herself to be… well, not as cool as we all once thought she was (turns out she's extremely transphobic. Dumbledore would NOT approve), we do still adore Harry.
So naturally, when I found out there was a Harry Potter birthday party happening just around the corner at Fat Girl Bakery in Lewis Center, I was all in!
We've been to Harry Potter events before over the years and always love them. I'm a huge fan of themed parties period – and since it was taking place at a bakery, I figured there would be themed sweets which are always a plus.
So, on the night of Harry's big 40th birthday, we headed over to Fat Girl Bakery. It's tucked away at the back of the Oak Creek Center shopping strip off Polaris, just behind Maana's Indian restaurant.
There, we found a small, socially distanced crowd, some of whom were in HP attire and tshirts (*cough* I was one of them), lining up for entry into the small bakery. Some folks were milling around at vendor booths, others were taking photos at two different photo stations.
While we waited for our number to be called, we visited the vendors and photo stations to take some wizarding pics. It's worth noting that my darling daughter is not as crazy into the HP phenomenon as I am, but she was a good sport and kept me company.
Soon it was time to enter the bakery. Can I just say how much I love the name Fat Girl Bakery? I am all for normalizing, reclaiming and de-stigmatizing the word "fat." Combining it with the delightfulness of a bakery is just fun. It gives me a warm, fuzzy feeling!
Fat Girl Bakery is a small, adorable shop with several cases of delicious and attractive baked goods. She really outdid herself for the HP party, with no fewer than a dozen different kinds of themed items.
The cutest cupcakes were the mandrakes (chocolate with pretzels and eyeballs) and sorting hats (vanilla with lovely yellow filling and chocolate/vanilla buttercream). But the most delicious cupcake by far, was the Butterbeer one – it tasted exactly like the Butterbeer fudge from Universal's Wizarding World!
I also am a sucker for wonderfully decorated sugar cookies, and she had bunches of them in all sorts of HP-themed designs. There were also chocolate frogs, chocolate wands and loads more. Z scooped up a dragon's egg which turned out to be a jawbreaker that I believe she is still working on, a day later.
All in all, was this mainly an excuse to go to a local bakery and buy fun, themed sweets and baked goods? Yes, yes it was.
But did she also have cool themed decorations, the movie playing in the background, vendors with HP themed merchandise and several photo stations? Yep – and of course, all of it was free other than anything purchased.
For us, it was a fun time out of the house with fellow HP nerds. I loved it and I am so glad it's an annual event because I'm already looking forward to next year's! Follow Fat Girl Bakery on Facebook to stay in the loop about event details.
We can't go to Universal's Wizarding World right now thanks to the dreaded 'Rona, so finding good, themed HP fun close to home is a welcome surprise.
I'm so thankful to Fat Girl Bakery for putting on an awesome annual Harry Potter birthday party! Next year, let's try for some live owls, shall we? I'm sure the Ohio Wildlife Center wouldn't mind bringing a few down!