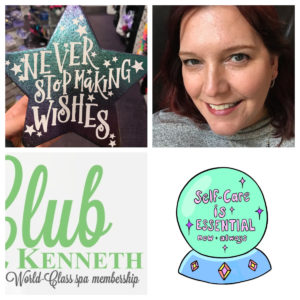 I've always loved going to the spa as a form of self-care. There's just something about the soothing music, soft plushy robes and uber pampering treatments that give me a sense of being cherished and looked after. Spa time leaves a warm glow that lasts long after the visit itself.
Years ago, in my 20s and early 30s, I was only able to visit once in a while – and even then, mainly because I had a dear friend who worked at a spa and could occasionally hook me up with discounts.
She's the one who first gave me a taste of the good life: massages, wraps, facials, sauna time and other fabulous skin and body treatments.
In more recent years, I've become a regular at a spa near my home thanks to the generosity of my hubby and daughter, who on Mother's Day or my birthday typically pamper me with the most precious gift imaginable: spa time. See #5 below for the lovely details of how that works.
Today, in the latest installment of my Friday Favorites series, I'll share with you my five favorite things to have done at the spa. Treat yo'self – you're worth it!
1. Threading. I used to be a huge fan of brow waxing – once you've had it done well, it becomes a monthly aesthetic addiction you cannot live without – but last year a friend introduced me to threading and now that's my jam. Threading is an Eastern method of hair removal using cotton threads and a high level of skill. The process is fairly painful (like waxing or perhaps even a little sharper) but extremely precise – even more so than waxing. It results in a gorgeous, fierce-looking brow and can be very inexpensive. I used to pay $22 for a brow wax and now pay $7 for threading – and both need to be done about once a month.
2. Dermaplaning & facial. The first time someone described dermaplaning to me, I said no way! Several months later, I was offered a low-cost dermaplane treatment by someone I know and trust who said I would love it. I said yes, still doubting it would be for me – and now I'm hooked. Dermaplaning involves someone coming at your face with a razor-sharp scalpel, but when done well it results in the smoothest, dewiest and most glowy skin imaginable. Because it removes all the dead skin cells and baby fuzz from your face, you're left looking like a luminous peach. I kid you not, it's my new addiction – especially when paired with a hydrating facial. Bliss.
3. Eyelash tinting & curling. I was not blessed with naturally glam lashes, unlike my daughter, so I have always had to resort to extra help in this area. As I age, it seems my eyelashes become even punier – but Lash Boost from Rodan + Fields combined with spa eyelash tinting and perming gives me the Ariana Grande lashes of my dreams. I've never been a fan of a lot of eye makeup – eyeliner and mascara and brows will do it for me – so having my lashes professionally tinted and curled just about removes the need for eyeliner and mascara unless I'm really getting glammed up for a night out.
4. Massage. Going to the spa is not always about looking better – sometimes it's just about FEELING better (although it could be argued that looking better helps us to feel better, too). Massage is something I did without for many years, but now I realize what an amazing gift it is. My back always feels so tremendous after a massage, just as it does after a visit to my chiropractor. Not to mention the hydration your skin gets from a full-body massage! Really, therapeutic touch is good self-care for your mind, body and soul. Just get yourself to a massage table right now. You won't regret it.
5. Club Kenneth! In case you're wondering how I manage to make these spa visits happen, it's because of the gift that keeps on giving; the only answer I give now when E or Z ask me what I'm wishing for on my birthday, Mother's Day or Christmas! A Club Kenneth membership means that once a month, I get to steal away for spa time in the form of a mani & pedi, facial or a massage. And if I want to save up my time for a few months' worth of treatments, I can give myself a whole spa morning or afternoon! It's the best gift EVER and I highly recommend it.
Before Club Kenneth, I would talk myself out of making spa appointments or I'd simply forget to take care of myself that way. Now, spa time is my absolute favorite form of self-care and something I look forward to and treasure every month.
What are your favorite spa treatments – there are so many fabulous ones available. Have you tried any of these and do you have others you recommend? I never thought I'd grow up to be a fancy spa lady – and truly, there's not a whole lot fancy about me – but I sure do love going to the spa for treatments, me time and a little self-care. I'd love to hear your spa stories in the comments below or over on Facebook!