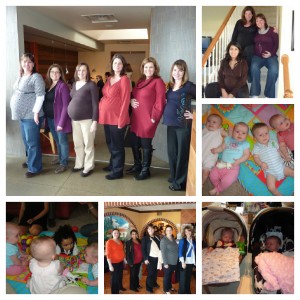 This post is part of the Attachment Parenting Month blog event, hosted by Attachment Parenting International. Learn more by visiting API Speaks, the blog of Attachment Parenting International.
Becoming a first-time parent is so life-changing that you can find yourself needing support in ways you are not used to. Whether that's education during pregnancy to learn more about the kind of birth you want to have, breastfeeding support immediately after your baby comes, family and friends who can help give you a much-needed break from time to time, or parenting advice and counsel as your baby transitions into toddlerhood – it's good to have a network of fellow parents you can count on.
E and I were lucky to have or find exactly the right support that we needed at every step of the way. We had worried about this a lot before getting pregnant, because we don't have any family close by (our nearest relatives are 3 hours away out of state). Turns out, we needn't have worried. We found wonderful, stress reducing, life enhancing support in some unexpected places. This post is our way of giving thanks and hopefully helping other new parents to find similar means of comfort and assistance.
Pregnancy club
Soon after learning we were pregnant, I realized that I didn't have many friends in my condition. My friends had either had their babies years earlier, or were remaining child-free. So in 2009 with the help of Twitter, I started a local lunch club for other moms-to-be; the CMH Hot Mommies. It started out as a handful of women I knew in the PR, marketing and news media worlds and ended up with around 10 of us pregnant ladies meeting for lunch each month.
We had a blast – especially as we got closer to our due dates and it became "bellies on parade." People would do a double-take as they saw our group at restaurants, and more than once we overheard "don't drink the water here!" from other patrons. The group was a great way to talk pregnancy with others dealing with similar issues. We were all professional women who planned to return to work, so we had a lot in common and tons to talk about. We got together a few times after our babies arrived, but soon life and work got busy again so we stopped. I still miss our monthly lunches and we need to have a CMH Hot Mommies reunion one of these days to get all our active toddlers back together again!
Childbirth classes
Many newly pregnant couples sign up for childbirth classes, and we were no different. Instead of taking a local class with a group of strangers, however, we were invited by a friend to take a multi-week, intensive course known as the Bradley or "husband coached" Method. At the time E thought I was crazy – we actually commuted down to Northern KY each Saturday for five weeks, instead of taking a simple, one-time course here in Columbus – but I am so grateful to my friend Brie for recommending this course. It set us on a beautiful path of natural birth, total partnership, breastfeeding and attachment parenting which we are still living and benefiting from every single day.
During the class, five pregnant couples got to know each other better each week as we learned and laughed together, becoming comfortable with what we were each about to go through. I learned so much in that class and it sparked a real desire to read, learn and grow more as a woman and a mom-to-be. From my friend Brie I learned about cosleeping and although at that time we did not think we would ever be one of "those" families, it was still great to hear and see how it was done. Little did we know, several months later we would be sleeping in a family bed of our own! I can honestly say, in many ways this course was the foundation upon which we have built our lives as parents and as a new family. I am so grateful to the friends we shared that experience with and I highly recommend it to others.
Like-minded friends
In addition to more formal or structured group support, we also benefited from virtual and long-distance support from a small handful of like-minded friends. I can still remember one friend in particular reaching out to me via email when she heard I was pregnant. She offered tips, recommended books and articles, sent me links and educated me in a gentle, non-obtrusive way about natural childbirth, breastfeeding and attachment parenting (although I don't think she ever used that specific term, now that I think about it). I know I have thanked her, but I don't know if I ever communicated to her just how influential she was – so thank you, Amy! Your words and the time you took to share those emails and book recommendations and ideas meant the world to us and helped this fledgling mama so much!
Breastfeeding support group
After Zoe was born, my number one concern was breastfeeding. Was I doing it right? Was she getting enough to eat? I was pumping and nursing around the clock. Her latch was not quite right – to be more precise, she refused to latch AT ALL – so we were giving her bottles of my expressed milk. I was determined to nurse her, not just bottle-feed her my milk. And so we went to lactation consultants and the breastfeeding support group at our local hospital.
This breastfeeding group was my first outing after giving birth; my Mom came with me the first time. After my parents left and I was on my own with Zoe, this was my first outing all by myself. I went religiously, every week, eager for the chance to weigh Zoe pre- and post-feed so I could see with my own eyes how much she was getting and how well she was gaining from week to week. That group was my lifeline in those early, anxious days!
I had to stop going weekly once I returned to work after my maternity leave was over, but I still knew the group and lactation consultants were there for me should I need them. I actually made it a point to go back right around Zoe's first birthday so I could thank the LCs, offer encouragement to a new crop of new moms, and proudly share that not only had Zoe and I conquered our original nursing issues, we were still going strong at one year. (Imagine their faces if I went back again now, at 2.5 years and still nursing strong! What can I say, Zoe and I are over-achievers.)
Moms of a certain age
I had one other area I felt insecure about as a new mom, and that was my age. Looking through a local parenting publication one day, I saw a listing for a mom's group called "Moms of Advanced Maternal Age" or MAMA for short. I jumped at the chance to connect with other moms over 40, like me! I met up with the group once or twice and I am glad I did. Do you know what I learned? That moms over 40 are exactly like all the other new moms I knew, and that I really didn't need this type of age-specific support after all. I still welcome the opportunity to get together with "moms of a certain age," but I no longer feel the need to seek them out. I love getting together with all moms and little ones – I find we all have more in common than not, regardless of our age.
Online resources
Today, I'm still learning and finding ways to connect with other parents every day. As I learn to parent a strong-willed toddler, I find myself needing more help and advice than ever before. Most of my go-to resources for parenting wisdom and advice these days are from online sources I may never meet in person. I value blogs like API Speaks and other gentle, positive parenting blogs like  Authentic Parenting, Aha Parenting and Natural Parents Network. I also strive to be a helpful resource myself with my own blog, Lara-Mom. I am by no means an expert, but I'm learning as I go and would love to help others find their way to a natural, positive, attachment parenting path just as I did.
What are your favorite sources for mom wisdom, tips and advice? I'd love to hear in the comments below.