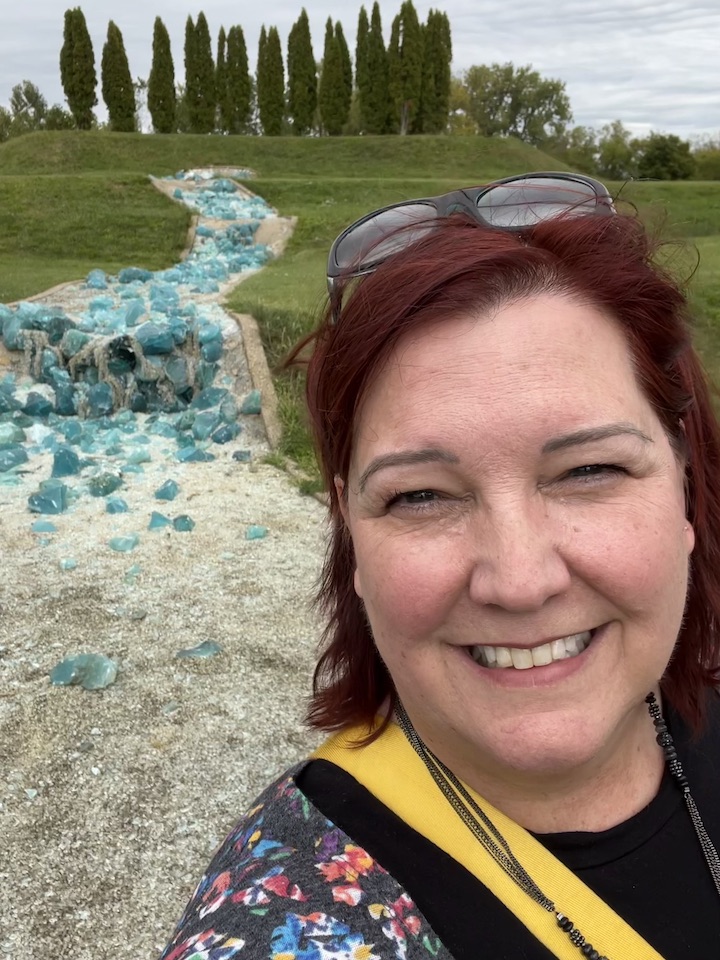 Have you visited the Ariel Foundation Park in Mount Vernon?
I first blogged about wanting to go there back in 2021 on one of my Ohio road trip wish lists. Built on the site of an old window glass-making factory, this park is a really cool place to go and take photos.
In particular, there's a gorgeous blue "river of glass" feature that I had been dying to see in person.
There are also ruins, earthen terraces, a lake and woods. It is definitely worth a visit, with or without kids. Hubby and I went for a date day outing and it was everything I had hoped it would be and more.
According to the official website, "the park is a stunning 250-acre example of adaptive reuse, created on the former site of a glass-making factory. It offers architectural ruins, lakes, an observation tower, walking trails, steel sculptures, a museum, and connections to both the Kokosing Gap Trail and the Heart of Ohio Trail."
Ariel Foundation Park would be an absolutely perfect family picnic destination. Pack up some lunch and snacks, a frisbee or soccer ball and your family. You could spend an entire sunny spring afternoon there.
There are plenty of other things to do and see in Mount Vernon's cute downtown area, including an adorable dog fountain that is now on my wish list of things to visit in Ohio.
We love driving around and exploring Ohio's cute small towns and quirky, fun experiences. Mount Vernon's Ariel Foundation Park is one I'm sure we'll visit again as it was well worth the drive.
Do you have a favorite Ohio town or park you love to visit? I'd love to hear your travel tales in the comments below or over on Instagram or Facebook.