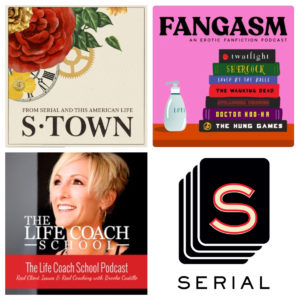 How did podcasts suddenly come back into vogue? I feel like they were a thing back in the early 2000s but never really caught on. Then it seemed like they went away for a while, and suddenly ALL the cool kids were listening to podcasts.
I, not being a particularly cool kid, was relatively late to the podcast game – but I do love them now!
Podcasts are great if you have a long flight, a long commute – like mine – or you want to kick back and enjoy some entertainment but your eyes hurt or you just want to rest them. There are literally podcasts in every genre, from fiction to nonfiction to porn. Yes, I said it.
I started listening to podcasts after hearing all the buzz about Serial back in 2015 or so. Following is a list of my top five favorite podcasts with a little something for everyone.
S-Town is the first podcast I fell in love with. After one episode, I was hooked. Although it's a nonfiction podcast, the storytelling is so wonderful that it feels like you're listening to a truly unforgettable novel. You fall in love with the characters, err, people – or one in particular. At least I did (and had my heart shattered to pieces as a result). Give S-Town a listen – I think you'll like it, too.
Serial is another addictive podcast that is nonfiction but feels like fiction. There are three seasons of Serial but the first one is what put it – and podcasts in general – on the map for most people. It is deep, meaningful storytelling of the kind we don't really get anymore – it harkens back to the "radio stories" of olden times, pre-TV.
Serial season one covers the murder of Hae Min Lee in Baltimore and the subsequent arrest and conviction of her ex boyfriend, Adnan Syed. Season two covers the the story of Pfc Bowe Bergdahl, the US Army soldier who went AWOL in Afghanistan and was captured by the Taliban. Season three reports on the criminal justice system in the U.S., as it plays out in a Cleveland courthouse over the course of a year. It is utterly depressing, but still an important listen (though I would listen to the three seasons in order, as that's the order in which I liked them).
And now for something completely different… welcome to Fangasm, an erotic comedy podcast! To understand this phenomenon, you first have to know that there's a massive underground fandom of people who write erotic fan fiction (also known as fanfic) about well-known book, movie and comic characters. Sometimes this fanfic is mildly steamy – sometimes it's downright X-rated and truly bizarre. But all of it is funny, at least according to the Fangasm hosts who read it aloud for comedic effect on their podcast – and to those of us who giggle, chuckle and crack up while listening along!
The Fangasm podcast started out as a Harry Potter erotic fanfic podcast called Potterotica. That's how I found them – on a Bustle list of best HP podcasts. Then, WB's legal team forced them to change the name and expand the content, so it became Fangasm and they began reading broader fanfic about more than just randy young wizards and witches.
I came to Fangasm for the HP chuckles (and steaminess), then stayed because I fell in love with the very fun and funny hosts, Allie, Lyndsay and Danny. Now they've covered other fandoms including the Office (yes, that's a thing) and Game of Thrones. All are entertaining but I'll admit, in my heart of hearts, I will always be a Potterotic – and I'm not the only one.
Staying in the humor vein, my next favorite podcast is Heavyweight. This one is not all laughs – it's about regret, so it also makes me cry at times – but either way it's great entertainment. I first read about Heavyweight in The New York Times, if that tells you anything. This is a show that grows on you slowly. I liked the first episode I listened to; by the third, I absolutely adored the host, Jonathan Goldstein, along with all his subjects and their combined quirks and foibles. The award-winning Moby episode, and any other ep that stars Jonathan's friend Gregor, are my favorites. Oh that Gregor!
My fifth favorite, the Life Coach School podcast, will literally change your life. I plan to write another blog post entirely about the things I've learned from host Brooke Castillo – and I've only listened to a handful of episodes. Just trust me when I say that each episode is full of amazing tips, insights, wisdom and life hacks – and you shouldn't listen to it unless you want to amp up your game, work on your brain and take charge of your life. More to come on this one!
I have other many other podcasts that I enjoy from time to time – including Food Psych, which is about body liberation, health at every size and breaking free from diet culture. Consider that a bonus addition to my list if it sounds interesting to you!
So those are my current five six favorite podcasts. What else are you listening to – I'd love some recommendations in the comments below or over on Facebook! Also, I want to know how you start a new podcast: do you usually go back to episode one, or do you try to start with the current one? Just curious!
This post is part of my episodic Friday Favorites series, so if you liked this content, be sure to check out the other, equally random, posts!