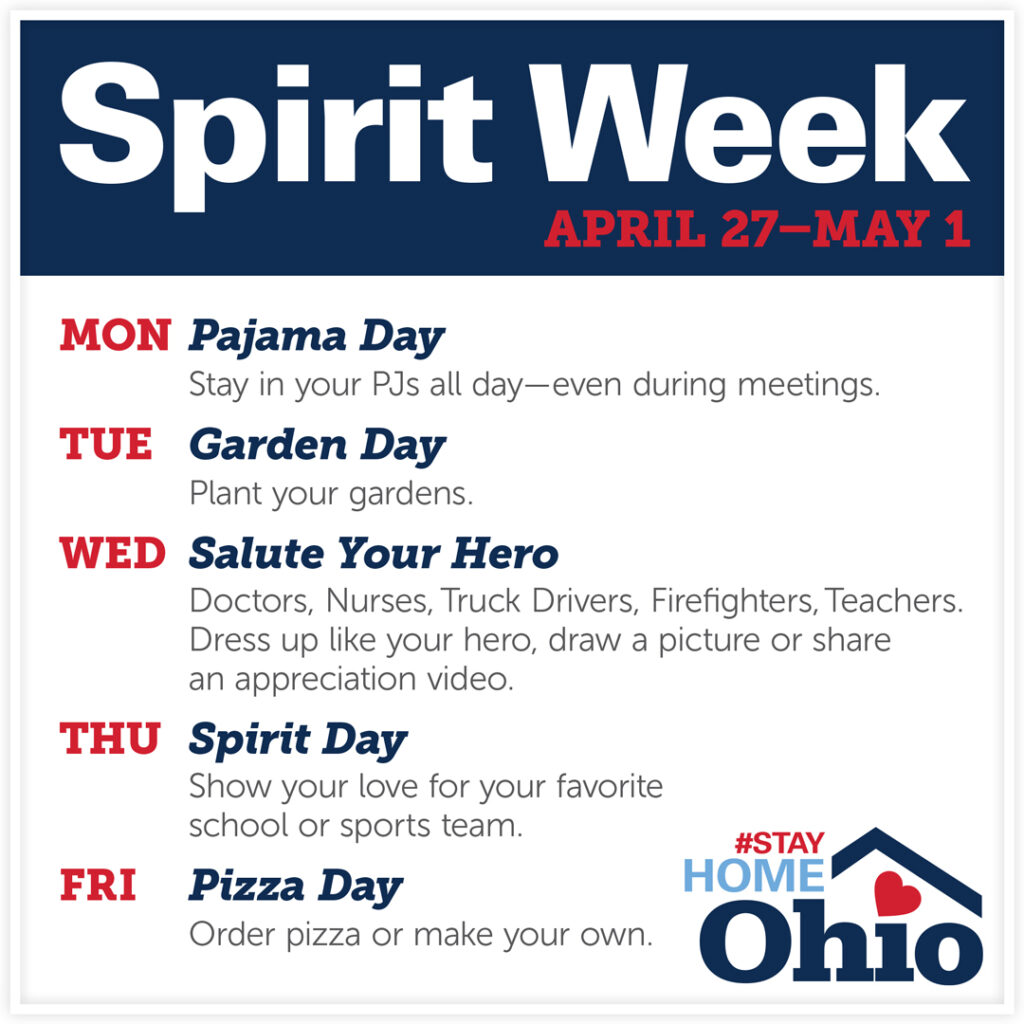 Ohio, I'm so proud of us. We've done such a great job with this Coronavirus containment situation so far. Thanks to great leadership from Governor Mike DeWine and Dr. Amy Acton, Ohio has been a model state in many ways – and now we have to keep it going.
Yes, the Coronavirus outbreak numbers look good for our state – way better than the horror-show that was predicted. But the US just hit 50,000 cases so it's super important that those of us who CAN continue to stay home, DO stay home.
Continuing to stay home is how we can protect our health care workers and other front line personnel – as well as those most vulnerable to getting seriously ill or dying from Coronavirus.
Best case scenario, we have just one more week of complete quarantine before things start to slowly, gradually and safely open up. Worst case scenario, we may be looking at continuing some form of lockdown in the coming months. Either way, we've done a great job so far, and we deserve to virtually celebrate!
It's fitting then that next week has been designated by Gov. DeWine's office as a state-wide spirit week. I'm excited to have something to get excited about – and a way to jazz up our seventh week of quarantined home schooling. Who's with me?!
Ohio's virtual spirit week, April 27-May 1, showcases a theme each day and encourages posting a photo or video on social media and tagging with #StayHomeOhio, #InThisTogetherOhio and #SpiritWeekOhio.
Each day offers an opportunity to have fun and engage with your family – or even your coworkers. Themes include Pajama Day on Monday, Garden Day on Tuesday, Hero Day on Wednesday, Spirit Day on Thursday and Pizza Day on Friday.
There's a chance that posts tagged with the three hashtags may even be shared on Gov. DeWine's social media and possibly even during the 2 p.m. press briefings – so get creative and have a blast with this!
Friends from other states, are you as happy with how your governors are handling things? And Ohio friends, do you plan to take part in #SpiritWeekOhio? I'd love to hear from you in the comments below or over on Facebook.