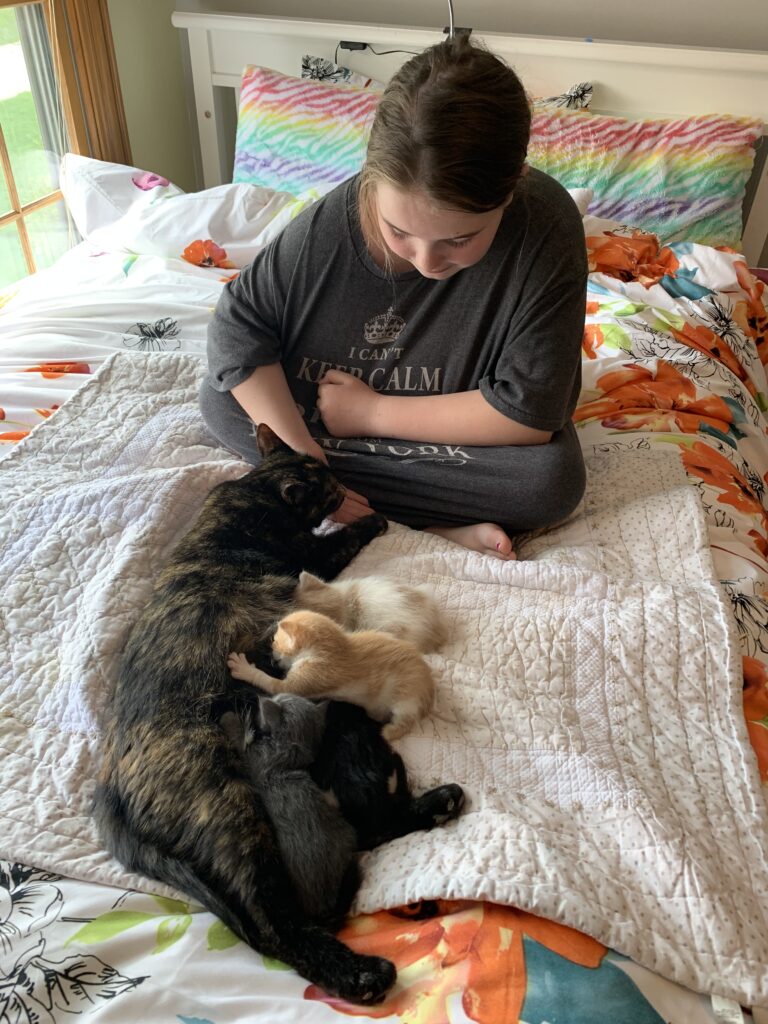 This is the fifth in a series of guest blog posts by our 10-year-old. Be sure to read the other "kid's eye view" posts, too.
"Another boring day of quarantine," I sighed as I slumped down on the couch to watch a cartoon I had already seen a hundred times. Little did I know that April day would change my life.
Rinnnggg… "Wow, another mattress seller trying to get money," I groaned as I got up. My mom beat me to the phone.
Nodding, "mmhms" and "sures." I couldn't tell who it was. My mom started to smile. "Hold on!" she said. "I'll call you back." She hung up.
"Zoe! It was the shelter calling. They just got four newborn kittens and their mom, and they need us to foster them!"
I was so excited, I forgot to breathe. "So what are we waiting for?" I asked as I sprinted towards the garage door.
"Not so fast," Mom said. "We have to ask your dad first."
"Oh yeah!" I said, out of breath. I raced downstairs.
My dad was in his office working. "Dad, Dad!" I said, practically hyperventilating.
I explained to him what had happened. "Sooo…" I asked impatiently.
He paused. "I will not clean up the mess this time," he replied.
"Oh, thank you!" I said, hugging him.
"You won't have to," I promised, running back upstairs.
"Mom! He said yes!" I squealed.
"Yay!" she said as we rushed to the car.
She dialed the number back as we sped to the shelter. Within ten minutes, we were there.
We went in and while my mom signed the paperwork, I was handed a green cat carrier. I peeked in, trying not to scream. Gorgeous emerald eyes of the mom peered up at me, seeming to thank me for giving her a home. Her coat was sleek and black as coal. Tints of tan and brown covered her. Her beautiful face was split in half, the left half was orange and the other black.
I immediately loved her. She was lying on her side, allowing her four tiny babies to get some lunch. They were only two days old! The first in line was a grey kitten with a tiny pink nose. Next was an orange and white one. Next to him, lay a black kitten with white markings. The last one had to have been the cutest – he was a little white kitten with cream colored spots. They were all so precious.
As my mom finished up, we drove home. Once we were home, I set up food, water, blankets, heat packs, a litter box and a variety of toys in my room. The "purrfect" kitten nursery.
I opened the carrier and reached for the first kitten. I pulled out the tiny tuxedo and cradled him. I gently laid him on the heated blanket followed by the others. The mom followed them out. I let out a sigh. I admired her beautiful eyes once again and left them to settle in.
We ended up naming the mom Galaxy and her babies after planets: Saturn, Mars, Neptune and Jupiter. Every day, I cared for them and watched them grow into beautiful young cats. When they were eight weeks old, the kittens all went to loving homes. Including the mom!
Our family ended up adopting the mom, Galaxy, and we all love her so much. She is a wonderful addition to our family.
Who knew that an ordinary spring day could turn into a life-changing event? I certainly didn't. I guess the lesson is, you never know what the future holds. Something wonderful might be just around the corner.