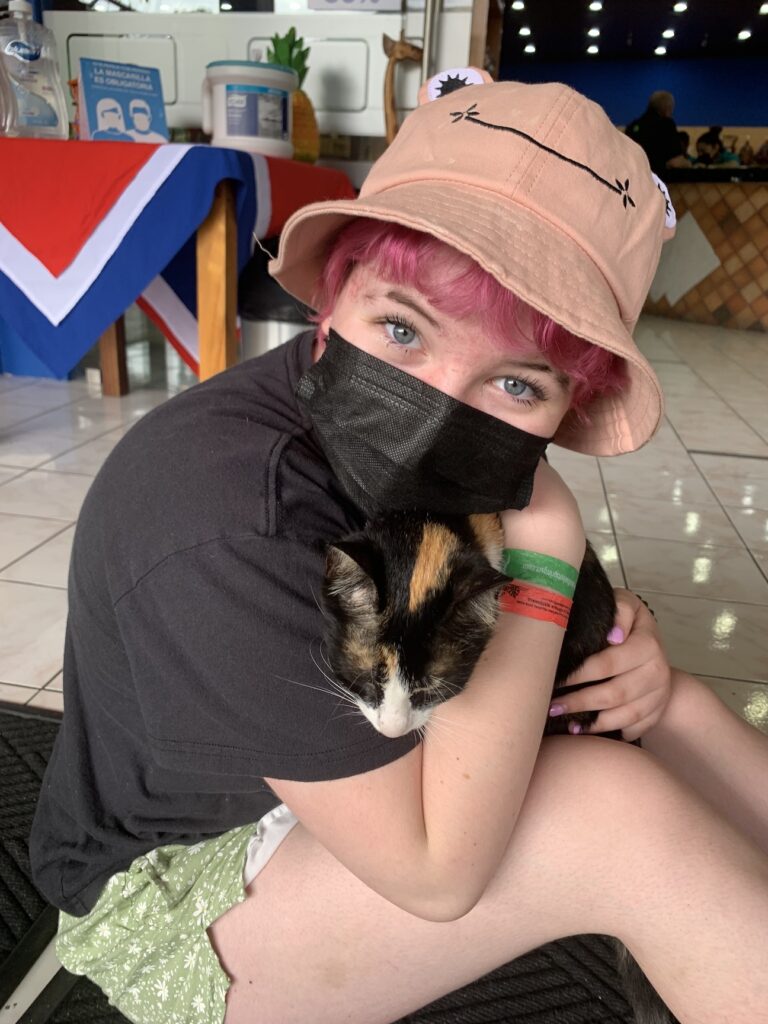 Costa Rica is adorable.
Yes, you've heard me rave in prior posts about how beautiful the country is. Now, I'm going to talk about how cute and loveable it is, too.
I've fallen hard for this luscious little swath of Central America, and hopefully you will too after I tell you why.
Writing about it isn't as great as being there, but it definitely helps me to cherish my memories of our amazing spring break week.
Without further ado, here are my top ten adorable things to love about Costa Rica!
Costa Rican colones. The paper money in Costa Rica is absolutely gorgeous, with incredible colors and adorable animals on each denomination. Also, the Costa Rican colon is a tiny currency – we would pick up an item in a gift shop and see "30,000" as the price and freak out for a moment until we realized that equates to about $50.
Costa Ricans are called "Ticos." Tico is an affectionate diminutive nickname for Costa Rican locals. They got the name because they add an extra diminutive, -tico, even to words that already mean small. So words in Costa Rico can end up literally meaning "small small" or "tiny small" and that is just adorable.
Biodiversity! The country is full of amazing plants, flowers, trees, rainforests, and species of birds and animals that can only be called adorable – like multiple species of monkeys and sloths. The biodiversity is insane in CR – you can find six percent of the entire planet's living things in just a tiny strip of country. Everywhere you look, there is amazing wildlife and plantlife.
Pura vida. Only in Hawaii, with their aloha spirit, have we found another place with such an endearing and unforgettable motto or philosophy. Pura vida means "pure life" and you will hear it everywhere you go in Costa Rica. Pura vida is all about being in harmony and balance with nature. Ticos love nature and are literal tree huggers – our guide told us touching and hugging trees will keep us healthy and happy! That's adorable. There's also little to no litter, even in poorer areas and cities, because everyone in Costa Rica is taught from birth to respect and love the environment. I love that so much.
Volcanos! Costa Rica is loaded with volcanos – and some of them are even active – but the Ticos love them and are in awe of them, not afraid of them. When our favorite, Arenal volcano, used to put on powerful lava displays every night, the people would party in the streets in celebration of her awe-inspiring show!
Rainforest sounds. My favorite sleep sounds setting on Alexa has always been the jungle sounds. Being in Costa Rica is like living with that soundtrack all the time! The birdsong here is outrageous – it's hard to believe it's real. The variety of sounds, whistles and songs in the rainforest and everywhere you go is just adorable. There are 9000 bird species on earth and 950 – or more than 10% – make their home here in Costa Rica.
"AutoMac." Mcdonald's fast food in Costa Rica is both adorable and delicious. They have a few local favorites on the menu – I had a Tico burger with fresh salsa and absolutely loved it. I also loved my "papatas" – a seasoned potato dish you can get instead of fries. Plus they call the McD's drive-through "AutoMac" here, which is pretty adorable.
Shopping! The souvenir shops all over Costa Rica are super cute. The people are friendly and the wares include local crafts, art and jewelry, and so much more. I fell in love with ox carts and other items painted in the bright, colorful traditional Costa Rican style. It's – you guessed it – adorable.
Costa Rican pets and farm animals. The dogs and cats we saw all around the towns are living their best life, wild and free – but also obviously well-loved. And adorable! Costa Ricans don't like to cage animals or nature, so even the cows are free-range and not penned up. We saw so many cows in our travels and they definitely looked happy.
Great priorities. There's no army in Costa Rica. Instead, the government and people decided to take all the money they had spent on the military and invest it into preserving natural resources and providing education and healthcare. As a result, a quarter of the country is nature preserves, plus Costa Ricans have one of the highest literacy rates of any country and great healthcare. A country that prioritizes people and nature over weapons and war? Now that is awesome.
As you can see, there's lots to love about Costa Rica that goes beyond beaches and scenic views. I'm already dreaming and scheming about how to get back there again for some more of that Pura vida life!
Have you ever fallen in love with a country you visited? I'd love to hear your travel tales in the comments below or over on Facebook or Instagram.