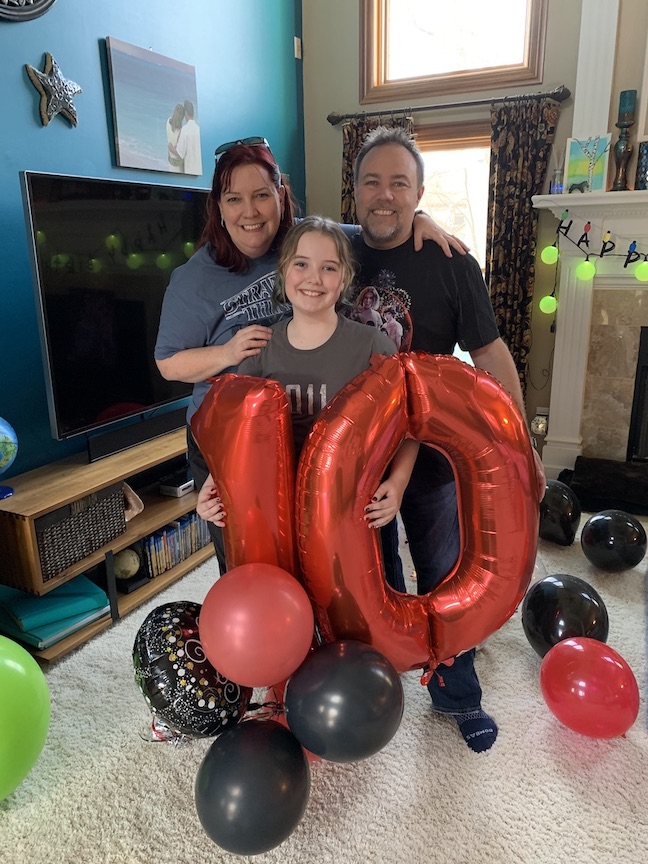 Have you jumped on the 80s thrill ride known as Stranger Things?
If you love 80s nostalgia and strong female leads, plus you aren't afraid of things that go bump in the night, then Stranger Things may be the show for you.
Honestly, it's the show for a lot of people; Stranger Things is the most-watched show on Netflix.
Our family counted down the days until the new (fourth) season came out last month. We're slightly obsessed.
Back when Zoe turned 10, we had an epic Stranger Things-themed birthday party including coordinating family t-shirts, a Demogorgon cake-topper, themed cookies and plenty of Upside Down decorations.
Yes, maybe it's odd that we let our 10-year-old watch such a scary show, but she found out her cousins had watched it, and then it was on like Donkey Kong. It was okay – she never got too scared or creeped out by anything. Plus, it's an 80s tradition to let kids watch scary shows and that tradition is alive and well today.
Stranger Things is a masterful blend of feel-good friendship content, coming-of-age moments, scary stuff, romance and an homage to the 80s. Here are our top 10 reasons to watch this amazing show.
10. You can watch it with the whole family. There are so few shows that captivate both adults and tweens/teens alike, but Stranger Things hits that sweet spot. It's so much fun to have a show that everyone loves.
9. Plenty of star turns by 80s legends. If you're a fan of 80s stars like Winona Ryder, Sean Astin, Paul Reiser, Cary Elwes, Matthew Modine and more, then you're in luck because all have a place in the Stranger Things universe.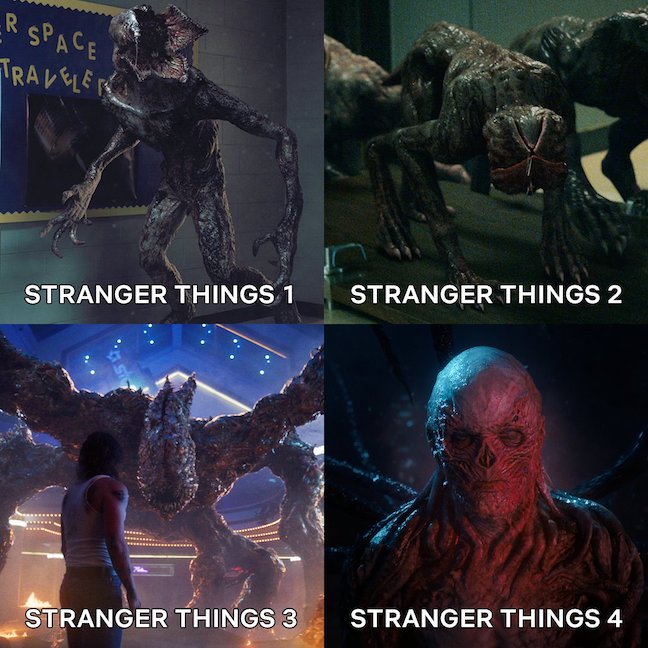 8. Scary monsters. The Stranger Things monsters are oddly familiar, having their roots in classic 80s creatures (hint: Aliens). They get steadily scarier each season; in season two, there were a few surprisingly sweet moments with Dustin's Demodog, Dart. The season four monsters are the darkest yet and super creepy!
7. It will make you laugh. There are so many great comedic moments in this show – and even more as the seasons progress and you grow to know and love the characters. The Duffer brothers do a great job of interspersing comedic moments just as the tension is becoming unbearable – as in the case of the Neverending Story musical number at the end of season three. Classic!
6. The theme song is bangin'. Remember in the 80s when the theme song from Beverly Hills Cop became everyone's favorite song? Well, the Stranger Themes opener music is kind of like that. It is heavy on the synthesizers, won an Emmy for its awesomeness and has me watching the opening credits each time (real fans never skip it).
5. An awesome mom. Okay, Joyce Byers as played by Winona Ryder may not be who you imagine when you think of an awesome mom, but believe me – she is one. Joyce is perfectly imperfect and absolutely unwavering in her love and support of her kids; she'll do anything for them, including risk her life. The way she adopts El is so heartwarming, too. I just love Joyce!
4. The best possible friendship vibes. If 80s movies taught us anything, it's that underdogs make the best friends. The oddball assortment of D&D playing, monster-battling friends in this show may just be the greatest of all time. I just love Mike, Will, Dustin and Lucas – and the way they brought El and Max into the fold. Don't even get me started on Steve, Robin, Jonathan and Nancy. The way they all come together is pure magic.
3. A fantastic dad. Does Hopper smoke and drink too much, eat too much junk food and come on way too strong in his parental role at first? Yes – but he is also a big softie and always comes through for El when it matters most. I absolutely love this character and can't wait to see his development continue in season four.
2. Erica. When a main character's little sister comes out of nowhere to be the most badass character imaginable – and save the world – you know you're watching TV greatness. There are no words to describe Erica; she's that awesome. She has glimpses of excellence in the first two seasons, but you must wait until season three to see her truly come into her powers. I'm loving what we've seen of Erica early in season four!
1. Eleven. Whether you call her El, Jane or Eleven, Millie Bobbie Brown's unforgettable lead character is brave, beautiful, powerful and vulnerable in turn. Warning, she will steal and then break your heart – but you'll love every second. El is definitely one of our favorite TV and movie characters of all time.
I could have gone on to list about a dozen more favorite things about Stranger Things, but I'm too impatient to get back to watching season four.
I'll leave you with one more amazing fact about this show: did you know the Duffer brothers (identical twins who created this show) pitched it more than a dozen times, receiving only rejection until they finally brought it to Netflix? Man, I'm glad they kept trying and that Netflix saw their brilliance for what it was!
If you're a fan too, leave me a comment below to let me know your favorite episode or moment of this epic show. And if you haven't watched Stranger Things yet, what are you waiting for?!