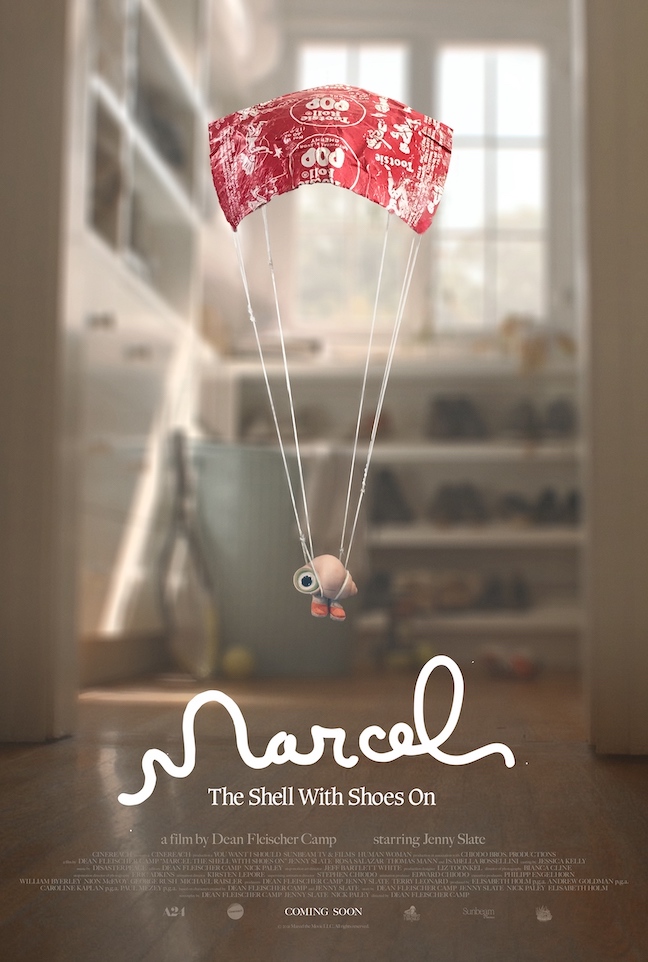 Have you ever heard of Marcel the Shell With Shoes On?
Z and I went to see a movie the other day and, as always, I was super into the trailers.
We ended up loving the movie we saw – The Bad Guys – but I also fell madly in love during one of the trailers: the one for the new Marcel the Shell movie.
This was my first time seeing or hearing Marcel, though the name sounded vaguely familiar so I must have heard about him at some point. There are also a couple of children's books about this adorable little character, so perhaps that's how I know about him.
Marcel first sprang into existence around the same time as our own little Z. Back in 2010, the first stop-motion animated short film about Marcel the Shell premiered at a film festival, won Best Animated Short, and took up residence on Youtube.
Marcel the Shell was such a hit that the filmmakers – actress/comedian Jenny Slate (who gives Marcel a voice) and director Dean Fleischer-Camp – came out with a second Marcel short the following year.
The buzz about Marcel continued to grow – check out this NBC News feature where Marcel gave Brian Williams a run for his money.
It took a few years, but the third Marcel short film was released on Youtube in 2014.
And now, there's finally a full-length feature film about Marcel the Shell coming this summer and I can't wait to see it. The trailer looks so good!
I'm sitting here trying to analyze why I love Marcel so much. There are so many possible reasons:
Is Marcel male, female or nonbinary? Marcel wears pink shoes. The creators say that he's a boy, but let's face it, doesn't matter. Marcel is adorable – that's all you really need to know.
I'm in awe over how much creativity it takes to create a character out of a shell with a googly eye and a tiny pair of shoes. I can't wait to see more of Marcel.
Marcel has possibly the most adorable voice ever heard. Apparently, Jenny Slate randomly does her Marcel voice all the time and has even sung songs in the Marcel voice during talk show interviews. This makes me want to be her best friend.
Marcel is both wise and innocent at the same time. This little guy has been through traumatic things – like losing his sister and possibly his whole family – but he stays positive and takes good care of himself.
Marcel is funny, philosophical and poignant. He's aware of his limitations but also celebrates his good qualities. We could all benefit from being more like Marcel.
Perhaps the best thing about Marcel the Shell is that his films can be enjoyed by everyone from young kids to tweens, teens and adults alike. I can't imagine anyone not liking Marcel.
Be sure to add Marcel the Shell with Shoes On to your movie list for this summer – and in the meantime, you can also search for his short films on Youtube or click on my links above.
I'm pretty confident this little guy will steal your heart just as he has stolen mine.