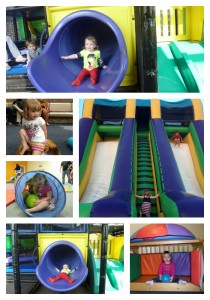 Fellow parents, do you want to know three little words that can guarantee your toddler will nap for hours like an angel? What if I told you those three magic words may also result in your normally picky eater wolfing through an entire plate of food before passing out into said wonderful nap?
Those three little magical words are "Toddler Open Play." Anytime you see those words, head straight over and pay whatever the cover charge is. It'll be well worth it, trust me.*
Yesterday, Zoe and I decided to check out Toddler Open Play at SuperGames in Worthington. It was our first time there and I nearly choked at the cover charge ($8 for first child, $5 for other kids within the same family, parents free), but we had no plans and I wanted her to get some good solid exercise. Little did I know I'd end up getting a workout too. (Pro tip for parents: wear yoga pants or sweats here – you may end up doing some climbing and bouncing yourself!)
SuperGames is awesome. You run around in socks inside a HUGE warehouse filled with every giant inflatable bounce house, climbing wall and bouncy slide you can imagine. Some of them are absolutely enormous. Zoe had a blast climbing, sliding and bouncing. She used every muscle in her body a hundred times or more, working up the appetite of a lumberjack. On our way to lunch with E after playing, she ate every snack in my purse (a banana and an organic fruit/veggie pouch), then minutes later she devoured an entire kids' meal at lunch (she normally only eats half). Crazy!
But the best part came when we got home and she said "Mommy, I tired" then promptly fell into the deepest, most wonderful sleep ever. She napped for a good solid two hours. I think she could have gone longer but I started checking her vital signs to make sure she was still alive, and I'm pretty sure that woke her up.
SuperGames is defininitely on the pricey side, but I know they have posted deals on LivingSocial and Groupon before, so watch for those. Also, in the middle of winter when kids are getting stir crazy? $8 will be a small price to pay. SuperGames has toddler open play several days per week – check the online calendar for exact details. If you have little ones, be sure to go on a specified TODDLER open play day because some of that equipment would be really scary with bigger kids racing around. With just toddlers, it's a bit more manageable.
And speaking of finding deals, I must mention that I found another great indoor playspace thanks to one of those local deal sites. Gym Skills is way down south in the farthest corner of Gahanna and it too has a bounce house and other equipment for toddlers to tumble, dangle and play on – including a long line of trampolines end to end covered in soft mats so toddlers can bounce along in a straight line for the entire width of a warehouse. So fun!
Gym Skills has Stay & Play open gym for 18 months – 5 year olds on Tuesdays and Fridays from 9:30 – 11:30 am. Cost is $5 per child. Also, I've blogged about other awesome indoor playspaces in Columbus (including some free ones!) over on Discovering Ohio. These joints are a lifesaver on cold or wet days.
*And yes, I know several hour of heavy play outdoors in nature will have the same effect – if not more so – but that's a blog post for another day.
What am I forgetting – are there any other great indoor play spaces that offer hardcore toddler open play hours where little ones can wear themselves out? I'd love to hear in the comments below.