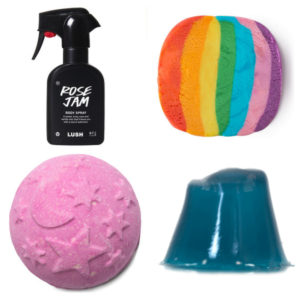 I love learning about new products from a friend and discovering a whole new world of wonderfulness previously unknown to you. That's how I stumbled into Lush at the recommendation of a friend a few years back. It's been a love affair ever since!
Lush is a unique, UK-headquartered beauty, bath and fragrance chain and the source of some of my favorite personal luxury items. But I constantly run into people who have never heard of Lush or its products. Hence, I've decided to come up with a Lush 101 for folks who have never heard of it or set foot in the door. Hopefully by the time I'm done, you'll feel a fervent need to rush in there! That's how much I love Lush.
Ironically, the very things I now love about Lush were the things that kept me away for a long time – the overtly "hip" nature of the place, the youthful vibe and the almost overwhelming cacophony of scents that assail your senses upon walking in (or even near) the shop's front door. But don't be afraid! Lush is for everyone – moms too, even if you don't identify as funky, fresh or cool – and the scents are all individually way better once you get them home and away from all of their friends and neighbors.
In short: a little Lush goes a long way. The overwhelming smell of the store can indeed be a bit much to a beginner.
Lush has a ton of products, but here are the ones I think you need to try out as a newbie to the brand.
So, there you have it – my beginner's guide to the addiction/hobby known as Lush. I hope you enjoy sampling these products and you'll have to let me know which ones you fall in love with!
Do you love other products at Lush? Be sure to share your tips with me in the comments below or over on Facebook!