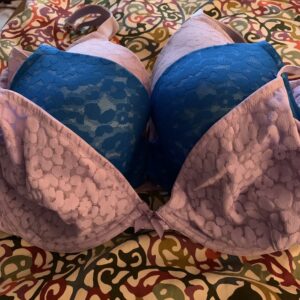 Winter tends to drag on a bit in Ohio, so during a recent cold, grey weekend, I set aside a few hours to do a bra drawer overhaul. My goal was to try on all my bras, get rid of under-performing models, make note of my favorites for future reference and basically whip my entire bra drawer into shape.
Confession time: I have a bad habit of hanging onto bras way too long. I recently got rid of my last nursing bra, and my kiddo just turned double digits – so you do the math on how long I over-wore that thing!
Our shape changes as we get older, so the bras that fit well a few years ago, pre-kid, may not be the most flattering for me now. It was high time to try on every single bra I own, grade each one (standard academic grading, with A being the best) and get rid of the ones that weren't serving me.
The results honestly surprised me. The most expensive bras were not necessarily the most comfortable or most flattering. And my new favorite bra/lingerie brand – one I'm absolutely in love with – is a relative newcomer on the scene so you may not have discovered it yet.
Ladies, are you ready to dive in to my bra review – complete with ALL the personal details? Guys, if you're still reading, it's time for you to leave – but before you do, be sure to share this post with the women in your life because they'll love it! Plus, we all have a little extra time on our hands these days since we're self quarantined at home thanks to the 'Rona.
Side note: I debated keeping my size out of this post for modesty's sake, but I ultimately decided to include the sizes because they do vary a bit and that may help you decide which size you'll need in a particular bra. That said, Savage X Fenty seems to be very true to size.
My bra drawer makeover
I went full Marie Kondo on my bra drawer; I vowed to keep only the ones that spark joy. I dumped my bras out on the bed – they made quite a decent sized pile – and then looked at and tried on each one. A few didn't even get reviewed – they just got tossed right off the bat because they were embarrassingly old and worn out, or just never fit right.
Side note: thankfully I didn't have any bras left over from my 80s and 90s days of shopping at Victoria's Secret, but you best believe that if I had, those would have been tossed on principle due to the insane headlines I've read recently about the culture of toxic masculinity at that company. #Gross
Anyway, here's the full inventory of all my bras with sizes, the grade I gave each and a few words about what I like or don't like about them. Dig in!
Wacoal beige front fastening bra – 38DD. Very comfortable, slight spillover in cups, boring/blah color. Overall grade: B
Vanity Fair beige front fastening bra – 38DD. Very comfortable, satin interior. Slight spillover in cups, boring/blah color. Overall grade: B
Savage X Fenty lilac leopard lace t-shirt bra – 40D. Extremely comfortable, supportive and absolutely gorgeous! Overall grade: A+
Savage X Fenty lilac leopard unlined lace bra – 38D. Quite comfortable, but not the right size for me; too much spillover from cups. Gorgeous and will fit better when I've lost more weight. Overall grade: B+ for now (A+ once I'm smaller)
Vanity Fair beige back close "Back Beauty" bra – 38DD. Very comfortable and gives a great shape! But extremely industrial looking, boring/blah and hard to get on. Overall grade: B
Vanity Fair orchid back close "Back Beauty" bra – 40DD. Very comfortable, great shape and pretty color. Slightly too large in the cups and hard to put on. Overall grade: B+
Wacoal front fastening unlined white racer-back bra – 38DD. Comfortable but ordinary. Overall grade: B+
Wacoal front fastening unlined beige racer-back bra – 38DD. Comfortable but ordinary. Overall grade: B+
Lively black, no underwire bra – 38DD. Comfortable but some cup spillover and odd sillhouette. Overall grade: C
Chantelle front fastening beige bra with lace racer-back – 38DD. Comfortable, pretty. Overall grade: A
Third Love beige bra – 40D. Ordinary but very comfortable. Overall grade: A
Wacoal beige bra with ivory lace trim – 38DDD. Pretty, but tight around band. Overall grade: B+
Chantelle black lace bra – 38DDD. A bit tight in the band but very pretty. Overall grade: B+
All bras with a B grade or higher got to stay. I got rid of only a few bras, but now I have all the "B" bras in my sights to get rid of as they begin to show wear. And I learned a few things: for one, beige bras do not spark joy! No more beige for me; there are such pretty colors and designs available now.
My favorite bras, without a doubt, are the ones from Rihanna's lingerie company, Savage X Fenty, and that's why I linked to them above. Her sizing and pricing are consistently great, she covers a wide range of sizes and her designs are drop-dead gorgeous, ranging from lacy to racy. Why buy ordinary or even ugly bras when you can have beautiful ones that fit well and are no more expensive?
If you haven't tried Savage X Fenty bras, get on her mailing list as they have specials all the time – and if you join the monthly membership club (you can cancel at any time and skip any month), prices are even better and shipping is free.
It's worth noting that in addition to the above-mentioned standard bras, I also have a few sports bras, two Savage X Fenty lace bralettes, a very comfortable MeUndies bralette/tank bra and several shapewear camis from Ruby Ribbon. I like these all enough to keep them. Perhaps I'll review these items another time; for now, I was exhausted after trying on all those bras.
Where's your favorite bra from, and what do you like about it? How many bras does one need, anyway – how many do you have in your bra drawer? I'd love to hear your bra stories in the comments below or over on Facebook.