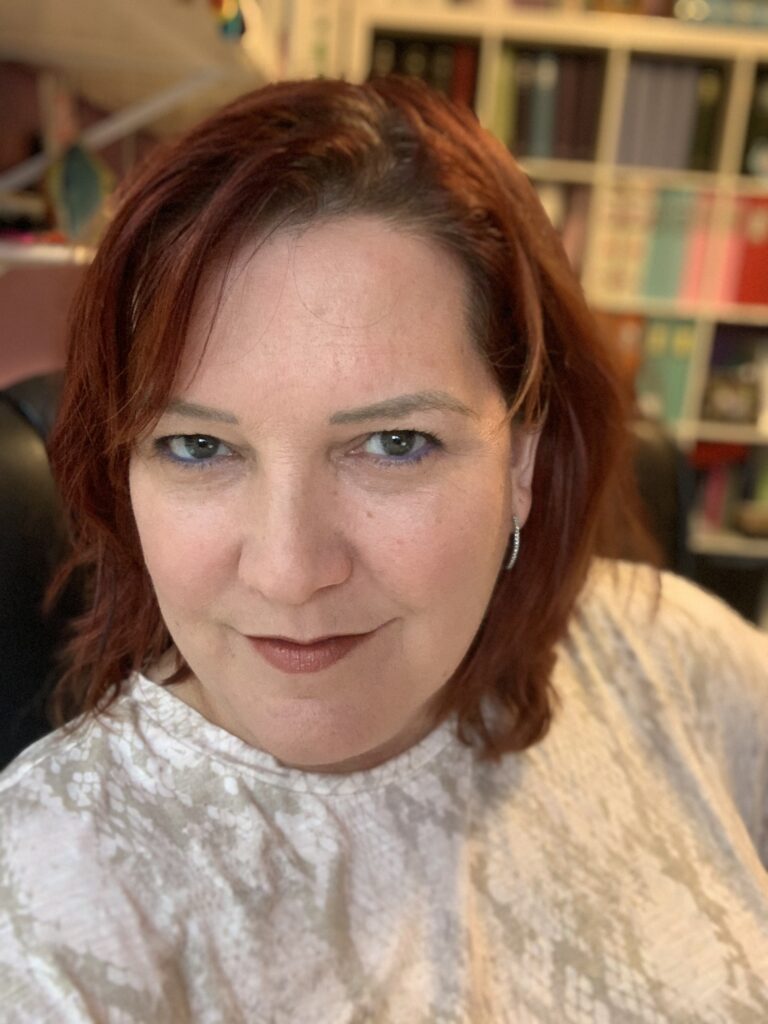 I've never been a big makeup person, but you won't catch me without my Lipsense.
Even during Covid – beneath a mask, I've still got it on!
There's just something about red lips – or hot pink, purple or any other strong statement shade – that makes you feel like a million bucks even if the rest of you is not quite as put together.
All through quarantine, during our endless days at home, I made sure to put my "lips" on in the morning. I just love the way bright lip color looks in the mirror and in photos. For me, bold lips represent both confidence and girl power.
My Lipsense obsession started back in 2017 when a friend raved to me, "You put it on in the morning and it doesn't come off – not on people you kiss, cups, glasses, napkins, anything!"
It sounded too good to be true, but I was willing to give it a shot. Lipsense is pricey – $25 for the color plus $20 for the mandatory gloss, which "seals" the color on. But I had seen the videos demonstrating Lipsense's staying power, and I wanted to see it for myself. One tube later and I was hooked for life.
Since then, I have amassed quite a collection of Lipsense shades and glosses. I have everyday neutral hues, reds, pinks, wines, purples, corals/oranges, a few neon shades and even some wacky Halloween-ish colors like bright blue, navy and black – plus a dozen different glitter-infused glosses. I honestly love each and every one.
But for someone just starting out on the Lipsense path, there are a handful that I recommend as must-haves. These are the colors I reach for again and again, and which I've had to replace because I've used up my original tubes.
If you're new to Lipsense and you want to give it a shot, start with Bella, my first shade below. If you've tried one or two colors of Lipsense and you're wanting to add more, consider this list. These are my top favorite Lipsense shades:
Bella, a neutral rosy-brown hue, is the top-selling Lipsense color of all time. There's even a 2020 "Bella collection" that has been released in this shade's honor. There's a reason for this: it's a neutral that is perfect for days at the office, yet still glam enough for a night out on the town. You can dress Bella up or down and she looks good with everything. If you're only going to buy one Lipsense shade, it should be Bella (plus a Glossy gloss, of course).
Red Cherry is retired now, but I long for it to come back. It was the absolutely perfect, classic, pin-up red lip color. In its absence, I've moved on to Neutral, another gorgeous true red. Lipsense has a habit of bringing back retired shades, so I hope to grab another Red Cherry someday. In the meantime, Neutral is a lovely second-best in the red category. And every woman needs a classic red lip color – especially with the holidays coming up.
For the perfect girlish pink, look no farther than Sassy Z, Goddess or Girlfriend. They are very similar shades of "pink but not TOO pink." These colors are a bit more young and feminine than Bella, yet still ideal for daily wear or to add a little sparkle to your next date night. These are also shades that look great on tweens or teens.
If you're looking for a bright, summery shade that is not quite red and not quite pink, Plumeria is your gal. I love wearing this one to the pool – it looks so hot with a tan against the cool, liquid blue of the water. Plumeria goes with me on every cruise and tropical vacation, so wearing it around the house this year has at least given me a whisper of that glorious getaway feeling. I also adore Dusty Rose, another dark pink on its way to red.
Another must-have summer and vacation shade is either Bombshell or Pink Champagne. These are both pale, shimmery and peachy-neutral; just a perfect, natural "no lipstick" look to accompany messy hair, denim shorts and flip-flops. If a particular outfit or look calls for pale lips, these are my go-to. I'll also wear these instead of bare lips anytime I don't feel like rocking my usual bold shades.
There you have it – my five or so favorite, must-have Lipsense colors. If I'm forced to pick a bonus extra hue, it will have to be a wild and crazy one: either the gorgeous Team Wicked or the classic Blackberry.
Blackberry is just a pure, matte black – every goth teen's dream. Team Wicked definitely gives a similar feel as Blackberry, but instead of straight black, it's a beautiful midnight navy with purple and teal glitter. I love both of these and even if I only wear them around Halloween, it makes me happy to have them in my collection. Sometimes, you just have to let your freak flag fly!
Have you tried Lipsense yourself, and are you as big a fan as I am? If you're among the uninitiated, do yourself a favor and try Bella and a Glossy gloss. You can often find them available at a reduced price on eBay. If you do try it, you'll have to let me know what you think!