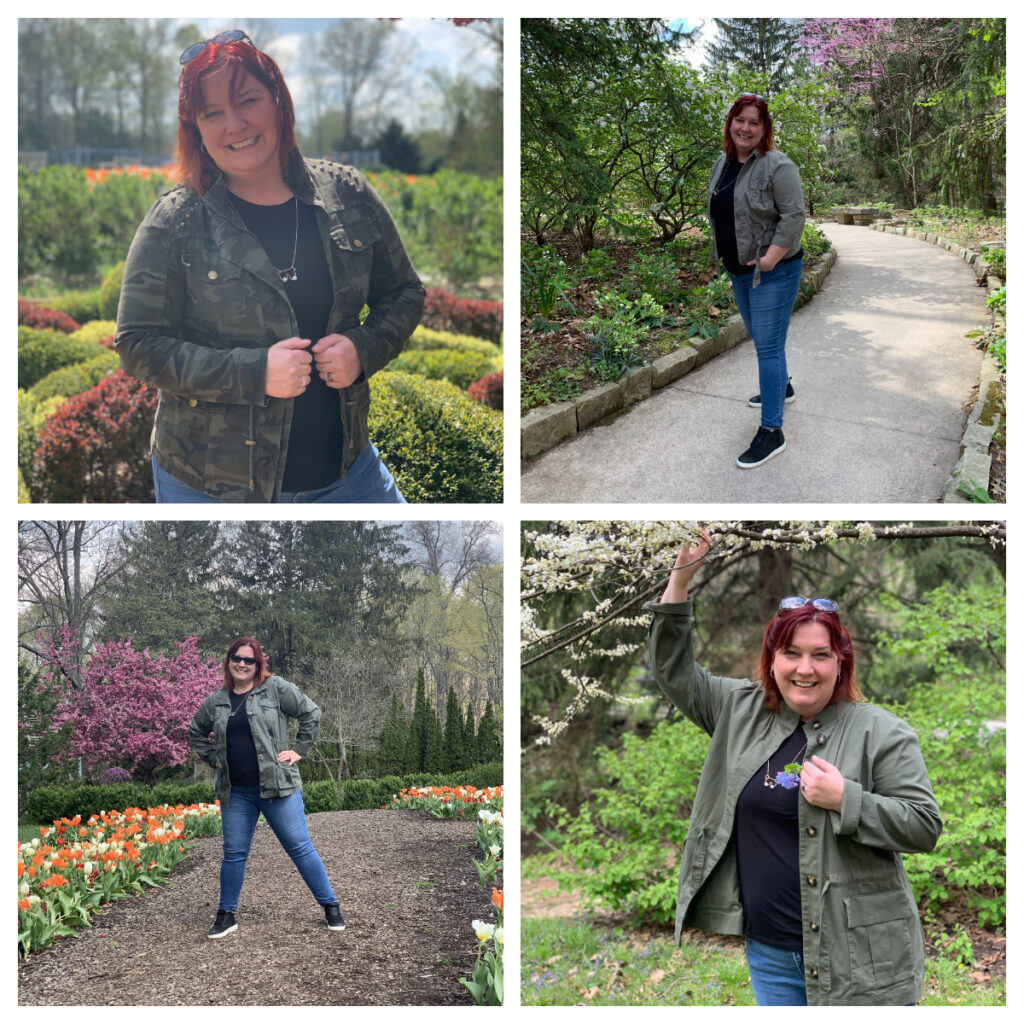 Fashionistas everywhere agree that the olive "utility" jacket is a wardrobe must for any season.
I've been a fan of this closet staple for many years. For starters, I've always loved olive green in general because that's the exact shade of my eyes.
Beyond that, though, an olive jacket is every girl's best friend because it can spruce up literally any outfit. Black tee and leggings? Olive jacket looks great. White tee and light-colored jeans? Ditto. Don't even get me started on how great stripes, florals and even animal prints look with the right olive jacket.
In fact, I challenge you to find an outfit that wouldn't be improved by adding an olive jacket.
But which olive jacket? They are literally everywhere in every length, shape and hue. I have five olive jackets in my closet – yes, I said five! – so I figured I would try them all on and tell you where I found them and what I love about them. Then, you can decide for yourself what type of olive jacket you need.
Ready to meet the fab five? Here they are.
1. Long-sleeve, fitted star jacket from Knox Rose for Target – this is my current favorite olive jacket. I absolutely adore it with jeans and a graphic tee, joggers and a crop top or just about anything else. It feels like every fashion influencer on Instagram has this jacket but I don't care. It's amazing, flattering, stretchy, comfortable and I feel like ME when I'm wearing it. I have it in XL and I'd say it runs true to size. You need this jacket. At only $35, it's the cheapest jacket on my list, so just go ahead and buy it. You can thank me later.
2. Harvey stretch denim jacket from Lularoe – these jackets are no longer available from the source, but you can still find them for a good price on eBay and other sites. LLR came out with two denim jackets a few years back: the Jaxon, which was full length with shirt styling, and this Harvey, which was cropped with a traditional jean jacket shape. I love my olive green Harvey with a long top and skinny jeans or over a flowy tank dress. It looks pretty darn adorable on Xage too, as you can see above. An olive jean jacket is a nice addition to any wardrobe.
3. Studded, fitted camo print jacket – I can't remember where I got this, but I'm guessing TJ Maxx or Marshall's because I don't recognize the brand name. I love camo and always have, but I never want it to look like a godawful "I'm going hunting" moment. This zippered jacket has enough bling and feminine shaping that I feel like it clearly says brunch with the girls, not shooting with the boys. I like to wear it with a shimmery gold tank top (which I also seem to collect – I have at least three. What the heck?!) to bring out the gold hardware. I usually wear this for evenings since it has a little edge, but I'm sure it would be fine during the day as well for the right occasion.
4. Loft soft-structured jacket – I've had this one for years so it's no longer available, but Loft has other great jackets like it – including the one I've linked to. This is structured enough to wear with suit pants for a business meeting, but also soft enough that you can throw it on with jeans and a cute top. I love jackets that can go both ways – business or leisure/pleasure – and you definitely need an olive jacket that falls into this category.
5. JJill soft twill, full-length jacket – this was my favorite olive jacket for years. I got it at JJill about five years ago and wore the heck out of it both for work and on weekends. It's long enough to wear with leggings or skinny jeans, but also has a drawstring for some shaping. It has great pockets and the color is perfection. This is actually the second time I've owned this jacket, because I inadvertently left my first draped over a chair at a restaurant a few years back. I was devastated and retraced my steps, but the jacket never showed up – probably because it's because it was so perfect that someone kept it. Happily, I found the same exact jacket – new with tags – on eBay this year. Never stop searching for what you love, friends. The heart wants what it wants!
Hopefully, by now I've convinced you that you need at least one olive utility jacket in your closet to take you from day to night in comfort and style. Which one of mine is your favorite – and do you already have one, or will you be searching for one soon?
As always, I'd love to hear your olive jacket tales in the comments below or over on Facebook.